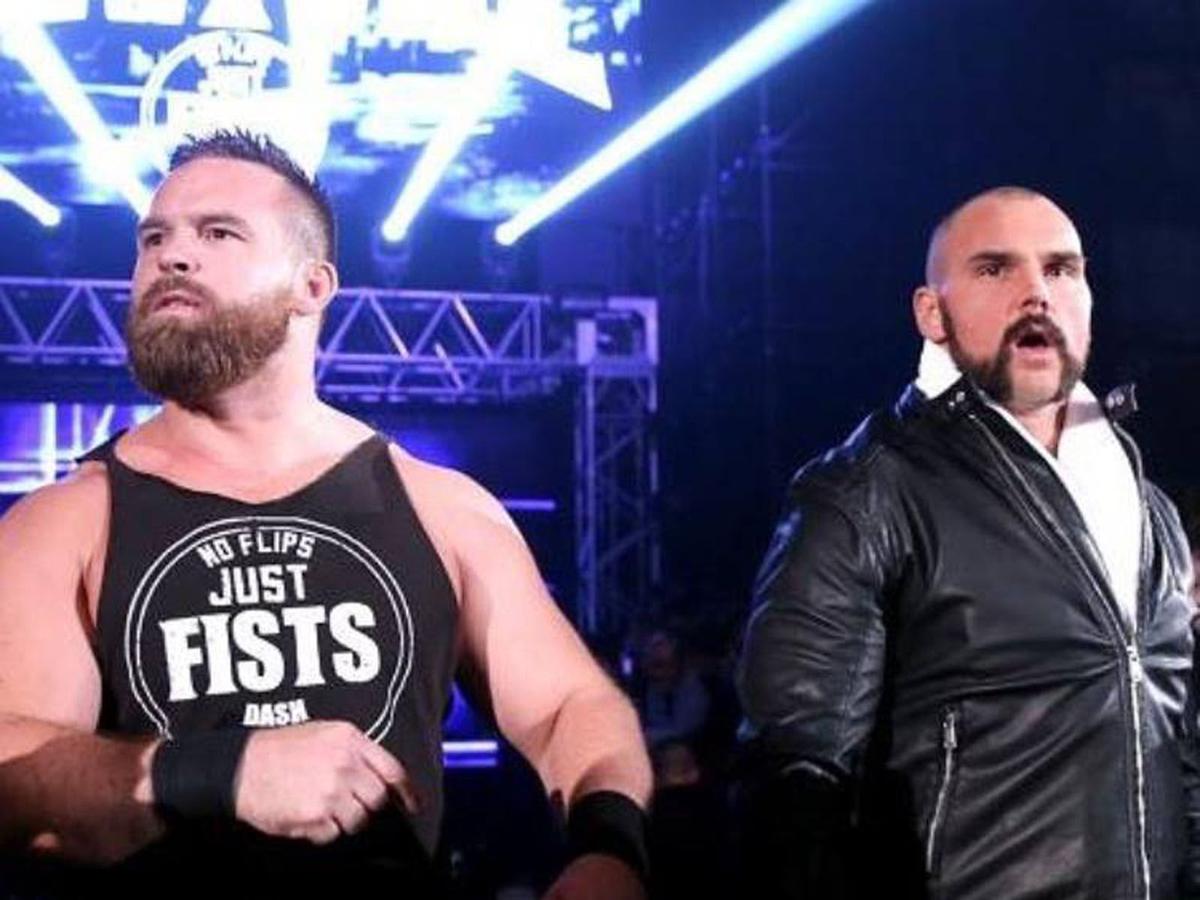 Tag-team wrestling has been hitting a second wave in World Wrestling Entertainment (WWE), thanks in large part to a McDowell native and his partner.
Dash Wilder (born Daniel Wheeler) is one-half of WWE's The Revival, the former two-time tag team champions in the company's developmental program, NXT. And now, as of Apr. 3, the duo has made its main roster debut on Monday Night RAW.
The McDowell News spoke with Wilder in February to discuss his upbringing, some of his influences, favorite wrestlers and how he has climbed the ladder to the WWE.
Born in Asheville and having lived in Old Fort and Marion for most of his adolescence, Wilder credits his step into the world of sports entertainment through watching with his family at a young age.
"It was very popular on my dad's side of the family, and we'd go to my grandma's house and just watch, and I got hooked from there," said Wilder. "My first wrestling memory was watching Hulk Hogan; I was probably 4-years-old, with my dad sitting in his chair, and I can't remember what match it was, but I was instantly captivated."
Unlike most performers, Wilder's break into the business came not through formal training, but studying and having a group of like-minded friends around.
"I came from a family with not a lot of money, so I wasn't able to afford training. But I had a core group of friends – guys like Sean Gregory and Jordon Frisbee – who were roughly the same age, went to the same high school, and just loved wrestling," said Wilder. "We would study matches, read all the autobiographies and hold these backyard wrestling matches at each other's houses."
After wrestling for two seasons at West McDowell Junior High, Walder started working professionally in 2005, taking his knowledge of the mat and backyard experience and working his way into the business a step at a time, stacking chairs and building rings at local events before being allowed to enter the ring himself.
"The first time I hit the ropes and took a bump, it hurt something else, but I knew this was what I wanted to do," said Wilder.
Among the different independent organizations where Wilder crafted his talent, the one place he credits the most is NWA Anarchy (formerly NWA Wildside), the Georgia-based promotion that was home to established talents like Heath Slater, Xavier Woods of WWE's New Day staple and former WWE Champion A.J. Styles.
"I was young and inexperienced when I stepped in, but Anarchy really allowed me to break out," said Wilder. "They gave me the chance to travel to places like England, Japan, CMLL (Consejo Mundial de Lucha Libre) in Mexico, and work as much as possible in developing my style."
After seven years in Anarchy, Wilder finally received the email he'd dreamed about during a tumultuous time.
"I'd been in try-outs for six weeks, training non-stop and it was on the last day, I'd gotten a text from one of the guys saying they just got their email and got cut," said Wilder. "Then there was another, and another, and I knew they were sending out emails but I was freaking out because I didn't receive one. There was a tragedy in the family and I went to my mom's house that week, and still didn't get an email. So, I thought I'd check my junk mail, and there it was: I was accepted. It was an emotional week on a number of levels, so it was amazing timing."
Leaving Anarchy in 2014, wrestling his last match with Corey Hollis – who Wilder credits as an underrated performer and deserving of any praise he receives – the Old Fort/Marion son made it to NXT, the WWE's banner developmental program in Orlando, Fla., where he reunited with another McDowell/Asheville brother – Scott Dawson.
"Scott and me pretty much knew each other heading into high school, and grew close during that time," said Wilder. "Our first match together, as opponents, came because the promotion was looking for an extra spot for that particular day, and by the end of it, he'd earned a try-out on the spot."
Together, Dash and Dawson formed a cohesive tag team later called "The Revival," named after the duo's insistence on reviving the tag team division in professional wrestling, alongside competitors like Enzo and Cass (Enzo Amore and Collin Cassidy), the Vaudevillains (Aiden English and Simon Gotch) and American Alpha (Jason Jordan and Chad Gable), all of whom have made it to the main roster on RAW or SmackDown.
Their slogan, "No Flips, Just Fists,"  is the creed of the team's ground-and-pound style, in contrast to the aerial, high-spot tactics that've become commonplace in recent years.
"We didn't intend for it to be a logo or a slogan – it just represented our mentality," said Wilder. "We've always felt that we were gritty, we were rough, dirty and intense. Let's say I was in a bar, and there was a fight that's going down. I'd want a hell of a punch on my side."
Their gritty nature and organic in-ring chemistry have paid off lucratively; within their two-plus years together as a team, The Revival scored two runs with the NXT Tag Team Championship, were awarded Tag Team of the Year and Match of the Year – for their 2-out-of-3 Falls Match with #DIY (Tommaso Ciampa & Johnny Gargano) at NXT TakeOver: Toronto – and high praise from veterans "Stone Cold" Steve Austin and Jim Cornette.
But now, almost a month after speaking to The McDowell News, The Revival is part of the main roster, debuting on RAW the night after Wrestlemania 33 against The New Day (Kofi Kingston, Big E and Xavier Woods) in an open challenge.
"I can't put into words how much the praise and accomplishments mean to us," said Wilder during the interview. "To see where we've arrived in the company to having guys like Jim Cornette, who I absolutely HATED and loved watching with the Midnight Express, and Steve Austin congratulate us – never in a million years."
Near the end of the discussion, after congratulating the Rock & Roll Express (Ricky Morton & Robert Gibson) for entering the WWE Hall of Fame on March 31, Wilder left with inspirational words for his fans and the McDowell community.
"Growing up in Old Fort and Marion combined, extremely poor in an area where not of lot of people get out of town and chase their dreams – and I hope to be back there one of these days – just keep moving," said Wilder. "To anybody reading this that's chasing any dream and wants to make something of themselves, I'm living proof."
Be sure to catch The Revival and other WWE Superstars on Monday Night RAW every week, 8 p.m. on the USA Network, and the WWE Network.
Be the first to know
Get local news delivered to your inbox!