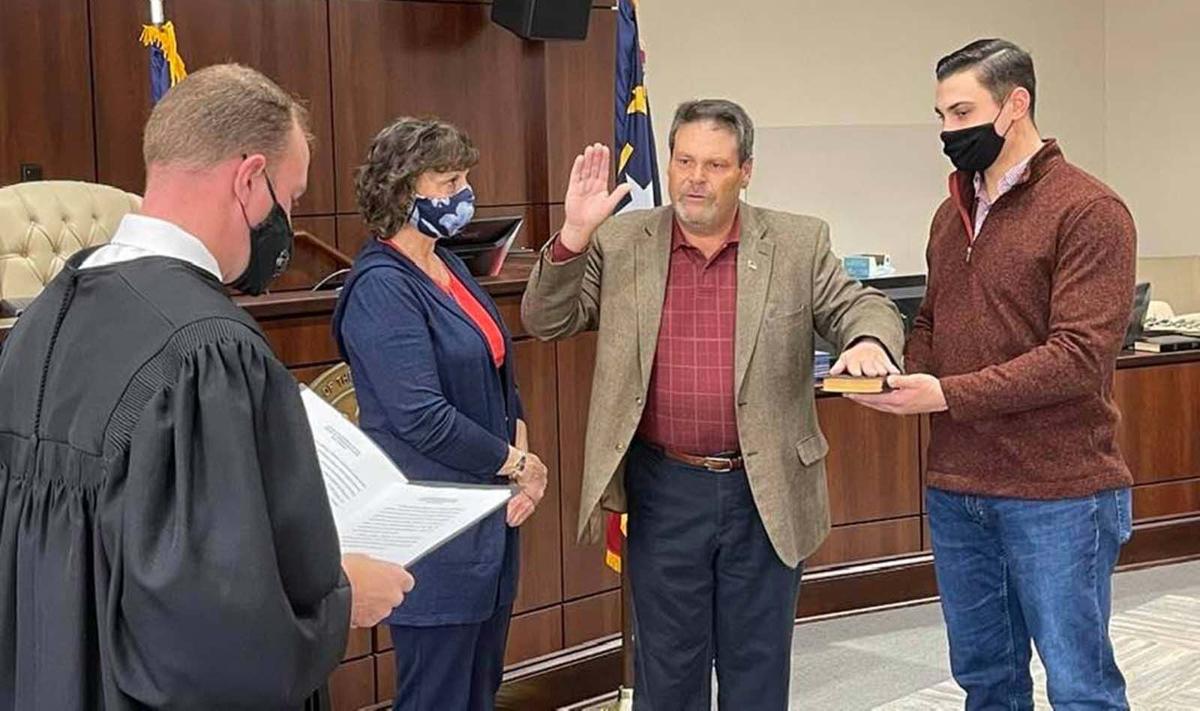 On Wednesday, the N.C. General Assembly will convene in Raleigh to begin its long session and Dudley Greene will kick off his first term as the new state representative for the 85th District.
A former sheriff of McDowell County, Greene was elected last year to become the newest representative from the district, which is comprised of McDowell, Avery and Mitchell counties. The 57-year-old Greene is a Republican.
On Saturday, Jan. 2, Greene took the oath of office as a state representative during a special ceremony at the McDowell County Courthouse in Marion. Judge Corey MacKinnon, who was also newly elected, administered the oath as Greene's wife Allyson looked on and his son Julian held the Bible.
But on Wednesday, Greene and the other members of the N.C. House will be sworn in again in Raleigh as part of the opening day of the long session. Following his election and up until this week, Greene and the other incoming members received training before they assumed their new roles. They attended a new member orientation session in December that was held by the N.C. General Assembly, with the UNC School of Government participating.
"It was a good two to three days," Greene told The McDowell News.
The N.C. House's leadership and a lot of the legislative staff were able to get him and other new members acquainted with working as lawmakers. The recently elected members were able to get to know one another.
Greene also participated in a couple of Republican caucus meetings, one in Raleigh and one held on Zoom.
As he begins his term as a state representative, Greene said his immediate priority is addressing the COVID-19 pandemic in North Carolina.
"My most immediate concern is trying to keep our economy open in a responsible way and see what we can do to help the flow of the vaccines that are coming out," he said. "I have been copied on emails about how that is happening."
He will also focus on helping North Carolina's small businesses and workers get through the pandemic.
Greene said he would also focus on expanding broadband internet in rural areas like the 85th District. And as a retired sheriff, he will also strongly support public safety in North Carolina.
"I am a very pro public safety individual," he said.
Another of his priorities is supporting our public education system. For example, the 85th District has two community colleges: Mayland and McDowell Tech. "They will be more important in trying to train our workforce," he said.
The Federal Bureau of Investigation has sent out warnings about armed protests at all 50 state capitols that could occur sometime during the next few days. This comes after of the insurrection and riot at the U.S. Capitol last week.
"I have seen some of those reports and it heightens your awareness," said Greene. "We can't let it interfere with the state's governing."
His committee assignments have not been announced yet. As part of his preparation, Greene was asked to state his preferences about N.C. House committee assignments.
He named the committee for public safety and the education committee that deals with the community college system. He also listed the mental health reform committee and the judiciary committee for criminal law, which are based on his background with the McDowell Sheriff's Office.
When he ran for the N.C. House, Greene talked about his experience in law enforcement but also said he was raised in the household of a small-business owner and has an understanding of that perspective as well.
"I am very pro-business," he told The McDowell News on Tuesday. "Business, education and public safety are my priorities."
As he begins his duties in the state House, Greene said he will try to follow the example set by former Rep. Josh Dobson, who is now the state labor commissioner.
"It is a mighty big honor to represent this district," he said. "I am going to give it my best. (Dobson) did a mighty good job and I hope to follow in his footsteps. I don't think I will fill his shoes."