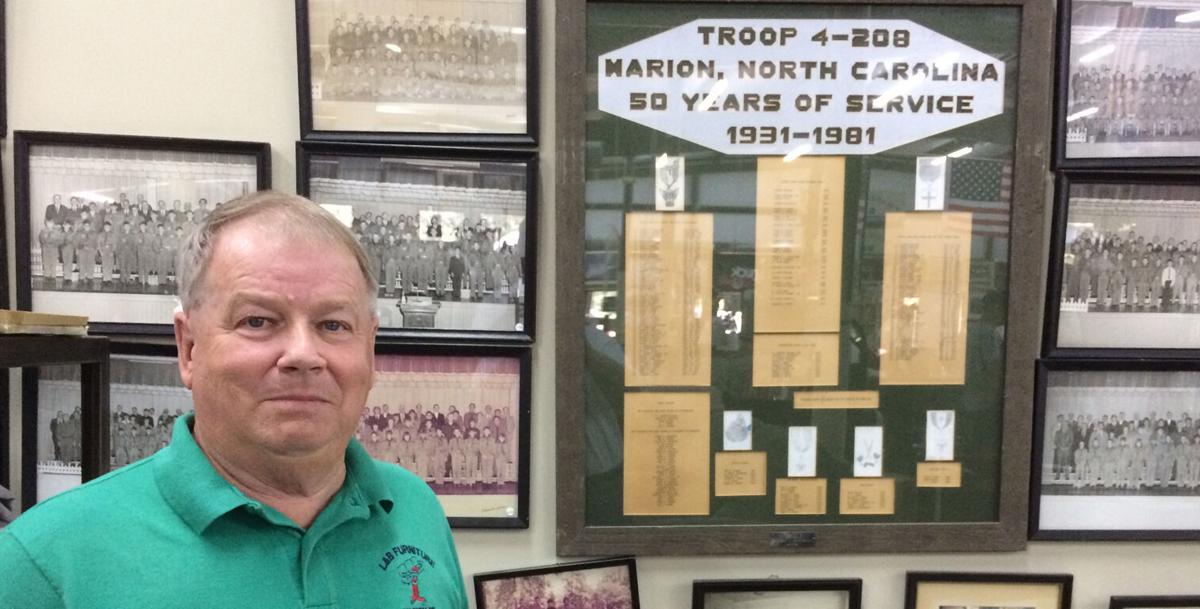 Former McDowell County Commissioner Larry "Butch" Hogan, who advocated for a county government with lower taxes and greater transparency with the public, passed away Friday.
His death was announced by friends on social media Friday. He reportedly suffered from heart problems. His age was 75 based on previous stories in The McDowell News.
"It broke my heart this morning to find out my friend, former teacher, and supporter Butch Hogan had passed away," wrote School Board member Donnie Suttles on Facebook. "I will miss our conversations and that smile and laugh. I know he is in heaven surrounded by glory. Prayers to the family."
Hogan worked as a teacher for 30 years before deciding to run for public office. He was first elected to the county commissioners in 1996 along with his friend and fellow Republican Larry Seagle. Both campaigned on the issue of lower taxes and greater transparency with the public.
Chuck Abernathy, director of the McDowell Economic Development Association, was the county manager at the time.
"(Hogan) was very committed to the community and public service," said Abernathy to The McDowell News on Friday.
Abernathy said Hogan advocated for the televising of the commission meetings, as a way to let the public see what is happening with their county government. At that time, local government meetings in small communities like McDowell were not aired on television. Hogan wanted not only for the McDowell Commission meetings to be televised but spoke in favor of the Marion City Council and McDowell Board of Education meetings to be shown on TV as well.
"He was not doing it to put himself on TV but he wanted the public to understand what was happening with county government," said Abernathy about Hogan.
Abernathy said Hogan worked hard on extending water and sewer service to areas in McDowell. That included the East Marion community and the N.C. 226 South area towards Rocky Pass. He also raised the problem about the county's finances and the low amount in the fund balance, which is a kind of savings account for local governments. A fund balance is public money that is set aside for unforeseen expenses and problems.
Former Commissioner Dean Buff served alongside Hogan on the board. Buff, a Democrat, often had disagreements with Hogan over issues that came before the board but the two liked and respected each other as friends.
"He was a different party from me and we had a lot of run-ins," said Buff to The McDowell News. "As a personal friend, we got along fine."
One of the issues they disagreed over was the plan to build an airport on the McDowell-Burke county line for industrial recruitment. The concept was to build an "airpark" for both counties, which would be used for corporate jets, and an industrial park would surround it. During the late 1990s, the commissioners from both counties explored this idea and were able to get state and federal funding for it. Buff supported the idea while Hogan opposed it.
Another issue they disagreed over was placing some restrictions on private junkyards and junked autos in McDowell.
Despite their disagreements, Buff said he enjoyed working with Hogan as a friend.
"Butch enjoyed life," said Buff. "He loved to camp and he loved to be on the lake. I think the world of his two boys. I have high respect for his family. Anytime you serve eight years with a person, you get to know them pretty well inside and out."
In 2000, Hogan sought re-election to a second term at age 54.
"After having served on the board for four years, I feel with the experience and knowledge I have gained that I am better able to serve the citizens because I feel experience is the best teacher," Hogan said in 2000. "In these four years, I have helped start several projects that I would like to see completed. These include a new senior center, a new industrial park, the completion of the school renovations and a countywide water system."
Upon his re-election to a second term, Hogan said he would work to continue the projects started by the present board.
"We will try to finish the new senior center," he said in 2000. "We will try to finish the new EMS base for Old Fort, build a new industrial park and research a countywide water system."
Hogan said at the time he would try to work on a reduction in the property tax rate.
"I think one of the issues is people are still troubled with the higher tax bills because of higher property values," he said in 2000. "I have heard several complaints about how they (other commissioners) tried to limit citizens' input in county government."
Hogan served for eight years on the board, including a time as the chairman. In 2004, he campaigned for a third term but did not win in the Republican primary.
In addition to his service as a commissioner, Hogan was well known for his business, L&B Furniture. He often appeared in commercials on area TV stations promoting his business.
Hogan was also active with the Boy Scouts in Cross Mill for many years, both as a Scout himself and as a troop leader. At L&B Furniture, Hogan maintained a display of old photos and mementoes from Troop 4 and Troop 208, which used to meet at the old Boy Scout hall in Cross Mill. It was a type of a museum dedicated to the Boy Scout troops and the Cross Mill community.