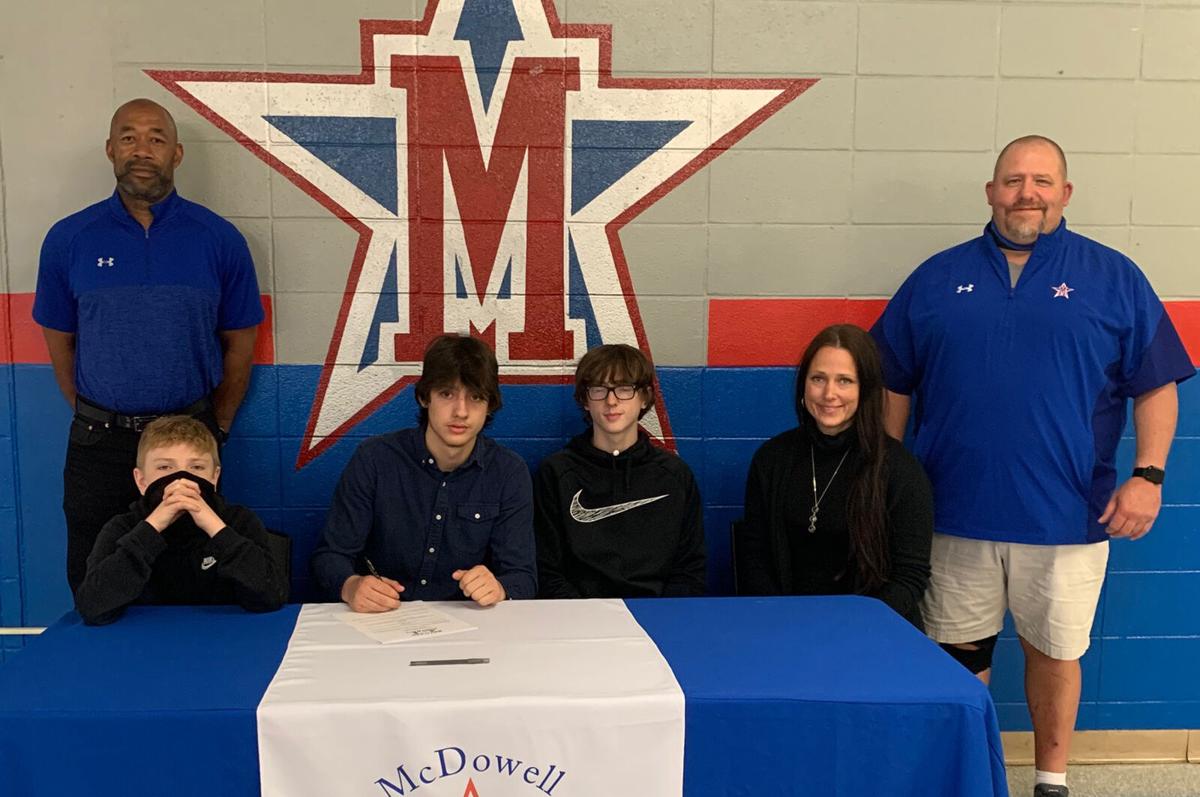 One of McDowell High's best two-sport athletes will continue playing at least one of them in college.
Senior Preston Dennison signed to play football at Bethany College in West Virginia last week.
Dennison, a standout on both the gridiron and wrestling mat, said he was impressed with Bethany's coaching staff and campus, and feels a sense of accomplishment in getting to play at the next level.
"It feels very rewarding," said Dennison. "You've worked so hard, and now you can play where more people can see you.
"I like it (Bethany). I think they've got a good program. The coaches seem really good and it seems like they can get me to improve a lot more and maybe transfer to a bigger school."
Dennison, a 6-foot-3 defensive back who was listed at 185 pounds for football but is currently wrestling at 170, was a defensive stalwart for the Titans, who went 3-3 in the abbreviated spring season necessitated by the COVID-19 pandemic. Dennison was ninth on the team in tackles with 23. As a junior, Dennison was fifth on the club with 43 stops.
His coach said Dennison's toughness might be his most impressive attribute.
"Preston is a tough, hard-nosed, street-fighter kind of kid," said Titans head coach Darrell Brewer. "If you're going in a foxhole, you'd like to have Preston in there with you. He's physical and hard-nosed.
"From the time I got here, he's improved so much."
That's true on the mat as well. Dennison won 22 matches in his first season with the Titans, but he improved to 40-13 last season and was named Most Outstanding Wrestler at the Northwestern 3A/4A Conference tournament after winning the league title at 170 pounds. So far this season, Dennison is 9-1 and has high hopes for making the State 4A Championships.
Dennison said wrestling can only help a football player.
"Wrestling really improves your football skills," he said. "It makes you faster, and it helps with conditioning and it has made me stronger."
"I've always encouraged my football players to wrestle, because I think it goes hand-in-hand, and it has absolutely helped Preston," said Brewer. "I was fortunate enough to play college ball, and I don't think I would have gotten there if I hadn't wrestled. It helps your hips, coordination and balance."
Bethany College is an NCAA Division III school and is a part of the President's Athletic Conference and the Eastern College Athletic Conference (ECAC). Head coach Bill Garvey's Bison played an abbreviated spring season this year, going 1-2 before their final two games were canceled.