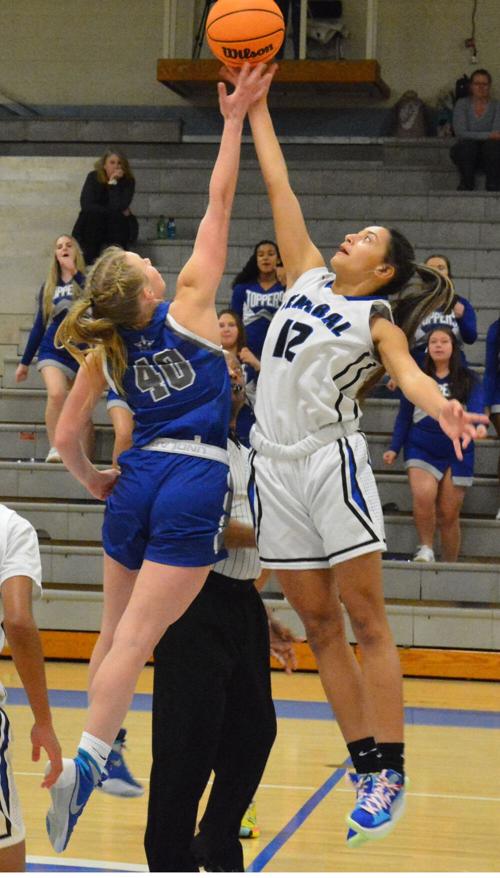 RUTHERFORDTON – Adversity is something the McDowell Lady Titans will likely face a good bit of this season, considering how inexperienced they are.
The first test came in Tuesday's season opener as McDowell gutted out a 48-45 overtime win at R-S Central High School.
The victory wasn't easy for first-year head coach Zack McCartha and the Lady Titans, as they witnessed a fourth-quarter lead evaporate in a matter of minutes. But McDowell countered and made crucial plays down the stretch to seal the win.
Eight Lady Titans scored, with freshman point guard Kensly Stewart posting a team-high 12 points. Stewart, in her high school debut, provided a strong floor game, finishing with seven rebounds, six assists and three steals.
Stewart made some huge plays down the stretch, scoring seven of her 12 in the fourth quarter and overtime, including what turned out to be the game winner on a coast-to-coast layup with 1:31 left in the extra frame.
"We had a little bit of everything happen in that game for sure," said McCartha. "The fourth quarter didn't go great, obviously, but we regrouped in overtime and found a way. That says a lot. The fourth quarter, the biggest part of it was our youth and inexperience.
"It's a situation those girls haven't been in. In the overtime we held our composure, we were tough, made good decisions and took care of the basketball. That was the difference."
McDowell was up nine going into the fourth quarter when R-S Central made its surge. Joyasia Smith had 10 of her game-high 25 points in the fourth. Her 3-pointer off a baseline inbounds play tied the score 43-43 with 1:12 left in regulation.
The overtime began with Central winning the tip and holding the ball for over a minute and a half, trying to lure the Lady Titans out on the perimeter.
Smith was eventually fouled on a drive to the hoop and made both free throws to give the Lady Hilltoppers a 45-43 lead. That turned out to be the only points by R-S in the overtime. Emma England evened the score 45-45 on an offensive rebound and put-back with 1:59 left.
Then after a defensive stop, Stewart corralled a rebound and went the length of the floor, scoring to put the Lady Titans ahead for good with 91 seconds left.
R-S had one more opportunity left at the end when sophomore Jada Whitesides was fouled on a 3-point attempt with 1:23 left. However, Whiteside failed on all three attempts and McDowell took care of the ball the rest of the way.
Peyton McPeters (4 rebounds, 2 assists, 1 steal) added eight points. Abby McMahan provided a low-post spark off the bench, netting seven points and seven rebounds.
Tayla Carson (3 rebounds, 2 assists, 1 steal) and Abby Wyatt (7 rebounds) tallied six points each. Sage Young (3 rebounds, 2 assists) scored four points, Faith Laws (8 rebounds, 1 steal, 1 assist) had three points.
The Lady Titans' depth helped offset Smith's 25. Whitesides finished with seven points but no other Lady Hilltopper scored more than three.
"I thought going in that our bench was better than R-S, and it was an area that we needed to take advantage of and we did a solid job to utilizing that," said McCartha.
McDowell will open its home schedule Tuesday with a rematch with R-S Central (6 p.m. start).