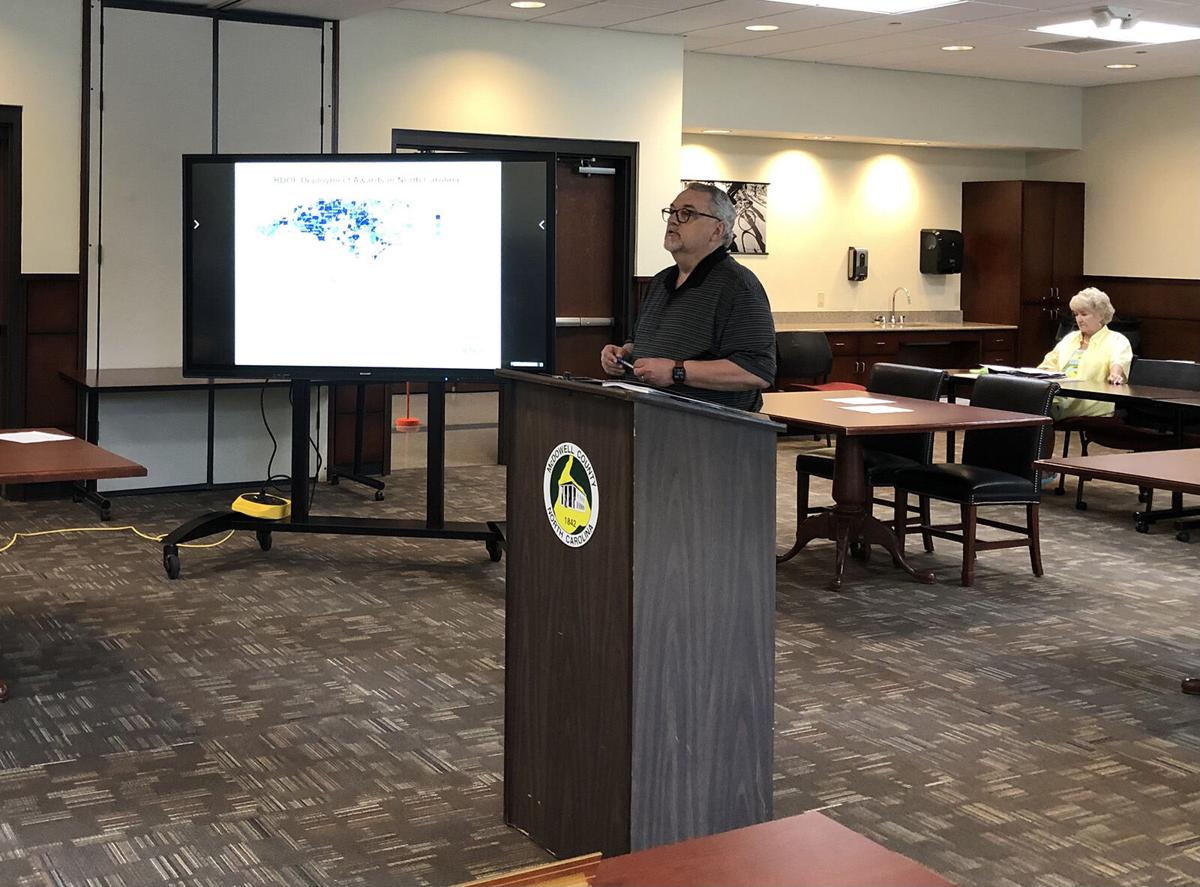 At its most recent meeting, the McDowell County Board of Commissioners heard a report about Charter Communications' plan to bring broadband internet to more people in the local community.
Michael E. Tanck, Charter's director of government affairs, spoke to the board about his company's plan for greater broadband internet availability in McDowell. He said many people get Charter Communications and Spectrum confused since they are often used interchangeably. Charter is the company while Spectrum is the product, he added.
Back in February, Charter Communications announced the launch of a multi-year, multi-billion-dollar buildout initiative to deliver high-speed broadband access to more than 1 million unserved customer locations. Charter expects to invest approximately $5 billion to support its buildout initiative – offset by $1.2 billion in support from the Rural Digital Opportunity Fund (RDOF). This will expand Charter's network to lower-density, mostly rural communities that do not have access to high-speed broadband service, according to a news release.
The new initiative is in addition to Charter's existing network expansion plans, including many state broadband grant projects, as well as the company's previously planned privately funded expansions. The network Charter will build in these rural areas will offer high-speed broadband access to all newly served customer locations and will enable consumers to engage in remote learning, work, telemedicine and other applications that require high-bandwidth, low-latency connectivity.
"The pandemic has further highlighted the need for broadband availability and adoption, and Charter is committed to furthering its efforts as part of the comprehensive solution needed to address these challenges," said Tom Rutledge, chairman and CEO of Charter Communications, in a news release. "As Americans across the country increasingly rely on broadband to work, learn, access healthcare and stay in touch with family and loved ones, bringing broadband access to more unserved areas should be a priority for all stakeholders. Charter's new multibillion-dollar buildout initiative further highlights the importance of the sophisticated broadband networks that the U.S. cable industry has built over several decades, and the industry's commitment to the local communities it serves."
Tanck told the commissioners that Charter will embark on a six-year project to expand broadband service to people in McDowell. It might not reach 100% but it will come close, he added.
"We're going to be in the very high 90s (of percentages) in getting broadband to the homes in McDowell County," Tanck said.
"Charter has announced plans to deliver gigabit high-speed broadband to approximately 128,000 unserved North Carolina homes and small businesses, as estimated by the Federal Communications Commission (FCC), including an estimated 2,659 locations in McDowell County," reads a statement from Charter. "As part of this effort, more than $442 million will be invested in North Carolina, which includes an expected private investment of at least $300 million by Charter and more than $142 million in support won by Charter in the FCC's Rural Digital Opportunity (RDOF) auction."
Commissioner Patrick Ellis said 40% of McDowell County students don't have broadband. Commissioner Brenda Vaughn asked Tanck about Morris Broadband's efforts. Morris Broadband has customers in Nebo and eastern McDowell and is a competitor with Charter. Tanck said that is like comparing Ford to Chevy.
County officials said Morris Broadband has recently been bought out by another company and they would like to know more about what will happen here with that system.
The commissioners didn't take action after hearing Tanck's presentation but will keep themselves informed about the effort to bring more broadband to McDowell.
In other business, the McDowell County Board of Commissioners:
Heard a report from Tax Collector Linda Onufrey. She was on the agenda to present her settlement for fiscal year 2020 and asked for the order of collection for next year's property taxes. The settlement is a statement of all the taxes collected in the prior year. The order of collection is the formal process of authorizing the collection of the tax bills. Onufrey also introduced the commissioners to Daphney Carter, the new tag office manager. Carter has looked into additional services that could be provided to county residents through the tag office. The commissioners approved the tax settlement for 2020 and the order of collection.
Heard an update from Jason Hollifield with McDowell Transit. The county's transportation system has acquired some new vehicles. Hollifield added he has been able to install Plexiglas and cameras in the vehicles used by McDowell Transit. He showed the commissioners the new brightly colored jackets that will be worn by the drivers. After hearing from Hollifield, the commissioners approved some new policies for the transit system.
Heard from MEDA Director Chuck Abernathy about an economic development grant from the U.S. Department of Agriculture. If awarded, the grant would pay for the use of GIS technology to evaluate sites around McDowell. Every vacant piece of land in the 50-acre size and 100-acre or more size would be identified. The sites will then be given an evaluation of site criteria including utility availability, topography, flood plain/watershed issues, soils, zoning, rail access and more. This information would help local officials make the right decisions about these sites. They don't have to be for manufacturing. They could be listed for housing or a new school location. The total local match for this grant is $12,500. The commissioners agreed to put in roughly half and will ask MEDA, the city of Marion and the town of Old Fort to put in the rest.
Received an update from County Manager Ashley Wooten about the public shooting range. The contractor has requested a change order for additional grading that is necessary to lessen the impact to the flood control watershed at the site.
Heard an update on building projects. The work on the new administrative offices in the old Kirksey Funeral Home building continues. The contractor is working on both levels now but will focus efforts on the upper floor when construction begins in earnest. The upper floor is scheduled for early 2022 completion with the lower level scheduled for an early spring 2022 completion. The new EMS headquarters building project is also continuing. That contractor is facing some material delays. That project is scheduled for an early 2022 completion.
Talked about improvements at the convenience centers. Last month, the commissioners asked if better signs and notifications about holiday closings could be installed. A flier was posted on every green box a week ahead of the July 5 closing for Independence Day. Staff will evaluate placing larger notices in the future. Staff has also updated the convenience centers sections on the county website to show each site and the address. In addition, county staff is claiming the convenience center sites on Google Maps so that holiday closings can be updated on that site. This is in addition to increasing posts on social media. County officials have also looked into the financial impact for opening all the sites six days a week. It would cost between $70,000 to $80,000. There are not budgeted funds to cover the additional days of being open.
Approved a series of administrative items.