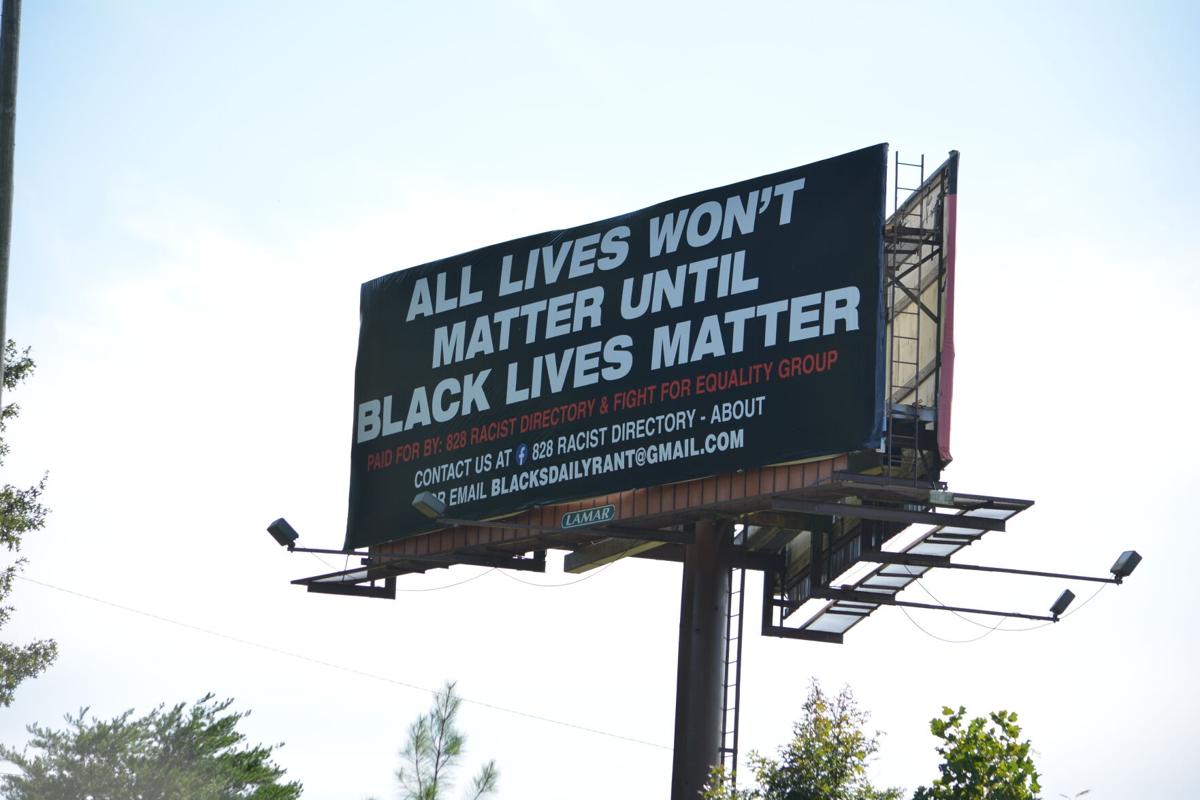 Since the death of George Floyd in late May, racial tension has been boiling over throughout the nation.
In a stand of solidarity for equality and against injustice, a group of Burke County residents purchased a billboard that reads, "All lives won't matter until Black lives matter." The billboard sits near Exit 94 for Dysartsville Road on Interstate 40.
The Facebook groups "828 Racist Directory" and "Fight For Equality and to End Injustice" teamed up to purchase the billboard. 
Aaron Lipsey started "828 Racist Directory," which has more than 1,800 members. 
According to Lipsey, the group identifies people who have made hate-filled, racist statements and aims to hold them accountable for their actions by informing their employers. 
Ashley June is a moderator of "Fight For Equality and to End Injustice," which has nearly 1,000 members. 
"(Seeing the billboard) makes me see hope and change," June said. "It's an eye-opener to what we face every day. It's an accomplishment; my friends and family love it and have shed tears over it, both near and far. I'm proud that we can stick together and accomplish things in this community."
Lipsey said he worked with June on the design and the message. The group chose the message it did because of a false narrative.
"I felt it was important (to purchase a billboard) because there's a narrative that Burke County is about equality for all, but that's not the case," Lipsey said. "We created this to show that Black people in Burke County deserve to be recognized."
Lipsey said he feels a sense of pride and empowerment when he thinks about the fact that so many people will see the billboard he and the group brought to fruition.
Earlier this month, The News Herald reported that the Confederate flags flying along I-40 on opposite ends of the county were replaced with U.S. and Christian flags. Now, one of the flags flies less than a mile away from the Black Lives Matter billboard. 
Two months before the change, the group in charge of the flags, Sons of Confederate Veterans, had replaced the Confederate flags with even larger ones. 
June protest
There is an even more extensive recent history that puts Confederate flag advocates at odds with Black Lives Matter advocates, both locally and nationally. 
On June 27 in downtown Morganton, a group of protesters descended upon the courthouse square to protect the Statue of the Confederate, which they mistakenly believed was in danger of being torn down.
On that day, people there to protect the statue walked around the square with rifles slung over their shoulders and verbal confrontations erupted between them and some Black Lives Matter protesters, who also were there. More Black Lives Matter protesters later showed up with their own weapons. As tensions continued to flare, additional officers from multiple agencies were called in to disperse the protesters.
According to June, the group also received private donations and sponsors from local donors in response to the June 27 demonstration.
While the group hasn't yet heard much feedback about the billboard, Lipsey and June are confident that there will be some type of reaction soon.
As for the group's plans, both agreed that there is more in store.
"There is a lot of work to be done," June said. "We remain vigilant, positive and hopeful."
Be the first to know
Get local news delivered to your inbox!