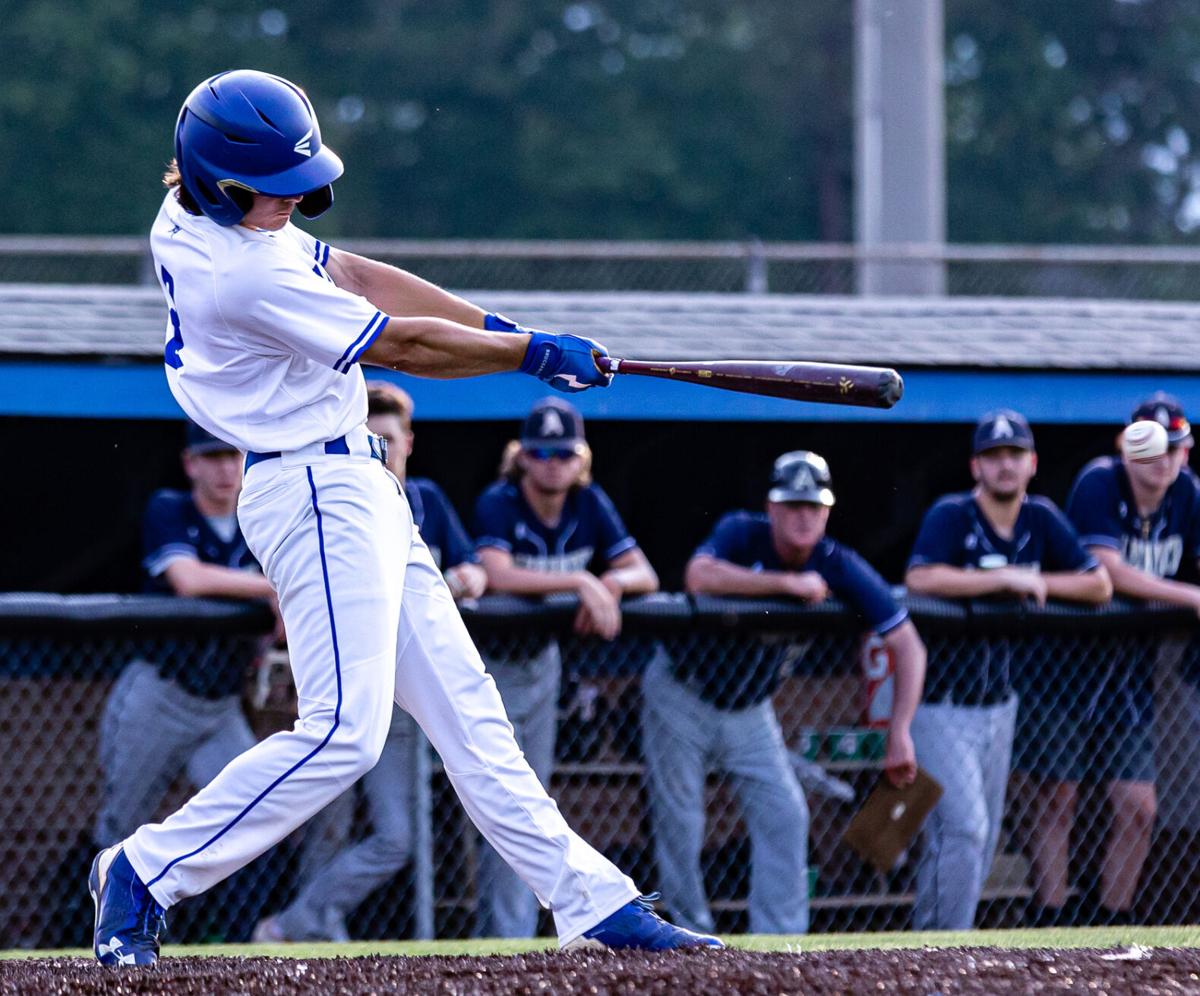 The McDowell Titans varsity baseball team clinched a berth in the 4A State Playoffs courtesy of a 7-3 win against Freedom on Wednesday night at Titan Field.
Winners of nine straight contests, McDowell claimed the Northwestern 3A/4A Conference's lone automatic qualifier on the 4A side of things.
Freedom tried its best to spoil things early on as it took a 2-0 lead over the first two and a half innings of play. McDowell got on the scoreboard in the bottom of the third as Ethan Hensley belted a solo home run to right-center.
The Patriots responded with a single run in the fourth off McDowell starter Dusty Revis to attempt to break any momentum trying to be built.
However, the Titans once again showed the resiliency that has been a trait of this unit all year. They pushed across three in the fourth to take their first lead of the game.
That helped to pick up Revis on the mound. After running into some bad luck early on, the Mars Hill bound senior kicked it up a notch, striking out five of the last 10 batters faced.
"Freedom did some good things early on and took advantage of some things that we didn't do well defensively," said Titans head coach Alex Smith. "But once again, down a couple runs early, these kids just kept going steady. There was never a sense of panic or nerves and we, down the stretch, got some things to go our way. Dusty really pitched well and once we finally got the lead he stepped it up even further."
Revis finished with a complete game, allowing only one earned run on four hits. He struck out 13 batters and walked one.
The resiliency showed at the plate starting in the fourth when McDowell scored two of the runs in that frame with two out.
Logan Duncan's single to left scored Benjamin Barnes from third to tie the game 3-3. Revis then laced a single to left, scoring courtesy runner Luke Roberts to put the Titans ahead 4-3.
After Revis produced a shutdown frame in the fifth, the bats went back to work, pushing across another run in the fifth and then, in the sixth, two more came across for McDowell to put the game away.
The Titans collected 13 hits in total and would have had several more if not for some spectacular defensive plays by Freedom's infield. Chapel Matson (2-4, RBI, SB), Three Young (2-4, double), Ethan Hamm (2-4, RBI, SB) and Michael Lewis (2-3, RBI) had two hits apiece. The rest of the lineup had one hit apiece which included the homer from Hensley (1-3, RBI, HR) and singles from Duncan (1-2, RBI), Revis (1-4, RBI), Cyrus Black (1-2) and Barnes (1-4, RBI).
McDowell (11-1 overall, 9-1 NWC) enters the final week of the regular season with a chance at its first outright conference championship since 2002. The Titans will be on the road Monday against Hickory. A win against the Red Tornadoes sets up a potential conference championship showdown at home Thursday against St. Stephens.
McDowell 20, Freedom 3 (Jayvees): The Titans erupted for 14 runs in the second inning and breezed past Freedom, rapping out 18 hits along the way.
Six Titans collected two hits apiece, including Chase Coley (2RBIs), Brasen Widener, Matthew Spivey, Wyatt Clark, Noah Higgins (2RBIs) and Braden Beck (2RBIs).
Hunter Byerly (2RBIs), Kaden Elkins, Zach Whitson (triple, 4RBIs), Tanner McKinney, Marshall Lamb and Nate Finley had one hit each.
Dawson Ray (3IP, 2H, 3R, 2ER, 4K, 3BB) got the win. Byerly pitched two scoreless, hitless innings, striking out five.