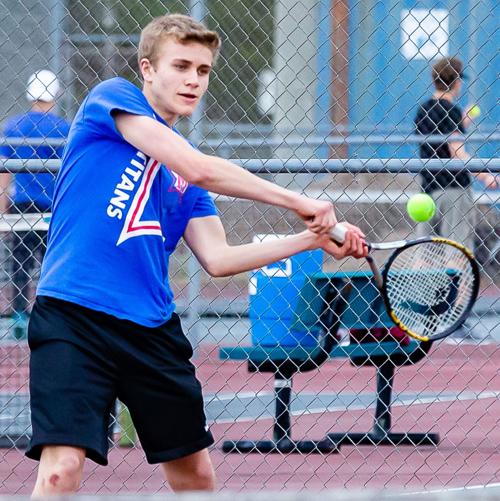 The McDowell Titans tennis team captured its first win of the season Thursday, defeating the West Caldwell Warriors 7-2 on the road.
The Titans (1-5 Northwestern 3A/4A Conference, 1-10-1 overall) lost singles matches at the first and sixth seeds, but won every match in between. McDowell also swept the three doubles matches against the Warriors (0-6, 0-11).
West Caldwell's Isaiah Denius defeated Chris Boyette 6-3, 6-1 at the top seed and Hector Gaspar beat Kaleb Burke in a tiebreaker 6-4, 4-6 (10-7) at No. 6.
Every other match went to the Titans, starting with Isaac Smith's 6-2, 6-2 win over Christian Garcia at No. 2. Isaac Lawing won a tight match over Filipe Orea 1-6, 6-3 (10-6) at the third seed.
Fourth-seed Walter Catala beat Joshua Hernandez 6-2, 6-2. At No. 5, John Ramirez beat Aiden Crooke 6-2, 6-1.
In doubles, Boyette and Smith outlasted Denius and Gaspar 8-5. Lawing and Catala teamed up to whip Orea and Gaspar 10-2. Ramirez and Burke defeated Crooke and Blake Bumgarner 10-2.