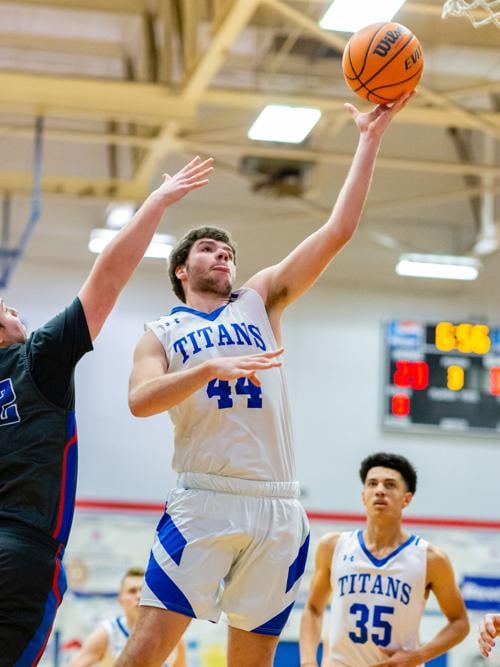 When McDowell Titans head basketball coach Brian Franklin nominated senior Trent Lewis for the North Carolina High School Athletic Association's Heart of a Champion Award, he felt pretty good about Lewis's chances.
"I knew Trent would win this award when I submitted his nomination," said Franklin. "If they didn't give it to him, they could have just done away with the award. It fits him perfectly."
Lewis is one of 35 student-athletes from across the state to earn the honor this year. The NCHSAA presents the award each year to athletes who demonstrate "outstanding citizenship and sportsmanship during their high school careers."
Franklin said Lewis, a two-time All-Northwestern 3A/4A Conference selection, is a natural for Heart of a Champion.
"Trent is one of the most unselfish kids that I have had the privilege to coach at McDowell High School, and not just on the court and in the context of basketball, but off the court as well," said Franklin. "He's always more concerned about those around him than himself. On the court, there were times that I wish he had been more selfish.
"Since day one, Trent has always been mature for his age and an independent thinker who is strong in his faith and has tremendous support from home and those around him."
McDowell Principal Edwin Spivey echoed that sentiment.
"We're all excited for Trent," said Spivey. "I think Trent has separated himself from a lot of student-athletes this year in a number of areas. But we're just so proud of what he's been able to do. I look forward to seeing his successes in college."
Lewis, a 6-foot-3 forward, averaged 12.3 points, 10 rebounds and 2 assists for the Titans in the COVID-shortened season earlier this year. He was named to the all-conference team for the second consecutive time.
A straight-A student, Lewis also won the prestigious USMC Semper Fidelis All-American award for 2020. That award is presented to student-athletes who exhibit excellent moral character in overcoming obstacles. Lewis has a hearing problem, but hasn't let that stop him from being all he can be, Franklin said.
"Trent has had to endure some tough times with his hearing condition, but I have never seen him with a negative attitude no matter how tough a procedure or if news at check-ups was not what he and his family were hoping for," said Franklin. "In an outstanding group of seniors, he was one of the leaders, the type of person that people are drawn to and will follow. I will miss Trent, but I look forward to seeing what great things the future holds for him, as I do with the rest of his outstanding senior basketball teammates."
Each NCHSAA member school could nominate one male and one female for the award, which is sponsored by N.C. Farm Bureau.
Association Commissioner Que Tucker said the values represented by the Heart of a Champion Award are more important now than ever.
"We are honored to join with Farm Bureau in recognizing this group of 35 student-athletes who have consistently demonstrated the values and traits that we want all student-athletes to learn through participation in our programs," said Tucker. "Now, more than any other time, our society needs young people, such as this group of award winners, who exhibit what it means to have the 'heart of a champion' and who are dedicated to excellence in sportsmanship and citizenship."
Lewis was the only Northwestern Conference athlete to receive the honor this year.