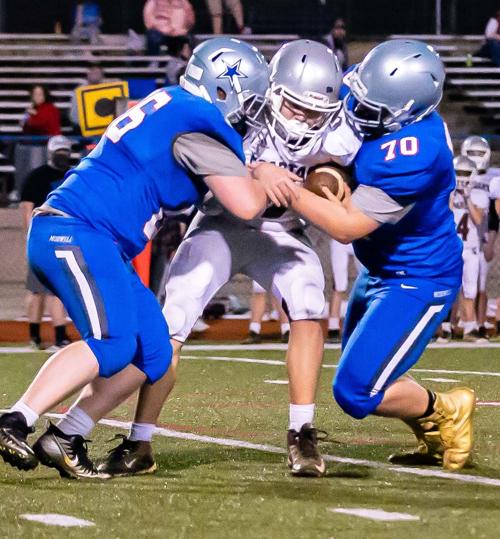 The McDowell Titans junior varsity football team could do just about anything it wanted to do in Thursday night's 64-28 blowout win against the Freedom Patriots.
The Titans scored on the ground, through the air and twice on special teams. The only thing McDowell (3-2 overall, 2-2 Northwestern 3A/4A Conference) wasn't able to pull off in the season finale was a touchdown from the defensive side of the football.
The team scored three times in a seven-minute span in the first quarter and finished with 35 unanswered points in the first half to quickly turn the contest into a rout. The second half was more of a back-and-forth battle with the game well in hand.
McDowell finished with a season-high 382 yards of offense. The running game was in high gear as 231 yards came on the ground on 29 plays. A decent number of those came in big chunks, as the Titans had six running plays of 15 yards or more.
Matthew Spivey finished with a team-high 80 yards and two scores on eight carries. Spivey also scored a third time on a punt return from 42 yards out during the second half.
Freshman Hunter Kirby had 56 yards and a score and Wyatt Clark punched in a 4-yard touchdown in the fourth quarter.
Through the air, sophomore quarterback Ricky Carr easily compiled his best game of the truncated season, going 8-of-9 passing for 151 yards and three touchdowns. Carr also had 83 yards rushing and was consistently in the game defensively throughout the contest.
Freshman Jackson Marsh (3 receptions, 83 yards, 2TDs) also had a pair of touchdown receptions from Carr in the game. Marsh also scored on a 73-yard kickoff return late in the game. Kirby, Spivey and Majesty Summey also caught passes in the contest.
Carr's first touchdown pass came in the second quarter. On a first-and-goal at the Freedom 9, he curled out to the right and then stopped and executed a perfect throwback pass to his younger brother, fullback Colby Carr, who dodged a tackler and walked in for the score.
The win for McDowell snapped a two-game losing skid.