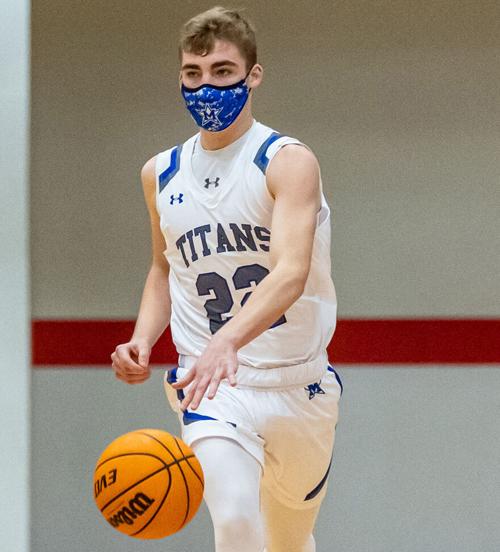 It's unclear whether the St. Stephens Indians stopped on the way back to Hickory on Monday night to grab a few lottery tickets.
If not, they should have. They would probably have hit that, too.
The Indians (1-1) put on a nearly unbelievable long-distance shooting exhibition in the first half, built a 17-point lead at the break and coasted to a stunning 70-59 win over the McDowell Titans (1-1).
St. Stephens made nine of its first 13 3-pointers and went 10-of-17 (59%) from downtown in the first half. The Indians shot 63% overall (15-24) in the half and led 47-30 at the break.
Five different Indians players made a 3 in the opening half, and many of them were well-contested by the Titans, who were playing man-to-man. St. Stephens forward Charlie Woy went 4-of-6 from downtown and scored 16 of his game-high 19 points in the first half.
"Obviously, the difference in the game was how well they shot it in the first half," said Titans head coach Brian Franklin. "We're playing man, and I thought on a lot of the shots, we got a hand up on them, and they just made big shots. We dug ourselves too big a hole."
The Indians' first three buckets were treys. They finished the quarter 5-of-9 and led 21-13.
St. Stephens was even better in the second period, going 5-of-8 from deep to outscore McDowell 26-17 to build an insurmountable halftime bulge.
The Titans didn't quit, and scrapped to within 10 in the closing seconds of the third quarter. It appeared as if McDowell would be within striking distance for the final stanza, but the Indians had other plans.
Guard John Ikard's heave from beyond the hash-mark at the buzzer went in, and the Indians were up 57-44 headed into the fourth.
On St. Stephens' first possession of the final period, a loose ball rolled around in the lane for 10 seconds and was touched by virtually every player on the floor, but somehow, Ikard came out with the ball -- all alone under the basket -- and flipped it in for a 59-44 advantage.
That was essentially it. The Titans only briefly shaved the lead down into single digits the rest of the way.
"I thought the 3 they made at the buzzer at the end of the third quarter was a big play, because we were going to go into the fourth quarter down 10, and you feel like you've got a chance in the game," said Franklin. "It was kind of a backbreaker for them to make that shot."
Forward Mason McPeters (3 rebounds, 2 assists, 2 steals) scored 16 for McDowell and was the only Titan in double figures.
Point guard Mikey Queen (5 rebounds, 2 assists, 2 steals) and forward Josh Smith (9 rebounds) each scored nine. Trent Lewis had seven points and pulled seven rebounds.
The Titans struggled mightily from the perimeter, making just two of 18 from beyond the arc.
"I thought another negative would be on offense, at times against pressure we dribbled too much and didn't move it and show patience," said Franklin. "When we moved it around and showed patience we got some good looks.
"The thing I was proud of was as a team, the kids never quit."
McDowell faces a short turnaround and travels to Watauga Wednesday (4:30 JV boys start)
St. Stephens (70) John Ikard 3-10 5-6 12, Dayton Anderson 3-6 0-0 8, Zane McPherson 4-9 2-3 12, Charlie Woy 5-9 5-6 19, Josh Barkley 4-6 1-3 11, Luke Reid 3-3 0-0 8, Colby Edwards 0-3 0-0 0, Mason Buff 0-0 0-0 0. Totals: 22-46 13-18 70.
McDowell (59) Mason McPeters 6-8 4-6 16, Josh Smith 3-11 2-2 9, Trent Lewis 3-12 1-2 7, Jandon Robbins 1-9 2-2 4, Mikey Queen 2-4 5-6 9, Riley Moore 0-0 0-0 0, Mason Lamb 2-4 0-0 5, Peyton Rose 2-2 1-2 5, Ethan Hensley 0-0 0-0 0, Max Ledford 1-3 2-3 4, Colby Effler 0-0 0-0 0. Totals: 20-53 17-23 59.
St. Stephens        21   26   10   13 – 70
McDowell           13   17   14   15 – 59
Rebounds: SS (25) MHS (33) Rebound leaders: SS (Barkley 10) MHS (Smith 9) 3-point goals: SS (13-31) MHS (2-18) SS (Ikard 1-3, Anderson 2-4, McPherson 2-7, Woy 4-8, Barkley 2-4, Reid 2-2, Edwards 0-3) MHS (Robbins 0-7, McPeters 0-1, Smith 1-4, Lewis 0-3, Lamb 1-3) MHS assist leaders: (Lewis 3) MHS steals leaders: (Queen, McPeters 2) Turnovers: SS (12) MHS (14)