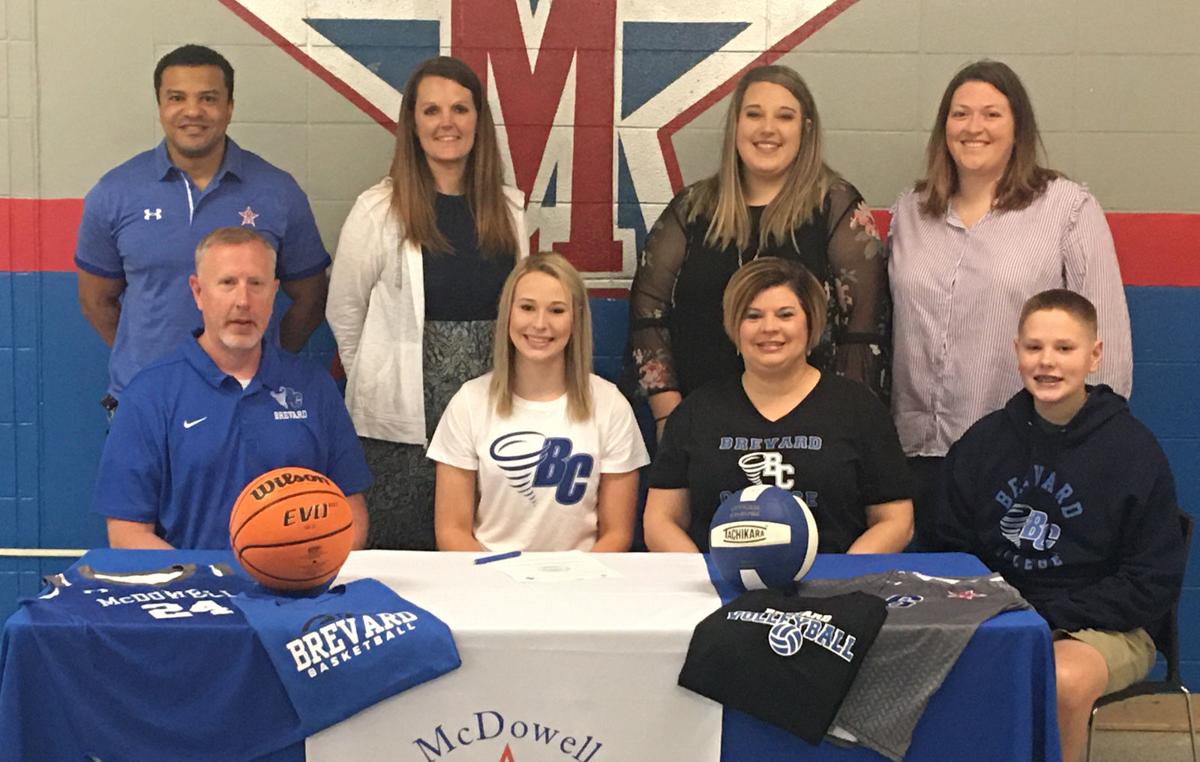 Sports have always been a huge part of life for McDowell High's Makenna Parkins.
She picked up her first basketball at the age of five, played sports year-round as a child in the Nebo community and from there she has never looked back.
Parkins' love for competitive athletics will continue in the 2020-21 school year as the senior officially committed to Brevard College, where she will have the opportunity to be a multi-sport athlete.
For Parkins, last week's commitment will allow her to the opportunity to do something that is rare in today's culture of college athletics. Starting in the fall she will join the Tornados volleyball team and will then follow that up by playing basketball next winter.
Brevard was one of three schools that she looked into initially to play basketball only. She visited Division II Erskine and NAIA member Bluefield (VA) College as well, but it was only the coaches within the Tornados athletic department that expressed the interest to for allowing Parkins to play multiple sports.
"I visited both Erskine and Bluefield, and honestly I loved a lot of the things Erskine had," said Parkins, "but for Brevard to step up and provide the opportunity for me to play two different sports was a difference-maker."
She will have an opportunity to provide a contribution to both programs who struggled this past season.
The Tornados volleyball team had a 2-25 overall record. While the entire team from the fall is eligible to return, Brevard's roster featured just nine players, with none of them taller than 6-foot, so chances are Parkins could make a quick impact as a freshman. The basketball team went 9-15 last season, and will be replacing two seniors.
Brevard will be getting a true throwback type of athlete in Parkins.
At 5-foot-10, she was a do-all kind of basketball player for the Lady Titans; a volume scorer, a strong rebounder on the blocks and a solid ball-handler in the open court.
This past season, Parkins led the team in scoring at 15.4 points per game and was a focal point of a McDowell team that went 12-13. Parkins also averaged 10.8 boards, 3.3 assists, 1.8 steals and 1.8 blocks per game.
She finished her two-year varsity career with 725 points and was a two-time All-Northwestern 3A/4A Conference choice and a third-team All-District selection for 2020.
Parkins' career high scoring game was in a 68-65 overtime win Alexander Central on Feb. 4 of this year where she tallied 31 points and 20 rebounds. Parkins had a 25-point, 14-rebound, 10-assist triple-double against Pisgah in the McDowell Christmas Tournament.
She was also selected to play in the Annual Blue-White All Star Game in Asheville but that event was cancelled due to the COVID-19 pandemic.
Her accolades were nearly as impressive during her volleyball career.
As a three-year varsity player Parkins garnered all-conference selections twice, and in her senior campaign, she recorded a team-high 124 kills, 119 digs and 15 aces for coach Jessica Finley's squad that went 10-9 in 2019.
Parkins played in 13 of the 19 matches for the Lady Titans and had double-figure kills in six of those at outside hitter. Her career-high of 18 kills took place last September in a competitive four-set loss at home against Hickory.
Parkins also took an interest in running in track and field as a senior. She did participate in McDowell's only track meet this spring, running in multiple events along with the long jump. Unfortunately, that ended before it could get started due to the closure of schools and sports back in March.
The skill level that Parkins was able to possess in both basketball and volleyball got better with each passing year. She credits the various coaches that have worked with her, even going back through middle school and in her time at McDowell. She was also very active in the travel ball circuit where she played for multiple showcase teams.
"I want to thank the lord for the opportunity to play sports and to be the best possible player that I can be," she said. "I've got a family that has always been very supportive in what I've done and the many coaches that have been a part of that as well."
Academically, Parkins also excels, holding a 4.39 GPA and is ranked ninth in the 2020 senior class. Her studies in college will include going into occupational therapy with an eventual focus on working with special-needs children.
Be the first to know
Get local news delivered to your inbox!