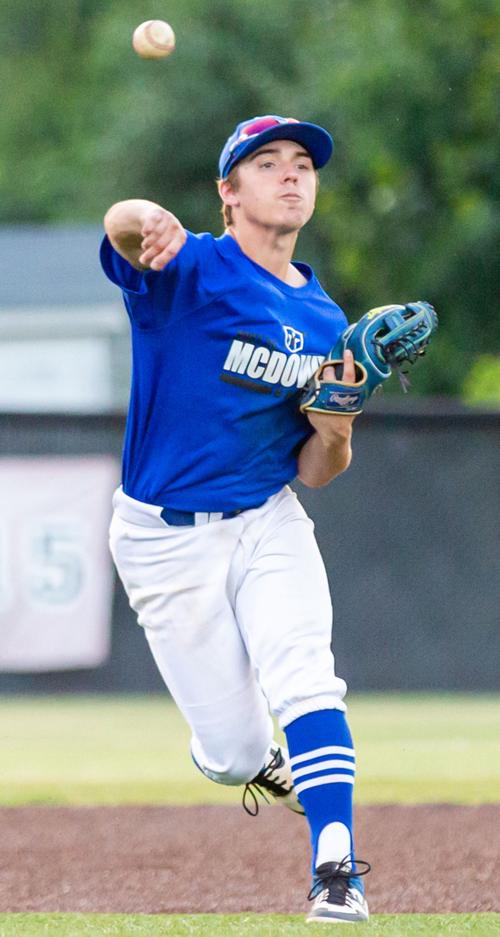 The midweek timeframe for the McDowell County Post 56 'A' team was a time of mixed results. 
The 56ers dominated Chase on Thursday night, producing their highest single-game run total of the season in a 20-5 blowout at Titan Field.
McDowell (15-2) scored in each of the first four innings of play on Thursday and was able to end the game quickly thanks to the 10-run rule that kicked in after Chase was retired in the top half of the fifth.
Post 56 was in front 5-4 going into the bottom half of the second, and from that point, the team scored 15 of the next 16 runs scored in the game.
Justin Dula continued to swing a hot stick at the plate, going 3-for-4 with a double and a triple, driving in three runs and scoring three times.
Ethan Davis (2-2, RBI, 2BB), Ben Barnes (2-2, double) and Dusty Revis (2-3, 2RBIs, BB) also had multiple hits for McDowell.
Three Young (1-4), Michael Lewis (1-2, 2RBIs, BB), Justin Davis (1-2, 2RBIs, BB), Travis Bailey (1-2, RBI) and Ethan Hensley (1-1, BB) all had one hit.
Barnes, Revis and Justin Davis combined to pitch the five-inning contest, allowing three earned runs on five hits with one strikeout and four walks.
R-S Central 5, Post 56-A 4 (Wednesday)
Thursday's victory came 24 hours later on the heels of a disappointing loss, 5-4 to R-S Central's Junior Legion team on Wednesday.
The setback likely put McDowell back even with South Caldwell for the top spot in the Area IV Western Division standings.
The 56ers enjoyed a 4-0 advantage after five innings when Central rallied with four runs in the top half of the sixth to tie the game.
And then, in the seventh, R-S pushed across the winning run to stun the 56ers.
McDowell, usually a solid defensive team, committed five errors in the contest, two of them coming in the final innings. Both of those errors helped to extend each inning, opening the door for R-S Central.
Ethan Davis tossed 5 2/3 innings, allowing three earned runs on six hits. Davis struck out two and walked four. Chapel Matson tossed the last inning and a third, allowing two runs on three hits and striking out one.
McDowell also struggled at the plate, with just two hits against R-S Central. Three Young went 2-for-3 with one RBI and a walk.
Post 56 will host Rutherford County Post 423 in a doubleheader on Monday to round out the regular season.
Chase 8, Post 56 'B' team 3 (Thursday)
McDowell's Junior Legion B-team wrapped up its season with a split of games at Titan Field. On Thursday, Chase jumped out to an early lead and held off McDowell by an 8-3 margin.
Chase jumped out to a 6-1 lead thanks to a pair of three-run innings in both the first and third and was never threatened after that point.
Post 56 had five hits in total in the loss. Noah Higgins (RBI, BB) and Cole Weaver (2-2, RBI) both had two hits and Hunter Byerly (RBI) added a hit.
Byerly's two-out double in the bottom of the first gave McDowell its first run of the contest.
Higgins' line-drive hit to center in the third produced the second McDowell run and Weaver's RBI hit in the fourth accounted for the third run.
Post 56 'B' team 5, R-S Central 4 (Wednesday)
On Wednesday, the McDowell Post 56 B-team rallied to win by a 5-4 margin in a five-inning game at Titan Field.
Both teams were tied at 4-4 after three and a half innings of play.
It was in the bottom of the fourth when Post 56 scored the decisive run. It all started with a one-out walk by Cole Weaver. He then took second on a wild pitch and stole third. Then, with two outs, Weaver scored the winning run when Braden Beck reached on a fielding error.
McDowell had five hits in totals with Kaden Elkins, Ethan Hensley, Michael Lewis, Noah Higgins and Matthew Spivey accounting for each of those hits.
Ty Smith earned the win, allowing two earned runs on five hits in five innings. Smith recorded four strikeouts and walked two batters.
McDowell's B-team finishes the junior legion campaign with a 7-4-1 record.
Be the first to know
Get local news delivered to your inbox!