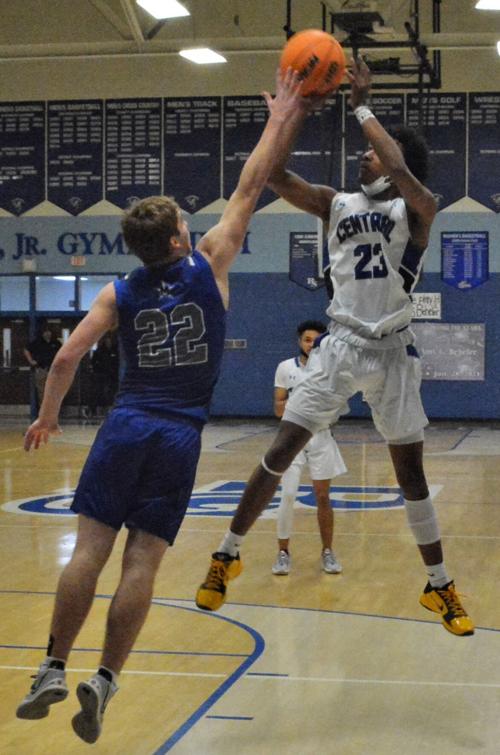 RUTHERFORDTON – It was a rough start to the 2021-22 basketball season for the McDowell Titans on Tuesday night when they were beaten by an outstanding R-S Central Hilltoppers team 69-49 on the Palace Court in Rutherfordton.
The Hilltoppers led wire to wire, and it all started with eight of the first 10 points scored over a span of less than four minutes of game time. But as fast as that start was, McDowell, with its solid half-court zone, was able to creep back into it, trailing by just a 14-10 margin after one quarter.
It was after the first stanza when the Titans' struggles began.
McDowell spent another quarter-plus to double its point production from just the opening eight minutes, and with the inability to efficiently score, Central was able to start separating itself. The second quarter began with another 8-0 mini-spurt, pushing the lead into double figures, where it remained the rest of the way.
"We missed a couple shots early on that we usually make," Titans head coach Brian Franklin said. "We got some wide-open looks from the perimeter and some cuts to the basket and didn't make them.
"And then, we stopped moving the ball around in the second quarter. We had a stretch of three or four minutes where it was a four-point game and we're getting some good defensive possessions, but offensively, we were impatient or didn't make any shots."
Up 33-16 at the break, the Hilltoppers put the game away with a 17-5 surge over a span of five-plus minutes. Braxton Crocker's 3-pointer with two and a half minutes left in the third made it a 50-21 score. What was a fairly solid effort defensively broke down after the break.
"I thought on the defensive end, to hold them to 33 points at the half, as well as they can shoot it, that we were in a good spot," said Franklin. "But there were breakdowns in the second half. We have got to improve on that. As a team we have to rebound the ball well especially against teams like R-S and the size they put on the floor. We're disappointed in the outcome, but the good thing is that we have something on film now that the boys can go look at and improve from."
Guard Tyrese Miller had 18 points to lead the Hilltoppers with Crocker adding 17 points to give R-S a pair in double figures.
All five starters and a dozen total McDowell players scored in a losing effort, but no one person was able to reach double figures in the opener. Mason Lamb scored a team-high eight points and had five rebounds. Josh Smith added seven points, seven rebounds and one steal.
Jandon Robbins (3 assists) and junior forward Jeremiah Ellis (4 rebounds) netted six points each. Sophomore guard David Olivo (3 assists) finished with five points. The starters combined to make only two 3-pointers.
Jackson Marsh, Matthew Spivey, Devyn Cash and Xavier Taylor scored three points apiece off the bench. Sophomore Marshall Lamb, Ashton Burnette, Jeryah Cash, Ethan Hensley and Collin Henson finished with two points apiece.
McDowell will return from the Thanksgiving break with its home opener Tuesday against the same Hilltoppers. Franklin believes this outcome will help prepare for the rematch a week from now.
"We now have film to where the kids can see the things we're talking about and we hope to use the next few days of practice to make us a better team before we play R-S at home next week," he said.