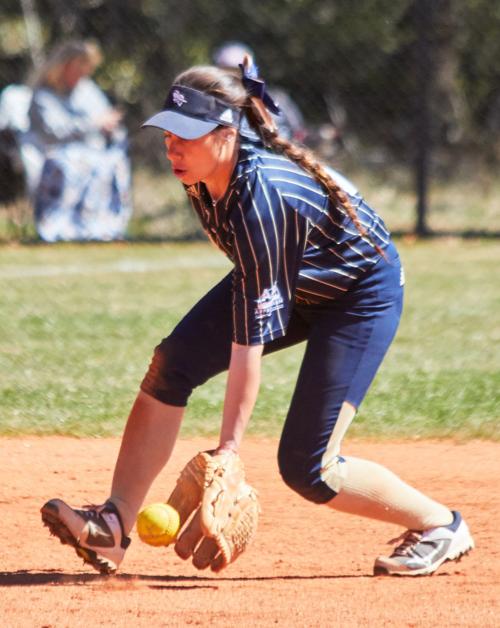 A half dozen former McDowell Lady Titans softball standouts recently wrapped up their respective college seasons, including a trio of longtime teammates and another who played a part in her team's historic postseason run.
Here's a look at how former MHS players did in college this season:
Michalyn Bingham, Jr., OF, Young Harris College (Ga.) – Bingham was a consistent contributor for the Mountain Lions, who wrapped up their season last weekend with a third-place finish in the NCAA Division-II National Championships.
Young Harris finished 44-20, setting a school record for wins since joining the NCAA in 2014. The Mountain Lions captured the Southeast Super Regional championship, and Bingham helped by playing in 42 games, starting 34 of them.
Bingham batted .366, tops on the team among players with 100 or more season at bats. She had a .418 on-base percentage and a .455 slugging percentage with two doubles, two triples, a home run and 16 RBIs. She also posted a .941 fielding percentage.
Kat Carroll, Fr., C, Brevard College – Carroll played in 12 games for the Tornados, batting .250. Brevard finished the year 17-23 and 7-9 in the NCAA Div. III USA South Conference.
Liana Elliott, Jr., Utility, Montreat College – Elliott turned in an outstanding season for the Cavaliers, who finished 21-26 overall and 11-15 in the NAIA Appalachian Athletic Conference.
Elliott played in 43 games, starting 41 of them, and hit a solid .323. She was second on the team in hits (41) and tied for second in runs scored (23). The versatile Elliott had four doubles, two triples and drove in 21 runs. She also swiped six bases and had a .967 fielding percentage.
Lauren Hudgins, Fr., C/Utility, Lees-McRae College – Hudgins played in eight games as a freshman for the Bobcats, collecting two hits. Lees-McRae finished the season 22-19 overall and 11-9 in the NCAA Div. II Conference of the Carolinas.
Mikki Shelton, Jr., IF, Montreat College – Shelton had a big year for the Cavs, starting in 42 of the 43 games in which she played and leading the team in hits (47), runs scored (26), triples (6) and stolen bases (13-15).
Shelton batted .333 with four doubles, 19 RBIs and a .447 slugging percentage, and recorded a nifty, .959 fielding percentage.
Aly Woody, Sr., OF, Montreat College – Woody played in 30 games for the Cavaliers, starting 27 of them. She hit .241 with 14 RBIs and five stolen bases. She had a .978 fielding percentage.
Woody, who was a classmate of Shelton and Elliott, will graduate next December and then attend grad school.
Be the first to know
Get local news delivered to your inbox!