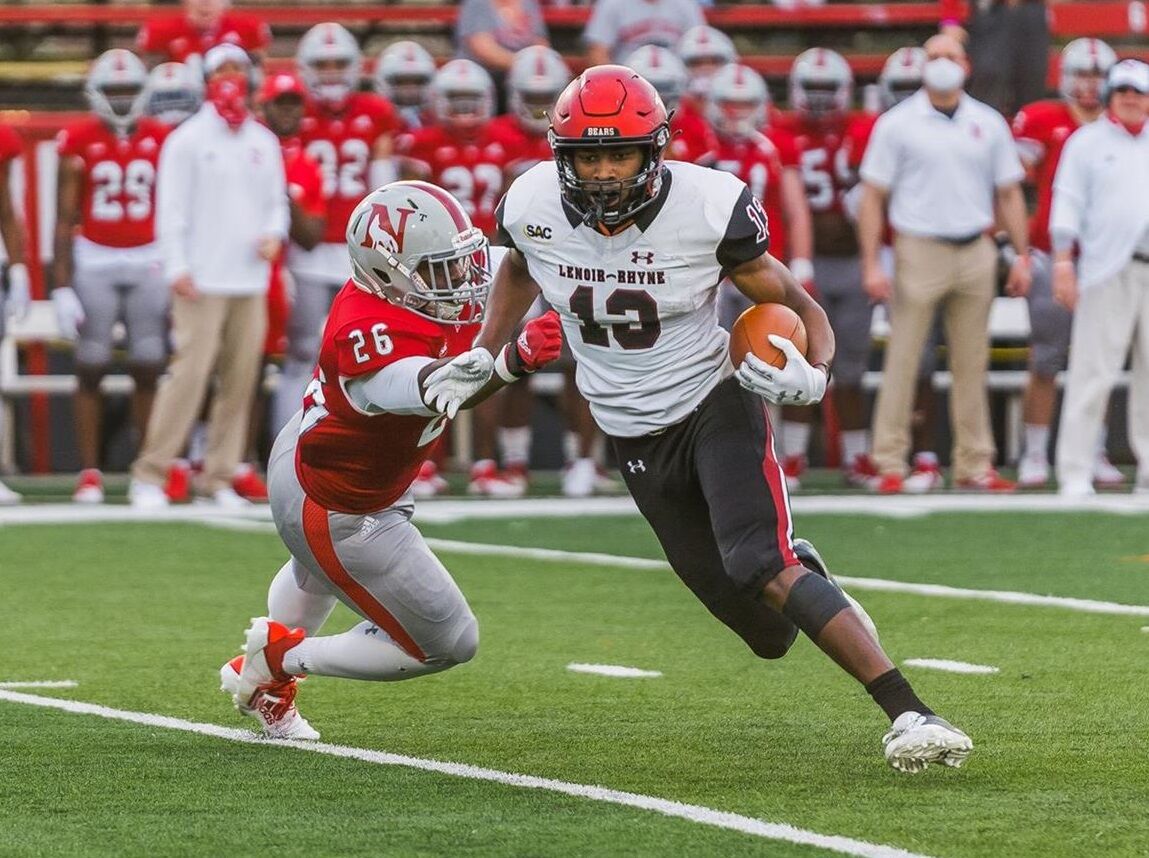 NEWBERRY, S.C. — Playing without several starters including redshirt senior quarterback Grayson Willingham, the Lenoir-Rhyne football team pulled out a 27-20, double overtime victory over Newberry on the road Friday. The season-opening win was the Bears' 18th straight South Atlantic Conference triumph and their 22nd consecutive regular-season victory dating back to the 2018 season.
L-R (1-0, 1-0 SAC) scored its first points of the season thanks to a pair of freshmen. Following a three-and-out by the Wolves to begin the contest, Jordan Holmes broke through for a blocked punt and Alvin James returned it 20 yards for a touchdown on his first career touch.
On the ensuing extra point, senior kicker Chase Allbaugh became the Bears' all-time leader in points by a kicker, surpassing Zach Neumann with his 265th career point. Nevertheless, Newberry (1-1, 0-1) held the ball for nearly 20 minutes out of 30 in the opening half, scoring the tying TD on a 1-yard run from Malory Pinkney II in the first quarter before finding itself down 10-7 at the half following Allbaugh's 45-yard field goal with 10 seconds remaining in the second quarter.
After Mario Anderson's 17-yard TD run at the 10:53 mark of the third quarter put the Wolves on top for the first time, redshirt freshman Percy King helped L-R regain the lead when he intercepted a pass and returned it 10 yards for a score just over a minute into the fourth. However, Newberry forced overtime with a 27-yard field goal from Jonas Lundberg late in the final period, with the Wolves blocking a 42-yard field goal try by Allbaugh as time expired to keep things tied at 17-all.
After the teams traded field goals in the first overtime, L-R QB Sean White found fellow freshman Kelin Parsons for an 8-yard scoring strike to give the visitors a 27-20 advantage. From there, the Bears forced three consecutive incompletions before junior Keygan Mayfield — a Maiden High alumnus — picked off a fourth-down pass attempt to end the game.
Freshman Dwayne McGee finished with 30 carries for 160 yards to lead the Bears' rushing attack, while Caine Crews added 10 carries for 54 yards. White completed 12 of 22 passes for 123 yards and a TD, but also threw three interceptions.
On the other side, Newberry QB Dre Harris completed 11 of 21 passes for 102 yards, tossing a pair of interceptions. The redshirt junior was also the Wolves' leading rusher with eight carries for 81 yards, while Anderson added 18 carries for 78 yards and a score.
Defensively, freshman Jon Ross Maye led the Bears with 14 tackles (six solo), with senior Amari Houston adding nine tackles (four solo) and a half-sack. Additionally, redshirt sophomore J.P. Palmer, senior Quentin Hayes and King recorded six tackles apiece, with the latter sharing a sack with Houston.
L-R opens its home slate against Barton next Saturday at 4 p.m., while Newberry travels to Catawba at 1 p.m.
Lenoir-Rhyne 4, Catawba 0
The 24th-ranked Bears blanked the Indians during Thursday's home match in Hickory. Andres Ruiz scored three goals for L-R, which also got one from Victor Cascon.
Jaime Poza added two assists for the Bears (2-0-1, 2-0-1 SAC), with goalkeeper Juan Basabe recording a clean sheet with one save. Catawba only took three shots in the contest as compared to 24 for L-R, which also held a 7-2 advantage in corner kicks.
The Indians (0-1-1, 0-1-1) host Queens in an exhibition contest on Sunday at 7:30 p.m. before visiting Wingate next Thursday at 7 p.m. Meanwhile, L-R hosts Coker next Thursday at 7:30 p.m.
Lenoir-Rhyne 1, Catawba 0
The Bears defeated the Indians at home Thursday in Hickory. The only goal of the match came on a penalty kick from Lenoir-Rhyne's Ria Acton in the 45th minute.
The teams combined for just three shots in the opening half before L-R (3-0-1, 2-0-1 SAC) scored early in the second half. Grayson Cameron collected her first clean sheet of the year with three saves in goal for the Bears, who earned four corner kicks as compared to the 13 taken by the visitors.