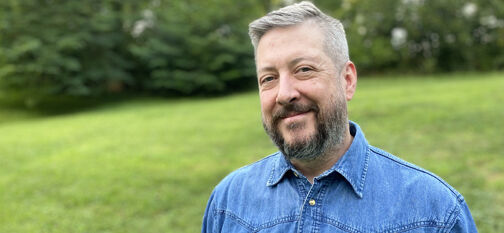 I thought I would take a little break this week and dig back into the archives for a column few people read and no one remembers. It was back in '94 when I thought I could convince the governor to make someone mow my yard. So far, that hasn't happened. Enjoy this lightly edited column from back in the day.
The governor came to town, but I didn't get to see him because I had to mow my yard.
It was my day off. I wanted to talk to the governor about important economic issues like how to raise the salaries of working-class newspaper folks, but if my grass got any higher I would have run the risk of getting hopelessly lost walking from the porch to my truck. It's no fun cutting a trail through the yard with a machete every morning.
My coworkers covered the governor's visit. They said it was great because they got to eat lunch for free.
The monotony of mowing gave me an opportunity to think. Here's what I thought about: I'm a taxpaying citizen who doesn't like to mow grass and the state hires people with my tax dollars to mow grass beside the road, so it would be nice if the governor got somebody to mow my grass for me, since I'm paying for it anyway. They come right by the house, so how much trouble would it be just to turn that big mower up the driveway and make a few laps around my yard?
As I maneuvered around stumps, mole holes and the occasional stray concrete block in my yard, I thought about setting up a meeting with the governor, taking him for ride in my truck to get a look at my lawn and talking him into ordering somebody to mow it for me.
Here is how I would do it:
"Climb on in the truck here, governor. You're probably going to get a little dog hair on your suit. No, don't worry about putting your feet on any of that stuff in the floorboard, it's just some trash like Sundrop cans, Little Debbie wrappers and a subpoena.
"Governor, I bought you some lunch to eat on the way down to the house. I hope you don't mind eating in the truck, but I really don't have time to take you over to the Smokehouse for a country-style steak plate lunch because I have to get back to the newspaper to take a picture of a man who grew a gourd that looks like Elvis' head.
"I got you a Hut Burger with cheese from the Barbecue Hut, which is a lot better than the fried cheese and bean sprouts you get at those fancy-pants restaurants over to the capitol, hoss. I mean, Your Honor.
"You're getting a little chili on your flag pin, Governor.
"OK, this is my driveway. No, sir, it's not an old logging road. This really is my driveway, and I certainly wouldn't mind if you sent a state motor-grader out here to knock a few of the holes out of it, seeing as how I bought you lunch and all.
"Now, when you get out of the truck, governor, the dogs are liable to greet you with a lot of enthusiasm, so -- No! Down boy! Down! Let the governor up! I'm sorry, Your Highness. We'll put a little Bactine on that later. Just apply direct pressure.
"Well, as you can see, governor, it won't take much more than 30 minutes for a crew with a couple of big industrial-size mowers to cut all this. After that I'll give them all the water they can drink. I figure the tax money I've paid over the years entitles me to a little grass-mowing, don't you think?"
If this works, I might see what the governor can do about painting my house.
Catch the latest in Opinion
Get opinion pieces, letters and editorials sent directly to your inbox weekly!