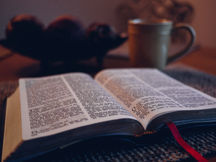 As long as I can remember, I have always been busy. Even as a child, I played sports while I was in school, and tried to join or belong to every club that would have me.
When I entered college, I discovered that the cost was the same for 12 hours per semester as 18 hours, I tried to take 18 hours every semester. I felt if I (or my Mom) was going to have to pay for 12 hours, I would register for as many hours to get the most of it.
The only problem with that thinking was I wasn't academically prepared to handle the workload. Even when my grade average dropped below an acceptable level and I received a letter from the dean of the college suggesting that I drastically reduce the number of classes I was taking, I wouldn't.
I figured if I was going to flunk out of school, it would be with a full class load and in a blaze of glory. While I was on top-secret probation in college, I had to find a way not to flunk out of school while taking the maximum number of hours and working a job.
Friends, flunking out of college while attending school to be a preacher is very embarrassing.
What was I going to tell my family at reunions that knew I was in school preparing for the ministry? It was in the middle of my despair when I received a word of counsel that changed and saved my academic life. It so happened that I was working with a retired professor at a local supermarket and I told him of my self-inflicted plight.
As he began to ask me questions as to how I studied and prepared for classes, I worked myself up into a tizzy describing all the papers I had to write, and all the tests I was preparing for on a weekly basis. The more I talked the more he listened, and then, he told me what my problem was and why I was failing.
It wasn't because I wasn't called to preach, or because I wasn't smart enough to pass college courses, it was because I was trying to do everything at the same time.
He said, "Vincent, you can only slay one dragon at a time, and you are trying to slay everything all at once."
This may not sound like a word of wisdom to you, but a light turned on in my mind. I never thought about finishing what I started and then moving on to the next assignment. I wanted to start everything at the same time and hopefully finish everything at the same time. I went back to college with a new purpose, and I began to pass my classes.
At the end of the semester I received another letter from the dean, congratulating me on my unexpected but welcomed turn around.
Friends, what is the most important thing in your life right now? If we are honest with ourselves, we are facing a number of "dragons" in our lives. We have the "dragon" of COVID-19. As we watch this pandemic decrease then surge across our lands, we are not sure to go on vacation, go to the store, go to a restaurant or go to church without the fear of contracting this virus. This is a terrible way to live, if you are trying to slay this dragon by yourself.
Then we look at the unrest that is also raging in our country. Again, if you are trying to fix this by your own actions, you will fail. Only God can change the heart of a human being.
If you are trying to slay several dragons at one time, the first thing you need to do is to fix your eyes on one prize, and that one prize is to please God with your life.
Psalm 34:10 says, "The young lions lack and suffer hunger; but those who seek the Lord shall not lack any good thing." Whether you are facing dragons or lions, when you decide in your heart to be obedient to Christ, you will receive the blessings he has prepared for you. Be sure that you do not cave into the fear any dragon can thrust into your mind. Always use the wisdom that God has placed in your heart to keep yourself safe in this world.
Dragons do exist, just use the right weapons when you are battling them in your life. Remember, don't give in to sin. Think about it.
Vince Hefner is pastor of First Baptist Church in Cherryville.
Catch the latest in Opinion
Get opinion pieces, letters and editorials sent directly to your inbox weekly!