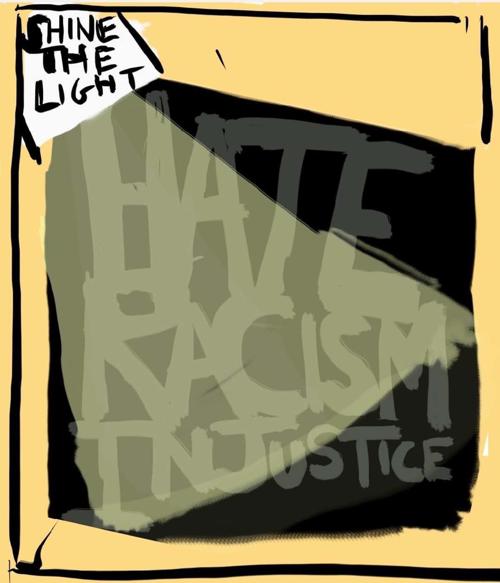 While other cities in America are experiencing protests and riots over racism and police brutality, peaceful vigils will take place Thursday evening in downtown Marion and in Old Fort to "shine the light" on racial hate and injustice as well as promote unity among all people.
The Shine the Light: A Day of Love and Solidarity vigil will be held on Main Street in Marion starting at 7 p.m. and the same time at the Old Fort First Baptist Church. They will be broadcast on Facebook live.
"It's the year 2020 and this is still happening," reads the Facebook page about the event. "Let's educate ourselves and love each other. Shine the light on what's going on. It's time to talk, understand and bring this all to the light. Wear your mask and there will be 6 feet apart on the sidewalks. Pick a line and join in. Bring your flashlight or your phone that has a flashlight. This is a peaceful vigil."
Debora Workman is one of the organizers of the Shine the Light vigil. She is a member of the steering committee for the Marion East Community Forum.
Workman, who is white, was motivated to do something local in response to the killings of Ahmaud Arbery in south Georgia and George Floyd in Minneapolis.
"I wanted to do something for our county and for the ones that are crying out with pain from racism and hate," she said. "I've seen it in our own county many times. We are all from God. People of color are from God, the one that loves us all. There needs to be better education about why people of color are upset and the history of brutal oppression in this country.
"White people enslaved people of color for 400 years in this country. They were killed, raped, and tortured. When people of color finally were set free, white people still treated people of color pretty much the same – what followed were years of laws where they still had no rights, including Jim Crow laws that denied them the right to vote, hold jobs, buy homes, access loans, and access education. Mass incarceration has also devastated the community. Our country's history also includes white people stealing land from the Native Americans and from the Hispanic/Latino community."
Workman asked why do some white people think the United States is only their country and not those of other races.
"It is the year 2020," she said. "Why are we still seeing racism and hate? Why are children still being raised to hate the color of people? White people, as myself, need to help people of color to stop racism. White people caused the anger that has built up all these years. We should all be treated equally. Who is going to help our communities learn that racism and hate has got to stop? There is an outcry right now to stop it and we as white people must respond and be a part of that outcry. White people need to see it is our role to join this fight and stop racism and hate. Speak up when you hear it, speak up if you see it. Educate yourself, so you can educate the generations now and to come. It's time to stop being quiet. It's time to act in peace. 'We the people' that means all races and ethnicities, not just one. Let's all come together on Thursday, June 4th, 2020 at 7 pm to Shine the Light on Racism and Hate. It is a day for love and solidarity. This is my vision and so many others to end this now."
Thursday's vigil, in some ways, will be similar to the Unity services that were held a few years ago in Marion. Those events united people of different races, ethnic groups and economic backgrounds along with local law enforcement and civic leaders.
Ginger Gorecki Webb, program manager of the Community Engagement Project, said equity and justice are core values of the local community forums. She is also white.
"We know what racism and injustice will not prevail when brought into the light," said Webb to The McDowell News. "We all need to work toward breaking down a system that was and is created to discriminate and oppress black people as well as other people of color. We want this peaceful vigil to be a moment of solidarity. As neighbors, we have to get uncomfortable and lean in to the hard work of examining our systems and our prejudices to actually make forward progress to true unity."
Two leaders of the African-American community in McDowell said they hope people of all races come together for this event.
"On the issue of racism people have been silent, complacent, content, and cautious for too long," said Dawna Goode-Ledbetter of the West Marion Community Forum. "No one wants to sit in discomfort and that's a problem. Well we've been uncomfortable for a long time and #WEARETIRED! I urge everyone of every race to shine a light and use your voice in order to heal the nation of this disease called racism."
"It's 2020 and I still have to have this same conversation," said Paula Avery Swepson, also with the West Marion forum. "I'm at a loss for words, but at the same time I have so much to say. When I was approached about doing something, my first thoughts were, 'I can do no more. It's time for the white people to stand up and speak out against the injustices that we are continuing to face.' I'm tired, worn out and want to see a positive change for all.
"I see daily where people say things like 'Get over it', or 'I never owned slaves,' or 'They must have done something wrong for the cops to have treated them that way.' I'm tired of not having my voice or the lived experiences of my community being heard. I'm tired of not being considered credible because of the color of my skin. Credible people in this country are only white people. This is the America that I have lived in for over 55 years. This vigil is the starting place for people in power to have uncomfortable conversations about how the systems they work for are setup for white people to succeed and people of color to fail. I believe in our county and I know our leaders will step up in this moment to turn the tides of oppression for the betterment of everyone in our community and nation. One thing we are doing is selling T-shirts from today's event and all proceeds will go towards anyone who wants to participate in a Racial Equity Training to learn about historical and institutional racism and develop a toolkit for being anti-racist."
Kitty Geouge Wilson is another leader with the Marion East Community Forum. She is white.
"We have been talking race relations in our country for decades," said Wilson to The McDowell News. "We've seen death and riots, protests and peace marches over those decades. Some have first-hand experience; others of us got our information from news broadcasts. We've talked ad nauseam about love one another and Jesus is the way. We have special days for feel-good speeches where we embrace each other with smiles and pats on the back. We hold hands to sing songs together. We feel good about how open-minded and 'accepting' we are; if everyone were like us, there would not be any problems. We as white people are totally out of touch with the reality of our neighbors of color. I'm shocked at how little progress has been made by my generation around race relations.
"Thanks to the availability of cameras and social media, I've watched people being killed in front of me because of the color of their skin. I'm seeing my peers express shock then say 'It's a few bad apples.' No it's not - it's us; we are the problem. We have allowed injustice and inequity to prevail. We as white people protect and defend systems that are built on discrimination, just so we feel superior. I'm a slow learner. I've been reluctantly listening to people of color whom I admire as heroes, trying their best to educate me and I've been a less than stellar student. I think the light bulb has gone off. My eyes are open; my ears unplugged. I have so much to unlearn."
Wilson said her hope is that the Shine the Light vigil will indeed be a day of love and solidarity.
"To change, we first have to admit we have a problem," she said to The McDowell News. "Then we have to educate ourselves so we understand. Next, we step up and actively engage in implementing solutions that are impactful and enduring. Obviously, there are no quick fixes; the vigil is just a starting point. Thursday is a day to step up and say, 'I want to be part of the solution and I'm willing to learn; willing to put in the work; and accept that this is my problem to solve.'"
Be the first to know
Get local news delivered to your inbox!