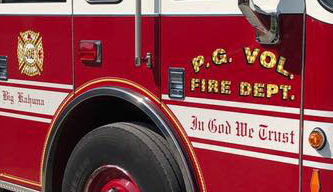 A person was found dead in an early Thursday morning fire in a house in the Pleasant Gardens community.
At around 4:25 a.m. Thursday, firefighters with the Pleasant Gardens Volunteer Fire Department were called to the scene of house on fire on Forest Hill Drive. By the time they were notified and got to the scene, the brick house was already 50% involved, said Assistant Chief Danny Killough.
P.G. firefighters were aided by Marion, Old Fort and Crooked Creek departments.
A person inside the house died in the fire. P.G. firefighters were unable to confirm to The McDowell News whether that person was even a male or a female.
"We really don't know because of the shape of the body inside the house," said Chief Brad Ledbetter.
Killough said Thursday the State Bureau of Investigation is working to determine the gender of the person, the age and that person's identity. He added he is not aware of any other person in the house at the time of the fire.
The cause of the fire is so far undetermined, said Killough.
Be the first to know
Get local news delivered to your inbox!