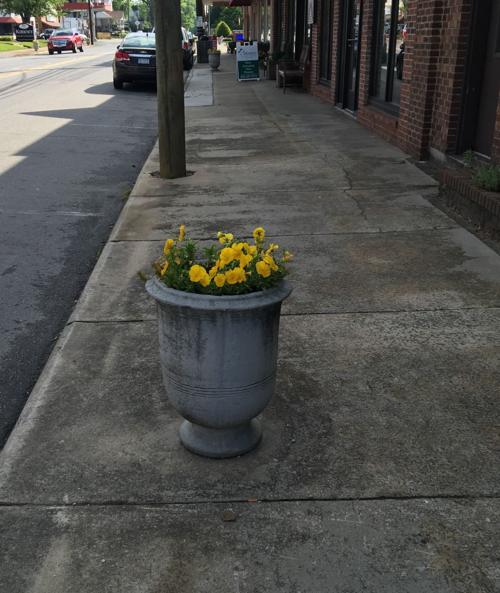 A McDowell County business said in a letter to the town of Old Fort they no longer want them as a customer because of elected leaders' support of HB2.
Painters Greenhouse, located at 734 Roy Moore Road in Old Fort, sent a letter to the town this week with a check refunding half of the money toward the town's flower purchase this year. The greenhouse had originally donated the plants and labor to the town.
Here is what the letter says:
"This is to notify you that Painters Greenhouse will no longer be directly involved with the town planters. We will prep the planter soil for their summer plants and refund the town for the amount you've already paid for the spring planting in the amount of $317.50. Terry Wilson will be taking over the project. Painters prides itself on being inclusive and open minded. Since the town passed the HB-2 bill, we've expected and received customer blowback. Loyal customers don't want to step foot in this town, much less pass through it. We understand their frustration. We support our families, our friends and patrons, and we would much rather stand by them than with archaic local laws that shackle civil liberties, paralyze businesses, and completely ignore any separation of church and state. Kudos to Marion for repealing the law. They seem focused on economic growth and social progress."
The letter is signed from "The Painters Team."
HB2 was actually passed by the N.C. Legislature and signed into law by Gov. Pat McCrory. The Old Fort Board of Aldermen unanimously passed a resolution supporting the bill, while the Marion City Council unanimously passed a resolution opposing it.
Old Fort's Mayor Rick Hensley said Friday morning he is disappointed by Painters' actions, but he respects their decision.
"We are disappointed of course, but at the same time we understand their opinion," he said. "It's just like all over the county and the state, you have some people that are for it and some people that are against it. I hate that it's gotten to this point to where we have neighbors arguing with neighbors."
The letter is on display at Town Hall in Old Fort.
"It's entirely up to Painters Greenhouse how they deal with their customers," Hensley said. "If they do not want us to be a customer, that's fine. It's their choice. This is the letter the town got and people can make a decision for themselves. I still believe in free enterprise and you do have the right to refuse service to a customer."
Deenie Owen, co-owner of Painters Greenhouse, said she has not yet received a formal reply from the town of Old Fort. However, she did hear back from some irate people only a couple of days after sending that letter.
Owen said she received a "hate call" from someone who left a voicemail and told her that she and her business "support those sick people." She added the caller's message on her voicemail stated "there was such a thing as Facebook and it would be plastered all over Facebook." The message also stated that some people would like it if she moved her business out of McDowell County, according to Owen.
"Our business comes from everywhere," said Owen. "We treat everyone the same. We feel everybody has a right to their beliefs."
In addition, Owen said two people came to confront her. She described it as a "hate visit" and one of those two people claimed to be a pastor.
Owen said this man was "very, very hateful" and was not acting very Christian-like.
Hensley said he hopes that everyone who feels the same as Painters respects the town leaders' decision as well to support the bill.
"Everyone has a right to their own opinion," he said. "Out of respect for any business, the town of Old Fort does not condone any behavior of ruining anyone's business. I feel like every business has a choice of their customers. I understand and I totally respect their decision."
Hensley said at the June Board of Aldermen meeting, the Beautification Forum will be held directly after at the Old Fort Depot and this topic will be up for discussion. He hopes to create a volunteer committee or work with the school systems in the future to help plant flowers in the town.
Mike Conley contributed to this story.