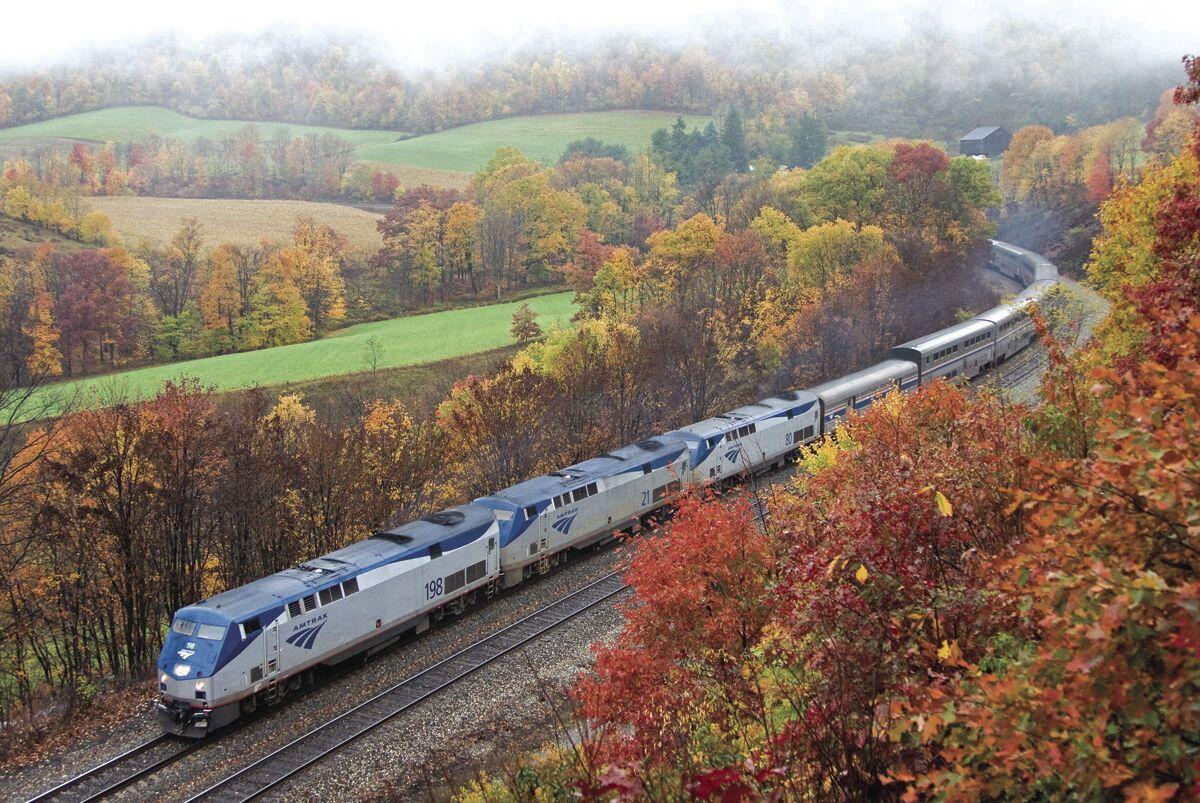 Under a new proposal, Amtrak could someday extend passenger rail service to western North Carolina, including Marion and Old Fort.
The plan announced recently is a response to President Biden's massive $2.3 trillion infrastructure plan for the next decade. The proposal from Amtrak includes adding new passenger rail services and expanding existing ones. One of the new services includes passenger trains traveling from Salisbury to Asheville.
"President Biden released his American Jobs Plan on Wednesday (March 31), that included plans for infrastructure investment, economic recovery, climate change, and social equity, and $80 billion designated specifically for rail," according to a news release from Amtrak. "Amtrak's vision to grow rail service and connect new city pairs across America, which is attached, rises to the urgent challenges of our time, and will provide new and improved train service to millions of additional passengers."
Amtrak spokesperson Kimberly Woods sent to The McDowell News a new map for proposed passenger rail service. It shows a new service route connecting Wilmington to Raleigh, Greensboro and eventually Asheville. At this time, Amtrak passenger trains operate in Raleigh and other major cities in North Carolina. But most of eastern North Carolina and all of western North Carolina are left out.
"President Biden's infrastructure plan is what this nation has been waiting for. Amtrak must rebuild and improve the Northeast Corridor, our national network and expand our service to more of America," said Amtrak CEO Bill Flynn in a news release. "In addition, Amtrak has a bold vision to bring energy-efficient, world-class intercity rail service to up to 160 new communities across the nation, as we also invest in our fleet and stations across the U.S. With this federal investment, Amtrak will create jobs and improve equity across cities, regions, and the entire country — and we are ready to deliver. America needs a rail network that offers frequent, reliable, sustainable and equitable train service. Now is our time, let's make rail the solution."
For many years, residents in western North Carolina have waited and worked to get passenger train service back to the mountains. Indeed, passenger rail service has not existed in western North Carolina since 1975, more than 45 years ago. But starting in the late 1990s, cities and towns along the route from Salisbury to Asheville have tried to bring passenger trains back to western North Carolina. Both the city of Marion and the town of Old Fort have been active in this effort.
The Western North Carolina Rail Committee has continually worked to support improved rail service since 1999. Marion, Old Fort, Morganton and Conover had their depots renovated in the hope the passenger trains will someday return.
Around the beginning of December of last year, the N.C. Department of Transportation announced plans to increase passenger rail service in the state.
Some of the projects by the state DOT include:
A new route between Richmond and Raleigh
Passenger rail service between Charlotte and Atlanta
Adding passenger service to the coast in Wilmington and to the mountains in Asheville, where passenger trains don't run now.
Now, this recently announced proposal from Amtrak is the latest development in the ongoing effort to bring passenger rail to communities like Marion and Old Fort.
"This is Amtrak's vision for growth, which includes input from state and local stakeholders," said Woods to The McDowell News. "If Congress provides sufficient funding to Amtrak, we would work with these states and local partners, as well as with USDOT, to improve existing and build new corridors."
But if it happens, it would take more time to become a reality.
"A specific timeline for bringing service to Asheville and other areas of western North Carolina remains to be determined," said Woods to The McDowell News. "We hope to complete Amtrak's vision to grow rail service and connect new city pairs across the U.S. by 2035; we are hoping for sooner."
Marion Mayor Steve Little has been one of the biggest proponents for passenger rail service to western North Carolina. Both Little and former state Rep. Ray Rapp have led the Western North Carolina Rail Committee, which has representatives from Conover, Hickory, Valdese, Morganton, Black Mountain and other communities along the line.
"Absolutely, I am very excited about that prospect," said Little to The McDowell News. "I have been working with a group of very dedicated people. For many years, we've been advocating a return of passenger service to western North Carolina. It just makes good sense. It will help cut down on traffic congestion. It will help cut down on pollution. It will help cut down on the ever expanding number of lanes in interstate highways that never seem to be enough and always get clogged up within a couple of years after they are expanded. There's nothing but positives about the prospect of having passenger service coming back to Asheville. It will be a huge boost for the economy of Marion and for all of western North Carolina. I am delighted and really excited about it."