ORLANDO, Fla. — As server Flavaine Carvalho waited on a family of four, she saw signs that something possibly wasn't quite right with the boy in the group.
And she decided to ask a question that police said potentially saved his life.
According to a CBS News report, she wrote a note that said, "Do you need help? OK" and held it up so the boy could see it but his parents couldn't. He nodded no.
"A couple of minutes later, I wrote another sign, asking him if he needs help. And this is when he nodded, 'yes,'" Carvalho told a news conference Thursday.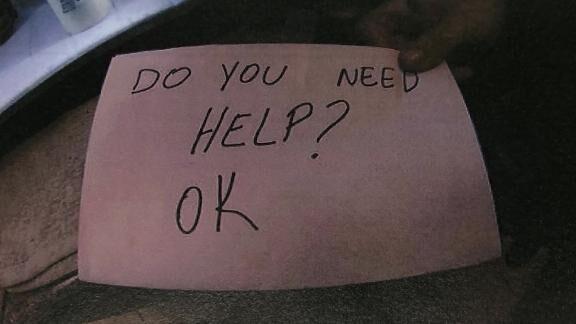 On New Year's Day, Timothy Wilson II, Kristen Swann, the 11-year-old boy and another family member went to Mrs. Potato Restaurant in Orlando for a meal, an Orlando police release read. Carvalho, their server, thought that something was off when the boy didn't order anything.
Carvalho also thought that the child had bruises on his face and arms, and she was determined to figure out what was going on. So she wrote the note asking if he needed help, standing out of sight of the adults and waiting for a moment to give him the message.
After the boy eventually was able to signal "yes," Carvalho immediately called police to the restaurant.
When officers arrived, they took the boy aside and noticed bruising on the right side of his face and a healing wound on the bridge of his nose, according to an arrest report. The boy said the bruises came from falling off his bed while he was sleeping and hit a table.
Then the officer found more bruises on his right arm starting from his shoulder all the way down to his wrist. The boy said these marks came from wrestling with his dad, Wilson, the report read.
The boy eventually told the officer ratchet straps were tied around his ankles and neck, and he was hung upside down from a door. He also said he was hit with a wooden broom and handcuffed and tied to a large moving dolly, police said. He didn't get to eat on a regular basis as punishment.
Swann told officers she knew that Wilson was abusing their son yet did not take him to a doctor.
Wilson and Swann were arrested on Jan. 6. Wilson was charged with multiple counts of aggravated child abuse and child neglect, while Swann was charged with two counts of child neglect.
"By saying something when she saw something, Ms. Carvalho displayed courage and care for a child she had never even met before, and we're proud someone like Ms. Carvalho lives and works in our community," police said.
Today's top pics