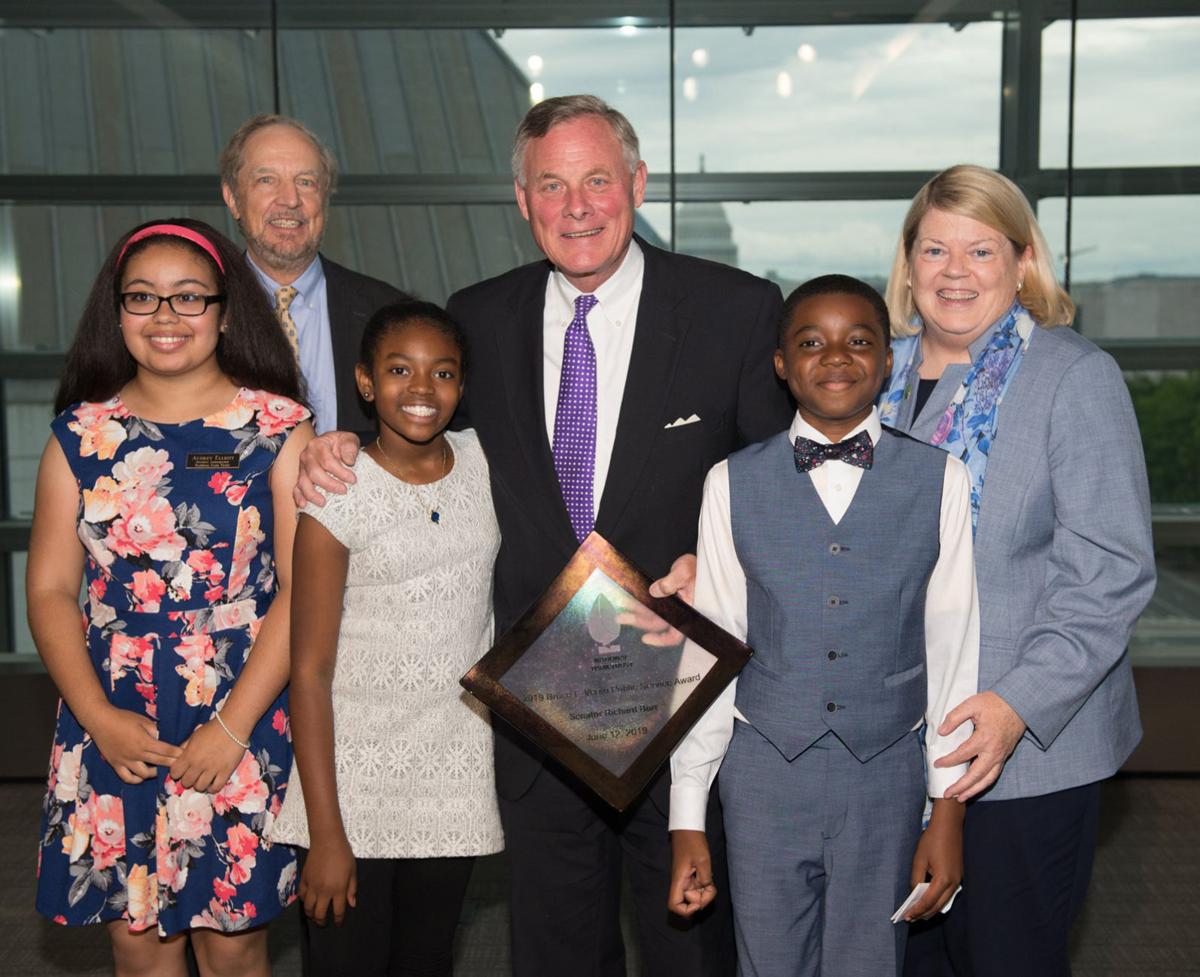 WASHINGTON, DC– At an evening reception at the Newseum, the National Park Trust (NPT) awarded Sen. Richard Burr (NC) with the 19th Bruce F. Vento Public Service Award. The award was presented by Sue Vento and NPT Board Chair Bill Brownell along with students Audrey Elliott of Nebo and Morgan Marsh and Amari Sowah of the DC area.
Burr was recognized for his numerous accomplishments including his leadership in seeking permanent funding for the Land and Water Conservation Fund – a vision he shared with the award's namesake, Congressman Bruce Vento. Furthermore, his sponsorship of the Blue Ridge National Heritage Area Reauthorization Act and ongoing efforts to protect the Corolla Wild Horses demonstrates his continued commitment to protecting some of America's most valuable ecological and historical resources.
"I want to make sure that (these) treasures…stay and more importantly, they are enjoyed by generations far beyond us," said Burr. "I thank you…for this very special recognition, it means more to me than you can imagine."
Burr has been a strong proponent and active defender and protector of the core values of conservation in this country, according to the Trust. As a member of the Senate Finance Committee and the Subcommittee on Energy, Natural Resources, and Infrastructure, he has supported and advocated for the protection of national parks, public lands and waters. He also serves on the Senate Aging Committee, Senate Committee on Health, Education, Labor, and Pensions, and chairs the US Senate Select Committee on Intelligence.
Three students joined NPT to recognize the Senator: Audrey Elliott, 11, from Nebo, who is one of NPT's four student ambassadors and Morgan Marsh and Amari Sowah, both 9. They attend Elsie Whitlow Stokes Public Charter School, one of 21 Buddy Bison Schools in the Washington, DC metro area.
"North Carolina has over 19 million visitors to our National Park Service units each year," Elliott said. "It is my mission to increase the awareness of our national parks and encourage other kids to protect these important places. Thank you, Senator Burr, for helping make this possible."
"We were delighted to be able to honor Senator Richard Burr for his service in Washington, DC and at home in North Carolina to support bi-partisan legislation and programs that will not only preserve America's national parks and public lands today but also ensure that they will be treasured forever," said NPT Board Chair Bill Brownell.
All proceeds from the annual event benefit NPT's park preservation and youth education programs.
NPT established the Vento Award in 2001 to honor the memory and legacy of Bruce F. Vento, a 12-term Congressman from Minnesota, dedicated environmentalist and a champion of legislation for America's parks. The award honors a public servant for his or her commitment to the environment and their service, skill and innovation in support of our public lands. Past recipients include Senator Martin Heinrich (NM), Senator Lamar Alexander (TN), Congresswoman Betty McCollum (MN), Senator Rob Portman (OH), Senator Ron Wyden (OR), Congressman Mike Simpson (ID), Senator Jeff Bingaman (NM), Senator Susan Collins (ME), Senator Mark Udall (CO), Governor Arnold Schwarzenegger (CA), Senator Harry Reid (NV), Congressman George Miller (CA), Senator John McCain (AZ), Senator Bob Graham (FL), Congressman John Lewis (GA), Congresswoman Connie Morella (MD), Congressman John Seiberling (OH), Lt Governor Lowell Thomas (AK).
NPT is a non-profit dedicated to preserving parks today and creating park stewards for tomorrow. NPT is the only land trust with a comprehensive mission of protecting national parks through land acquisition and creating a pipeline of future park stewards by getting kids to parks. Since 1983, NPT has completed 70 land projects in 31 states, 1 US Territory, and Washington, DC. This school year, NPT provided nearly 20,000 children with park trips through their nationally recognized Buddy Bison Programs and Kids to Parks Day National School Contest, both of which support Title I schools in under-served communities.
Be the first to know
Get local news delivered to your inbox!