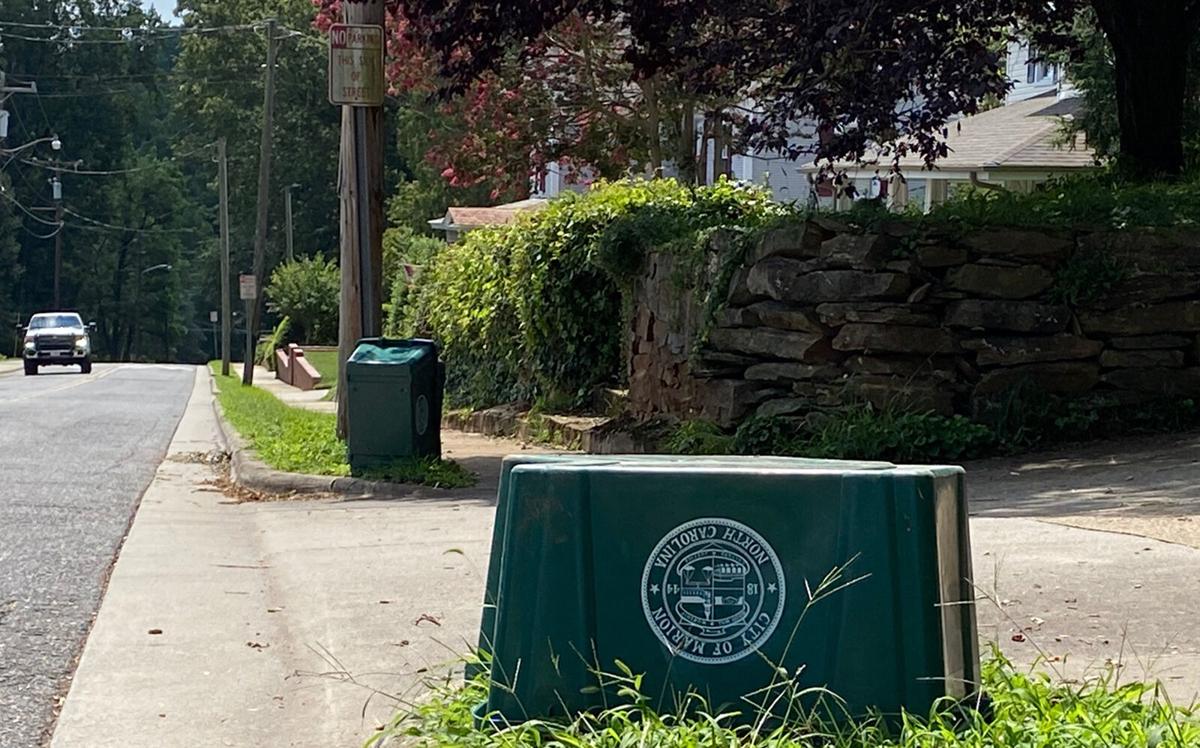 On Monday, the city of Marion announced it would temporarily stop the residential recycling program due to the low participation rate by Marion residents and the cost of operating it.
Since that announcement, the subject has generated quite a bit of discussion on social media among Marion residents who feel very strongly about the need for recycling and wonder why more households in the city are not doing it.
Monday morning, the city issued an announcement that it would temporarily discontinue the residential recycling program as of Tuesday, Sept. 1
"Since the City began residential recycling more than 25 years ago, less than 30% of households have participated in the program," reads the announcement. "That low participation rate, mixed with the ever-growing costs of equipment and the staffing needed to run the residential recycling program, has led to its temporary suspension."
Marion residents who would like to continue recycling can take their recyclable goods to one of McDowell County's seven convenience centers. "The City is exploring the idea of a drop off location for recyclables in the City," read the announcement. "More information will be announced if that drop off location becomes a reality. The City Council and City Staff will review the feasibility of bringing the residential recycling program back in the future."
The city of Marion also mailed out letters to residents informing them of this decision. Elizabeth House was one of those who got the letter and she posted on Facebook her disappointment. She said she planned to write to city officials and let them know her strong feelings about the need for residential recycling in Marion.
"I was very disappointed to hear that the city's recycling pickup service is being discontinued," said House to The McDowell News. "I understand that the truck has been expensive to maintain, and the city estimated only 30% of residents took advantage of the service. That surprised me, because I see bins set out in my neighborhood in front of almost every house each week. I found the service to be very consistent."
Like many, she is puzzled about the low numbers of people in Marion who participate.
"I don't understand why people wouldn't want to do their part for the environment when it's such an easy thing to do," she said to The McDowell News. "It's one of those things we don't fully appreciate until it's gone, I guess. A site here in town where we could take our recyclables would be helpful, but I hope that the city will find a way to resume the service in time. If so few people took advantage of recyclables being picked up right from their curb, how many fewer will take the trouble to take their items to a convenience center?"
Likewise, Chris Revis of Marion has commented on Facebook about this issue. He too shared his thoughts with The McDowell News.
"We're very disappointed to learn about the suspension of services," he said. "With three children at home, we generate quite a bit of recycling and are very discouraged that we'll have to now drive somewhere to handle this ourselves. I'm particularly concerned about the disabled and those who do not have reliable transportation finding a way to properly dispose of their recycling or the added expense of having to pay for a commercial service for recycling pickup."
Charlene Blevins said to The McDowell News that first of all, she considers recycling "a fundamental duty as a citizen, to our planet and to our children and grandchildren, and to generations to come."
"Recycling is not difficult," she said. "Get a couple extra bins for your house and separate as you go. Then once a week or so you take it to the recycling center, along with your household bagged trash."
Blevins lives outside the Marion city limits and uses the county's convenience center.
"McDowell County provides centers in every section of the county," she said to The McDowell News. "Last year, the county gave us new bins for the more modern single stream recycling so you just have to separate glass, corrugated cardboard, and the rest — paper, plastic and cans, all go into one bin. It is then further separated downstream. We who live outside the city have been doing this forever. It's just a part of our chores."
Blevins said she understands that those who live inside the Marion city limits pay extra for the pickup service.
"All cities should provide this," she said. "And while I understand budgetary concerns, I'd like to take a look at the city budget to see where we might find the money for this. Being good stewards of the Earth should be a non-negotiable priority."
In addition, Blevins' 85-year-old mother lives in a senior citizen complex in Marion and she recycles.
"Many of those people don't drive or have the physical ability to take their recycling to the convenience center. The city picks it up," said Blevins to The McDowell News. "Is all that now going into the trash? That is unacceptable!"
The McDowell News reached out to the city's public information officer, Landdis Hollifield, concerning the decision to suspend residential recycling.
She said that since the notice was sent out, the city of Marion has received less than 10 phone calls with questions about the temporary discontinuation of the recycling program. The low participation rate is based upon the average number of households that put out recycling on a week-to-week basis.
"Households choose whether or not they would like to recycle," said Hollifield. "Our data from the last two and a half decades show that less than 30% of households choose to recycle."
This issue will probably come up at a future meeting of the Marion City Council. Residents will probably speak to Mayor Steve Little and council members about the need for recycling.
"Many members of City Council recycle and are passionate about providing drop off locations to households," said Hollifield. "I'm sure discussions about these drop-off locations and bringing back the program in the future will come up in future City Council meetings."
As for the creation of a drop-off location in Marion, city officials are still working out the details.
"The city is actively working with the county to plan and set up drop-off locations," said Hollifield to The McDowell News. "At this point we're not sure what these locations will look like or where they will be located. Once we have these details nailed down, we will send out information to residents about where they can take their recyclable items. Anyone with recycling can drop off their items at these locations, but no garbage will be accepted."
 'Our data from the last two and a half decades show that less than 30% of households choose to recycle.'

– Landdis Hollifield,

City clerk/public information officer.
Be the first to know
Get local news delivered to your inbox!