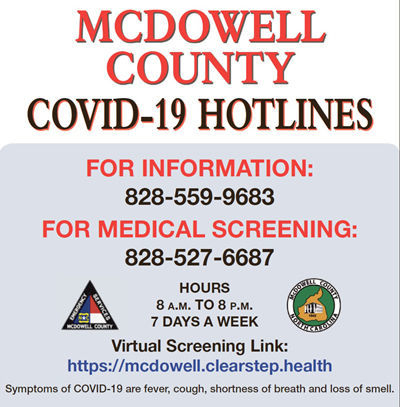 The McDowell County Health Department has been notified that six additional McDowell County residents have tested positive for novel coronavirus (COVID-19).
The initial investigation reveals the source of transmission to be contact with other positives and community transmission. Public health staff have already initiated an investigation and will be identifying close contacts to contain the spread of disease. To protect individual privacy, no further information about the case will be released.
This brings the total number of positives to 194 in McDowell County. There have been 3,728 people tested, 3,350 negative results and 184 tests are pending results. Currently, there are 103 individuals in quarantine, 89 out of quarantine and two deaths.
"As people begin to start their vacations and travel outside the area, I ask you to please continue to be vigilant and use precautions to keep yourselves safe and healthy," said Public Health Director Karen Powell. "It is so important that you wear a mask anytime you are out in public, wash your hands often and avoid touching your face."
McDowell County Health Department is working  to get in touch with all contacts of positives to offer testing. Those who test positive are quarantined for 14 days. 
The Health Department is continuing to test individuals for COVID-19. If an individual would like to be tested, they can call the hotline at (828) 527- 6687. The operator will ask a list of questions and will provide the caller with the appropriate instructions based upon the answers given. The hours of operation for this hotline are 8 a.m. – 8 p.m., seven days per week. If you are having a medical emergency, call 9-1-1 and inform the dispatcher that you have symptoms of COVID-19.
Free COVID-19 testing will be conducted at the following locations:
• McDowell County Health Department; Thursday and Friday.
• McDowell County Health Department; June 29  from 9 a.m.-11 a.m.
• Old Fort Town Hall; June 30 from 9 a.m.-11 a.m.; located at 38 Catawba Ave in Old Fort
• McDowell High School; July 1 from 9 a.m.-2 p.m.
Get local news delivered to your inbox!
Subscribe to our Daily Headlines newsletter.