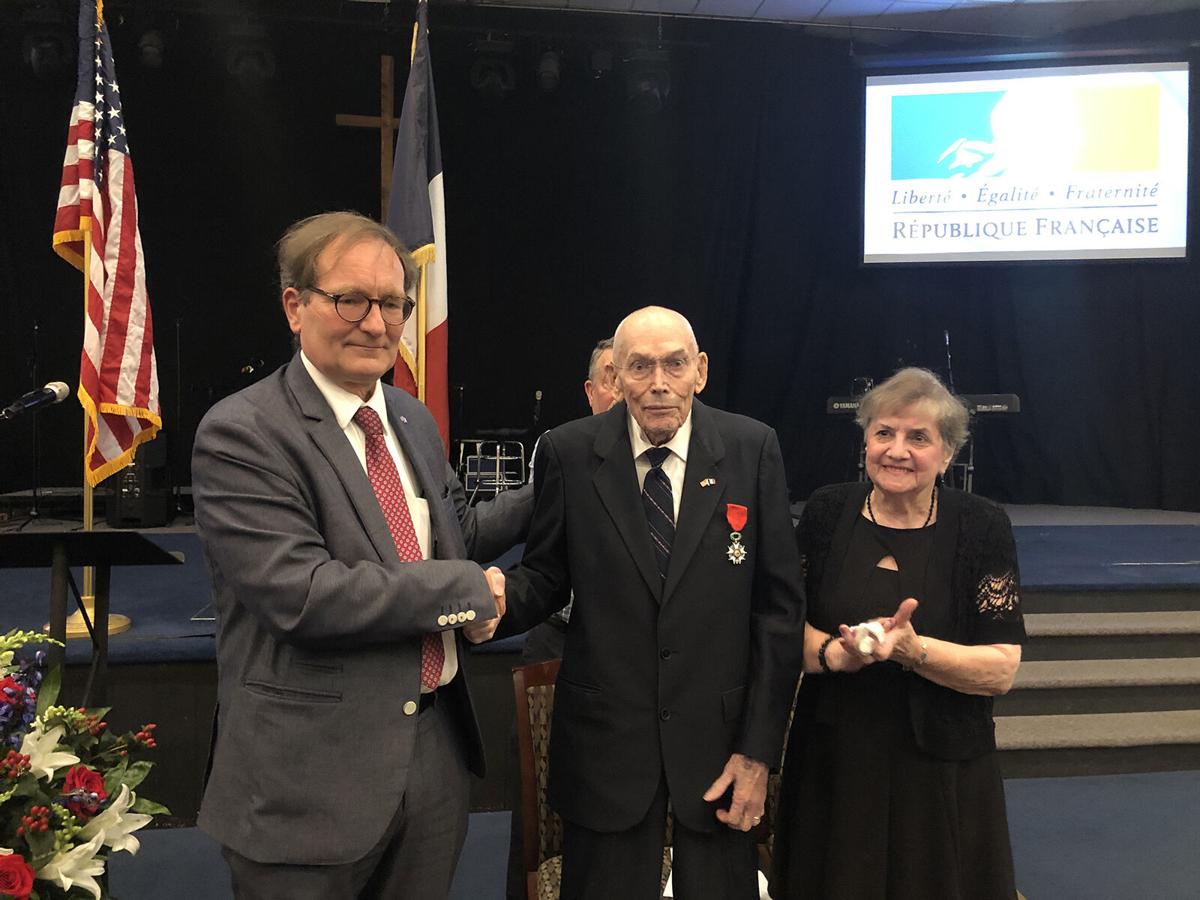 BLACK MOUNTAIN – A World War II veteran who grew up and attended school in McDowell County was honored Tuesday, June 1 by the French government for the part he played in liberating France.
Earl Hensley Snypes, 96, received the French Legion of Honor during a special ceremony on the afternoon of Tuesday, June 1 at Mountain View Church in Black Mountain. Almost 100 family members and friends were there to see the World War II veteran receive the distinguished medal from Vincent Hommeril, the consul general of France for the Southeast.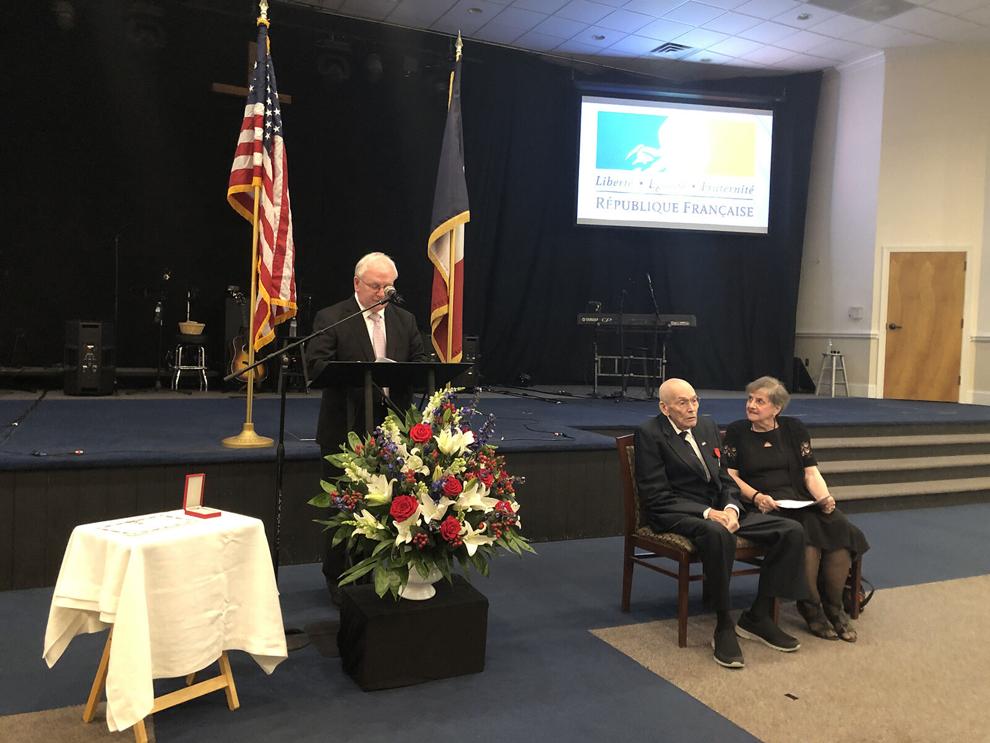 The ceremony began with an invocation by Pastor Brent Bolick and the presentation of the United States and French flags by the Owen High School ROTC Color Guard. The national anthems for both countries were played.
Hommeril then talked about Snypes' service in the European Theater of World War II. Hommeril oversees relations between France and the states of Alabama, Georgia, Mississippi, North Carolina, South Carolina and Tennessee.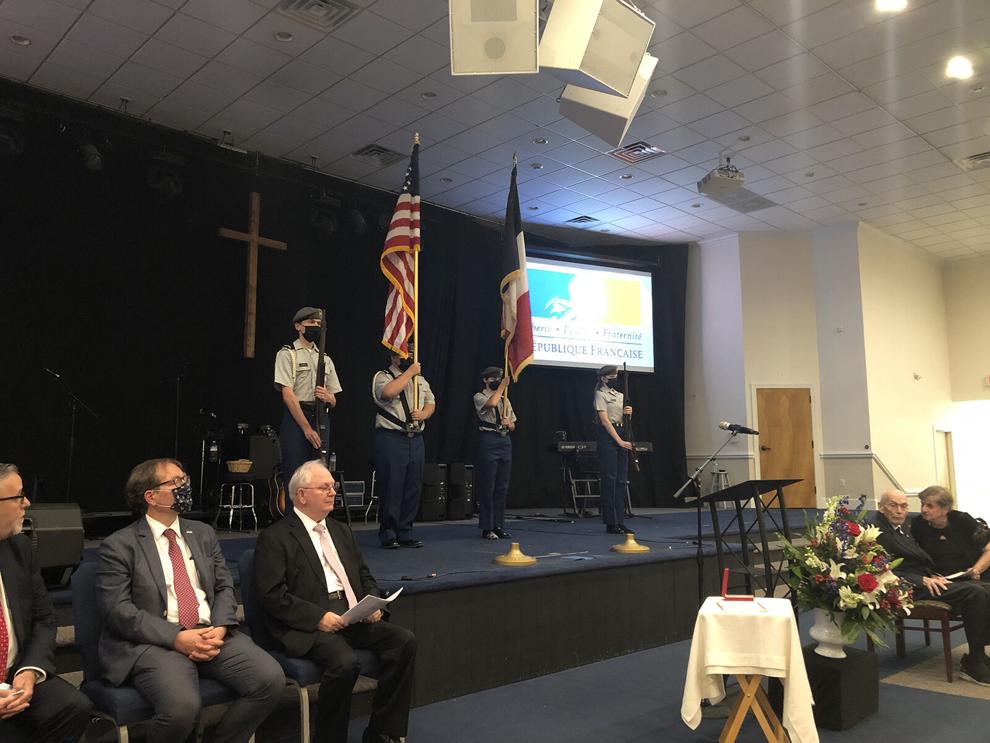 When he was only 3, Snypes and his family moved to Nebo where he grew up on a farm. He attended all grades at Nebo School. His father worked for the Works Progress Administration (WPA) and built rock walls and a playground at Nebo School. His two older brothers worked in the Civilian Conservation Corps (CCC) camps. Snypes graduated from Nebo School in 1943 and like so many young men, he was drafted into the military service. He joined the Army at age 19 as World War II was raging. He was just one of many thousands of American soldiers who were fighting to liberate Europe from the tyranny of Hitler's Third Reich.
Pfc. Snypes was assigned to Co. K and was an assistant gunner and light mortar crewman. He arrived in northern France in 1944 and later survived the Battle of the Bulge, which was the major German offensive campaign which took place from December 1944 through January 1945. Fought during one of the worst winters in the Ardennes region of Belgium and Luxembourg, the soldiers trudged through 2 ½ feet of snow and snow drifts as high as 5 feet. After the war, he drove a bus for the war criminals in Nuremburg, Germany, according to information from his daughter Linda Hodge and son-in-law Bill Hodge.
For his time in World War II, Snypes was awarded the Combat Infantry Badge, the American Theater Service Medal, the European-African-Middle Eastern Service Medal with three Bronze Stars, the World War II Victory Medal among others.
After his discharge, he came back to western North Carolina and worked for the U.S. Postal Service. His friend Marion Mayor Steve Little said he knew Snypes from his many years of service as the postmaster for Ridgecrest. Snypes retired in December 1980.
He has been a treasurer and deacon at Ridgecrest Baptist Church and held offices in his Masonic Lodge. He spent three years in the Army Reserve and shared his World War II experiences with school groups and the Boy Scouts. He wrote a book titled "A Young North Carolina Mountaineer's WWII Experiences."
On Tuesday afternoon, he received France's highest decoration, the Legion of Honor, just like other veterans of the European Theater of World War II have been honored. It is France's way of saying thank you to those brave men and women who fought to liberate their country.
"More than 70 years ago, Mr. Snypes risked his life for the freedom of France and Europe," said Hommeril. "France is what it is today, a free and sovereign country, thanks to the bravery of such veterans and thanks to America."
Snypes was joined by Carolyn, his wife of 72 years, when he received the honor. He thanked the consul general and gave him a hug. Numerous family members and long-time friends were present in the church to see him get this special honor.