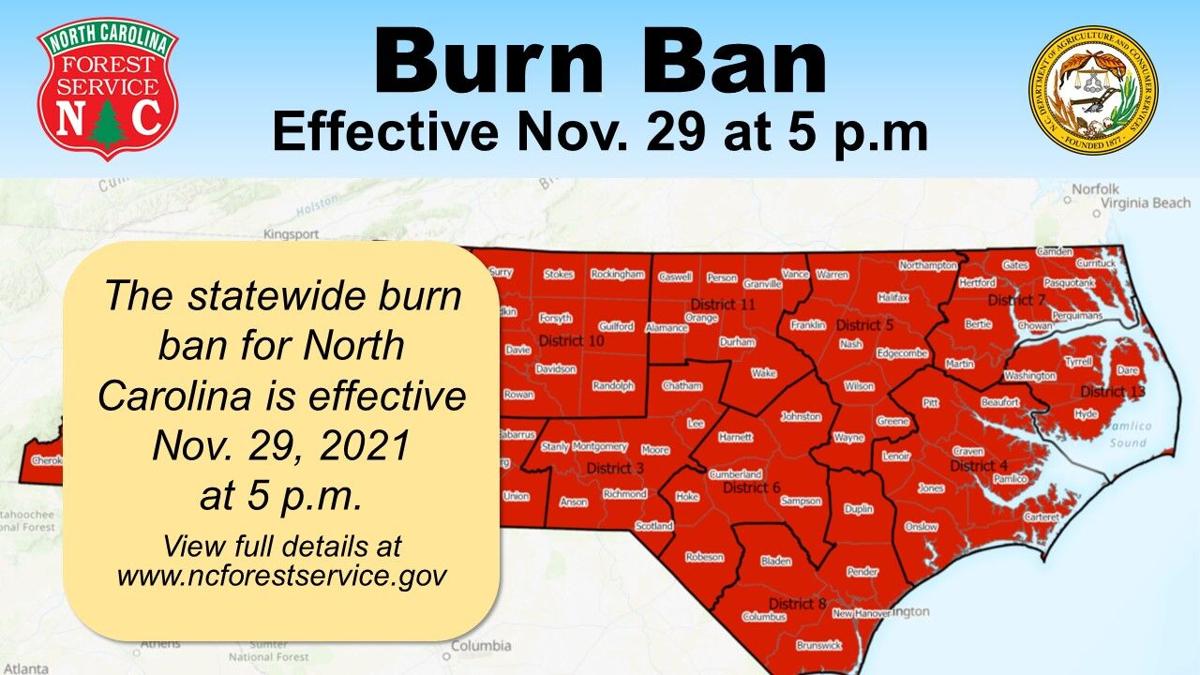 The North Carolina Forest Service and the McDowell County Fire Marshal's Office issued a burning ban Monday for McDowell County due to increased fire danger.
A day later, firefighters had their hands full with several woods fires.
The N.C. Forest Service burning ban covers all 100 counties in North Carolina. All active burning permits have been canceled. This ban on open burning will remain in effect until further notice.
Fire departments in McDowell responded to several outdoor fires on Monday, according to emergency radio traffic.
"The dry air, combined with low fuel moisture and gusty winds will allow fires to develop easily and spread more quickly than usual," McDowell County Emergency Management said in a news release Tuesday morning.
By Tuesday afternoon, crews were fighting a woods fire on Marlowe Road, south of Marion.
After that, crews reported to Paradise Circle where a homeowner was not aware of the burn ban and had set a brush pile afire, according to emergency radio traffic.
At 2:47 p.m., a fire was reported on Rolling Meadow Drive near Boyd Road in Nebo involving an outbuilding, which was fully involved when firefighters arrived. McDowell requested help from Burke County.
Crews also investigated a fire on I-40 near mile marker 90, but did not locate at active blaze.
At 3 p.m., additional Forest Service personnel were headed to McDowell from Asheville.
"It is fall wildfire season in North Carolina, and we are seeing wildfire activity increase due to dry conditions," said Agriculture Commissioner Steve Troxler. "With these ongoing conditions, a statewide burn ban is necessary to reduce the risk of fires starting and spreading quickly. Our top priority is always to protect lives, property and forestland across the state."
Frequently asked questions:Q: What is open burning?
A: Open burning includes burning leaves, branches or other plant material. In all cases, burning trash, lumber, tires, newspapers, plastics or other nonvegetative material is illegal.
Q: May I still use my grill or barbecue?
Q: How should I report a wildfire?
A: Call 911 to report a wildfire.
Q: How should I report a person who intentionally starts a wildfire?
A: Call 911 to report a wildfire.
Q: My local fire marshal has also issued a burn ban for my county. What does this mean?
A: The burn ban issued by the N.C. Forest service does not apply to a fire within 100 feet of an occupied dwelling. Local government agencies have jurisdiction over open burning within 100 feet of an occupied dwelling. The N.C. Forest Service has advised county fire marshals of the burning ban and has asked for their consideration of also implementing a burning ban. If a fire within a 100-foot area of a dwelling escapes containment, a North Carolina forest ranger may take reasonable steps to extinguish or control it. The person responsible for setting the fire may be liable for any expenses related to extinguishing the fire. The McDowell County Fire Marshal has issued a burning ban that covers all open burning within 100-feet of a structure.
Q: Can I have a campfire when I go camping?
A: Campfires would be considered open burning and are not exempt from the burn ban. During a burn ban, portable gas stoves or grills are alternate methods for cooking food while camping.
Q: What can I do to protect my house against the risk of wildfire?