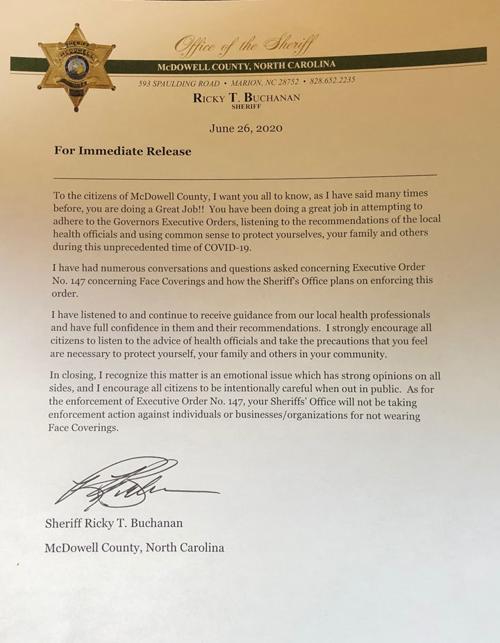 Note: This has been updated at 5:20 p.m. with a response from the City of Marion.
McDowell County Sheriff Ricky Buchanan said his deputies will not enforce Gov. Roy Cooper's face-covering requirements aimed at curbing the spread of coronavirus.
This week, the governor said Phase 2 restrictions would continue for at least the next three weeks and face coverings would be required in public starting at 5 p.m. today, Friday, June 26.
According to a story from Carolina Public Press, it would be up to businesses to enforce the face mask rules for customers. Those who did not comply could be charged with trespassing if they remained in the business without a face covering.
The McDowell News reached out to the City of Marion and the Marion Police Department to see how that would be handled within the city limits after Buchanan's announcement. Here is City Manager Bob Boyette's response:
"Since March, the Marion Police Department has not had to issue any citations involving the COVID-19 pandemic.  We don't expect we will have to do so in the future. Any complaints regarding Executive Orders have been directed to and handled effectively by the Foothills Health District.  Executive Order 147 does not permit enforcement of the face mask requirement against customers or business employees.  The City's role is expected to be to support businesses as they do the right thing and to continue to encourage the public to follow Executive Orders and guidance from public health agencies. The County, City, McDowell Chamber of Commerce, Marion Business Association and other agencies are actively working with the Foothills Health District to ensure the safety of the public and will be starting a positive campaign to encourage the public to wear face masks.  The campaign will be called "I Wear My Mask For …." and will launch early next week."
Here is the text of Buchanan's letter released on the McDowell County Sheriff's Office Facebook page:
To the citizens of McDowell County, I want you all to know, as I have said many times before, you are doing a Great Job! You have been doing a great job in attempting to adhere to the Governors Executive Orders, listening to the recommendations of the local health officials and using common sense to protect yourselves, your family and others during this unprecedented time of COVID-19.
I have had numerous conversations and questions asked concerning Executive Order No. 147 concerning Face Coverings and how the Sheriff's Office plans on enforcing this order.
I have listened to and continue to receive guidance from our local health professionals and have full confidence in them and their recommendations. I strongly encourage all citizens to listen to the advice of health officials and take the precautions that you feel are necessary to protect yourself, your family and others in your community.
In closing, I recognize this matter is an emotional issue which has strong opinions on all sides, and I encourage all citizens to be intentionally careful when out in public. As for the enforcement of Executive Order No. 147, your Sheriff's Office will not be taking enforcement action against individuals or businesses/organizations for not wearing Face Coverings. -- Sheriff Ricky T. Buchanan
Concerned about COVID-19?
Sign up now to get the most recent coronavirus headlines and other important local and national news sent to your email inbox daily.