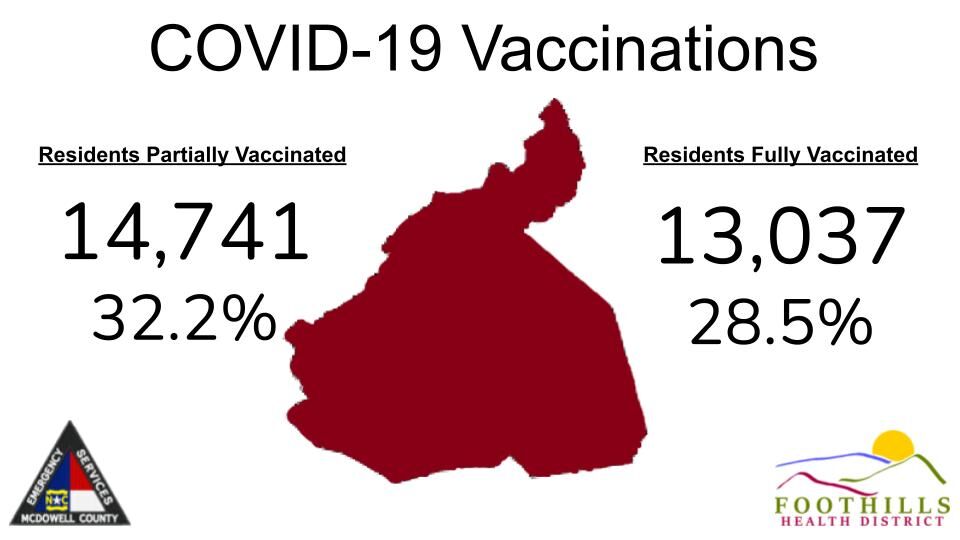 As known cases of COVID-19 climb toward 1 million in North Carolina since March of last year, McDowell County on Monday saw 15 more confirmed infections, local health officials reported Monday.
The latest report means McDowell now has a total number of 5,071 positive cases since last spring. There have been 44,043 tests conducted, 38,948 negative results and 24 tests are pending results. At the time of Monday's report, there were 58 individuals in quarantine, 4,936 out of quarantine and 77 deaths. McDowell County's 14-day positivity rate is 10.5%, according to a news release.
At least 974,319 people in North Carolina have tested positive for the coronavirus, and 12,691 have died since March 2020, according to state health officials.
The N.C. Department of Health and Human Services reported 1,126 new COVID-19 cases on Monday, down from 1,618 on Sunday and 1,823 on Saturday. The state doesn't update case counts over the weekends.
Forty additional coronavirus-related deaths were reported Monday. Deaths don't all occur on the day the state reports them. The state health department revises its daily figures as information becomes available.
At least 1,007 people were hospitalized with the coronavirus as of Monday, down from 986 reported the day before.
As of Saturday, the latest day for which data is available, 6% of coronavirus tests were reported positive. Health officials say 5% or lower is the target rate to slow the spread of the virus.
Nearly half of adults in North Carolina, or 49.6%, have received at least one dose of the COVID-19 vaccine. At least 41.7% are fully vaccinated.
"The spread of COVID-19 continues to impact our community," the McDowell County Health Department reminded the public in the Monday release. "Please continue to practice social distancing, wear your mask when around others, and wash your hands often."
Drive thru COVID-19 testing at the McDowell County Health Department will no longer be offered each week due to decreasing demand. If you need a COVID-19 test, you are encouraged to call your primary care physician or CVS pharmacy for testing. If you are uninsured or cannot afford a COVID-19 test, you can call the McDowell County Health Department at 828-652-6811 to schedule a test.
Upcoming Vaccine Clinic (No Appointment Needed): Friday, May 7, from 9 a.m. to 2:45 p.m.
First-dose vaccine appointments can also be booked online by visiting www.myspot.nc.gov and searching for Grace Community Church or by calling the Vaccine Call Center at 828-803-4552.
Homebound citizens who want the vaccine but are unable to reach the clinic at Grace Community Church are encouraged to contact the Vaccine Call Center (828-803-4552) for further assistance. In partnership with the Community Paramedic Program, homebound citizens can have the vaccine delivered and administered at their home.
McDowell County vaccine doses administered:
Total doses administered: 27,778
The Tribune News Service and the News & Observer of Raleigh contributed to this report.