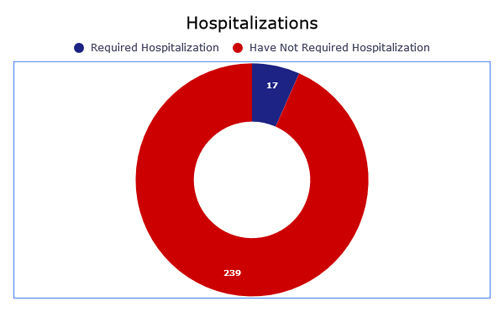 This story has been updated with new hospitalization numbers.
The McDowell County Health Department said Tuesday eight additional McDowell County residents tested positive for novel coronavirus (COVID-19), bringing the known total to 256 locally.
Across the state, there were 75,875 lab-confirmed cases at noon on Tuesday.
"As we continue COVID-19 testing in McDowell County, we are seeing a large portion of non-symptomatic individuals," Public Health Director Karen Powell. "In addition, testing has surged due to contact tracing with positive individuals. I urge you to stay vigilant in your safety precautions as transmission is not slowing down."
Health officials emphasized the importance of wearing a face covering in public, washing hands, using hand sanitizer, avoiding touching your face and social distancing.
"We want to see these numbers go down and wearing a face covering is one way to do that," Powell said.
There have been 4,731 people tested in McDowell, with 4,247 negative results and 228 tests are pending results. Presently, there are 75 individuals in quarantine, 179 out of quarantine and two deaths. Currently, 10.4% of the McDowell County population has been tested for COVID-19.
Of those testing positive, 239 people have not required hospitalization while 17 have, according McDowell Emergency Services' information webpage.
Public Health officials and the McDowell County Emergency Operations Center are monitoring trends of transmission. By tracking these trends and data, conclusions can be made that transmission continues to be in gatherings of 10 or more people where social distancing is not practiced, households where multiple people reside and widespread community transmission. Public health staff are aggressively investigating and tracing all contacts to positives.  
The Health Department is working to get in touch with all contacts of positives to offer testing.  If an individual would like to be tested, they can call the hotline at (828) 527- 6687. The operator will ask a list of questions and will provide the caller with the appropriate instructions based upon the answers given. The hours of operation for this hotline are 8AM – 8PM, 7 days per week. If you are having a medical emergency, call 911 and inform the dispatcher that you have symptoms of COVID-19.
Free COVID-19 testing will be conducted at the following locations via a drive-thru setup:
• McDowell High School; Wednesday, July 8 from 9 a.m.-11 a.m.
• McDowell County Health Department; Monday, July 13 from 10 a.m.-noon.
Get local news delivered to your inbox!
Subscribe to our Daily Headlines newsletter.