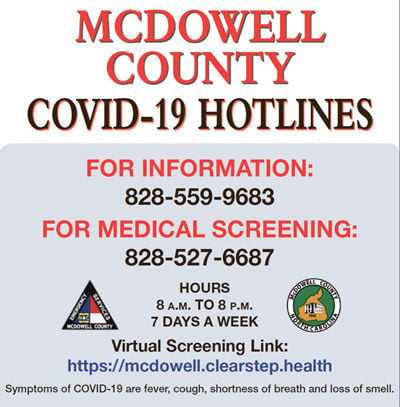 The McDowell County Health Department said Thursday 16 additional McDowell County residents had tested positive for novel coronavirus (COVID-19), bringing the known local total to 123.
The initial investigation reveals the source of transmission to be contact with other positives and community transmission. Public health began an investigation and to identify close contacts to contain the spread of disease.
There have been 2,538 people tested, 1,557 negative results and 858 tests are pending results. Currently, there are 85 individuals in quarantine, 36 out of quarantine and two deaths.
"The positive results, are a constant reminder, of how contagious COVID-19 continues to be in our community." stated Public Health Director Karen Powell. "There has been so much conflicting information in the media about COVID-19. Please educate yourself about the true nature of this virus. The continual rise in numbers and hospitalizations supports concerns that COVID-19 is, and continues to be, extremely infectious. McDowell County Health Department is working diligently to get in touch with all contacts of positives to offer testing. We continue to quarantine all positives for 14 days.'
The health department stressed social distancing, good hygiene and using protective measures to keep ourselves safe.
"We cannot lose focus of this serious situation, which is to stop the transmission of COVID-19 and to save lives," Powell said.
The Health Department is continuing to test individuals for COVID-19. If an individual would like to be tested, they can call the hotline at (828) 527- 6687. The operator will ask a list of questions and will provide the caller with the appropriate instructions based upon the answers given. The hours of operation for this hotline are 8AM – 8PM, 7 days per week. If you are having a medical emergency, call 9-1-1 and inform the dispatcher that you have symptoms of COVID-19.
Free COVID-19 testing will be conducted at the following locations via a drive-thru setup:
• Old Fort Town Hall; today from 9 a.m.-noon; 38 Catawba Ave. in Old Fort
• Montford Cove Baptist Church; today from 3:30-5:30 p.m.; located at 4920 Cove Rd.
• Cherry Springs Baptist Church; Friday June 12 from 9-11 a.m.; located at 6 Bull Walker Rd. in Old Fort
Concerned about COVID-19?
Sign up now to get the most recent coronavirus headlines and other important local and national news sent to your email inbox daily.