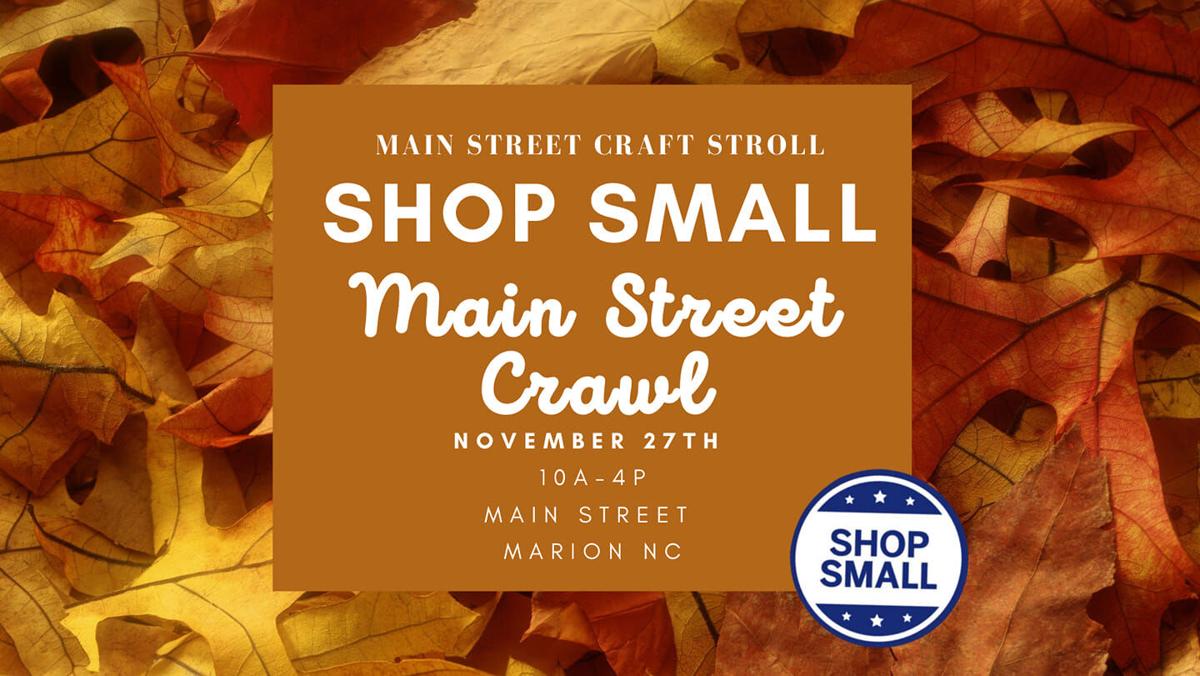 On Saturday, you can get out and support the 50-plus local crafters and makers from McDowell at the Shop Small Main Street Crawl in downtown Marion.
The Main Street Crawl will take place from 10 a.m. to 4 p.m. in the central business district of Marion, concentrated around the City Stage on Marion's North Block. If you're looking for holiday décor, ornaments, handmade Christmas cards, wreaths, or gifts for the people on your list, you won't want to miss this, according to a news release.
With a focus on "Shop Local," Small Business Saturday is traditionally the day following Black Friday and was made to encourage Christmastime buying from small and local businesses. Small Business Saturday is a national effort, and this Craft Stroll is just one way to participate.
Nikki Chester has organized four of these events this year, with her goal being to support local crafters and small business owners who need it now more than ever due to the pandemic and the restrictions it brought.
Chester said the other participating vendors will include Nikki's Nourished by Nature, Not Wrapped Too Tight, Allie Baliles, Made by Steph, B.E.A.R. Closet, MK Blackburn, Adorn Yourself, Madison Breedlove, Misty Ruppe, Benda Erich, Twisted Sisters, Mary Decocq, Leigh Ann Leonard, Color Street Nails, Amanda Falkner, Foxy's Custom Creations, A.G. Knits, Constance Gravitt, John Charles Gregory, Gutierrez Woodworks, Hendley Farms, Front Porch Designs, Nerdy Girl Designs, Loop Holes Crochet, Beekeeper Inc., Two Sisters Designs, Kreativity In Motion, Wanda Kizer, Family Larson, Kelly Ledford, Kimberly Linville, Avon, Master's Hand Printing, Art & Soul, Angela Medford, Mercy Fund Animal Rescue, Amy Metcalf, Gloria Moody, Chatty K Designs, John Phipps, Magpies Creation, CN Creations, A Spoonful of Honey, Perfect Prince, Lula Roe, Nerd Charming Studio, Settle Myer Nursery, Jennifer Smelcer, Sours Mountain Homestead Farm, New Solace Art, Erma Staton, Carolina Pine Prints, Jaime Stone, Courtney Taylor, Stephanie Taylor, and Bug A Roo Bows, according to the news release.
There will also be several food trucks, including Hot Shots Espresso, Smoke a Lil Smoke, and NomSense NC.
Along with the vendors on the sidewalk, many of the small businesses downtown will be open and ready to help you with your Christmas shopping list: make sure to take a stroll around downtown and to the Miller Complex after you check out the variety of crafts.