The Orchard at Altapass is looking for "a few good men" and women, teenagers, seniors, anyone who would like to volunteer, to help resurrect the O's butterfly garden.
The Orchard at Altapass welcomes Amazon bestselling author Rebecca Warner for a book-signing…
A few years after the purchase of the Orchard at Altapass, co-founder Judy Carson and naturalist Elizabeth Hunter planted a butterfly garden in memory of their friend Jan McKinney Conley, who had recently died.
Over the past two-plus decades, this plot of showy flowers has seen good and bad times. When Carson died earlier this year, the garden was completely overgrown.
Japanese chestnut trees shaded most of what remained of the garden, and weeds choked out the rest.
In her memory, a generous outpouring of support flowed from friends and those who wanted the see the garden bloom again. And next year it will.
Marianne Cicala, landscape designer and recent transplant from her own biodynamic organic farm in Virginia, is working with the Orchard to create a sanctuary of utilitarian beauty in and around the existing butterfly garden.
It will be almost twice the size and feature benches on which to sit and contemplate or watch as children frolic up and down the paths throughout, informational signage and plant identifiers, and a memorial for Carson. Each climate-friendly plant was carefully chosen for its benefit to the ecosystem, the butterflies, honeybees, and for its beauty.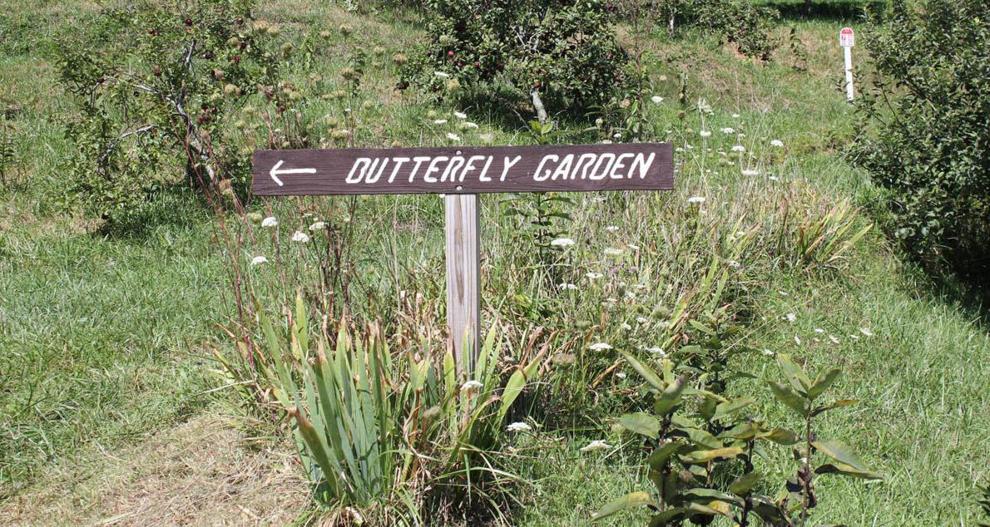 "We are breathing new life into Judy's vision — through the Orchard's family of supporters to the donation of plants and trees to companies who have offered to help clear the land and remove the heavy overgrowth. What remains are volunteers, ready and willing to give of their time and energy to make it all happen," said Executive Director Beth Hilton.
Reconstruction is scheduled to begin in August — once a week — with weeding out the old, invasive plants and preparing the soil for new and transplanted flowers. (Of the existing varieties, 10 will remain or be replanted in different garden locations.) Overgrown trees will be limbed, chipped and the ground cleared for expansion.
September will bring path definition, fencing and delivery of new plants that will go in the ground during the cool days of October. (Twenty-one new varieties of plants and trees will be added.) November has colder weather, installation of Judy's memorial, and completion of the butterfly garden that will blossom in spring.
Volunteers must be willing to get dirty, to make the garden happen. They'll weed and mulch, dig up and transplant existing, dig in and plant new. They'll stand for just a moment or two, shake off their gloves and shake hands with their fellow volunteers. And they'll leave each afternoon with a satisfactory smile, knowing that they are helping the Orchard and its mission to "save the good stuff."
"This rebirth of the garden is such an important addition to the Orchard, not only by providing enjoyment for visitors but by adding a significant layer of plant diversity that will expand the pollinator's benefit in the Orchard," added Cicala.
Located at 1025 Orchard Road near Spruce Pine at mile marker 328.3 on the Blue Ridge Parkway, the Orchard is a not-for-profit working small-batch heirloom apple orchard, music and educational venue. Hours are 10 a.m. to 5 p.m. Wednesday-Sunday. Family- and pet-friendly. Wheelchair accessible. Buses welcome. For information, visit www.altapassorchard.org or call 828-765-9531.