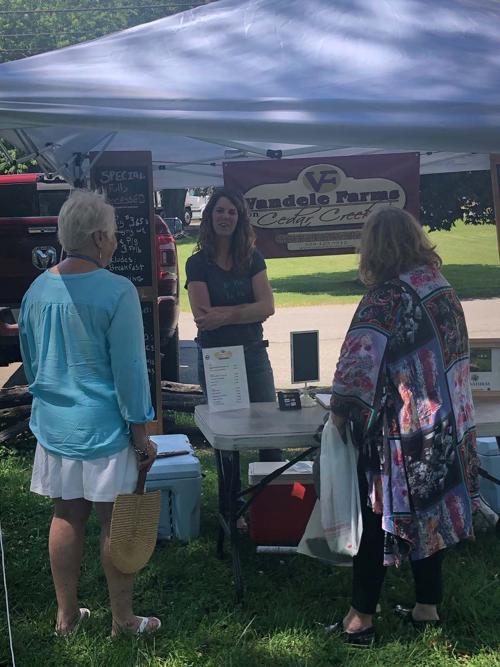 The Mountain Gateway Museum Farmers Market will open for the 2021 season on Thursday, May 6, on the grounds of the museum at 24 Water St. in Old Fort.
The market will be held from 3 to 6 p.m. every Thursday – rain or shine – through Oct. 7.
Fresh, locally grown vegetables, fruits, herbs, meats, eggs, honey, flowers, plants and other products will be available, when in season, as well as craft items, such as quilts, aprons, pillows and face masks, according to a news release.
Both vendors and visitors to the market will be asked to abide by state health guidelines and observe the "3 W's": wear face coverings, wash or sanitize your hands often, and wait 6 feet apart in line.
For 2021, spaces will be free for returning vendors. However, new vendors will be charged a $20 fee for the entire season. Vendors who need electricity will be charged an additional $5 fee per month.
A new "daily vendor" category will be available this year for those who wish to sell only occasionally. That fee is $5 per day. Arrangements for a daily space must be made in advance by calling the Mountain Gateway Museum at 828-668-9259. All fees received will be used to promote the market.
Market vendors can choose to sell in one of four ways:
(1) from the tailgate of their vehicle in the museum's parking lot on Water Street
(2) under a 12-foot by 12-foot tent on the museum's grounds
(3) under the museum's gazebo
or (4) on the front porch of one of the museum's two late-1800s log cabins.
Vendor set-up will begin at 2 p.m., and final departure time will be 7 p.m.
Spaces will be available on a first-come, first-serve basis, but returning vendors will have first choice. Vendors must provide their own tables and chairs and make their own sales transactions.
Farmers must register with Mountain Gateway Museum in advance to participate in the market. Registration forms are available on the museum's Website at www.mgmnc.org. (Click on the "Events" icon and then on "Farmers' Market.") Forms also will be available at the museum on market days.
All home-cooked, home-baked or home-canned goods must be approved by the N.C. Department of Agriculture before they can be sold. For more information about how to get approved, please visit or call the museum.
All vendors will be required to sign a simple contract to ensure maximum attendance at the market, as well as adherence to all rules and regulations of the McDowell County Health Department, the N.C. Department of Agriculture, and the N.C. Department of Health and Human Services, according to the news release.
Because of the COVID-19 pandemic, Mountain Gateway Museum is currently operating on reduced hours, from 10 a.m. to 3 p.m. Tuesday through Saturday; closed Sunday and Monday. However, the museum will remain open until 7 p.m. on Thursdays so market vendors and visitors can have access to public restrooms and enjoy the museum's free exhibits.
A food truck will be available on most market days, and market-goers will be able to freely use the museum's outdoor picnic tables. Look for live music, a craft demonstration or other special activity on the market's "Third Thursday" of each month. Market visitors also are invited to fish for free in the Heritage Trout Waters-designated creek that flows through the museum's property, according to the news release.
For more information about the 2021 Mountain Gateway Museum Farmers Market or to receive an application for a vendor space, please contact RoAnn Bishop at 828-668-9259 or roann.bishop@ncdcr.gov or visit the museum's Website at www.mgmnc.org.