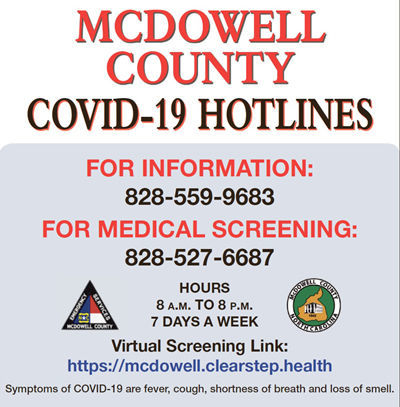 The McDowell County Health Department has been notified that 15 additional McDowell County residents have tested positive for novel coronavirus (COVID-19), officials said Monday.
That brings the known total locally to 218. 
Public Health officials and the McDowell County Emergency Operations Center are monitoring trends of transmission. By tracking these trends and data, conclusions can be made that transmission continues to be in gatherings of 10 or more people where social distancing is not practiced, households where multiple people reside and widespread community transmission.
Public health staff are aggressively investigating and tracing all contacts to positives. 
There have been 4,114 people tested, 3,848 negative results and 48 tests are pending results. Presently, there are 93 individuals in quarantine, 123 out of quarantine and two deaths.
Currently, 9% of the McDowell County population has been tested for COVID-19.
Despite scientific evidence, an Executive Order from Gov. Roy Cooper and the encouragement of health workers, many in McDowell County are choosing not to wear face coverings in public. 
"Please do your research and educate yourself on the purpose of wearing a face covering," stated Public Health Director Karen Powell. "A face covering will prevent the spread of contagious viral droplets that enter the air when we sneeze, cough, laugh, talk, sing and so on. These droplets can travel up to 20 feet through the air.   
"It is so important that you wear a face covering anytime you are out in public," Powell said. "It will keep yourself and others safe. Always wash your hands, use hand sanitizer and avoid touching your face. We want to see these numbers go down and wearing a face covering is one way to do that. McDowell County continues to be strong! Who are you wearing your mask for?"
All positives are quarantined for 14 days. It is critical for Public Health to be ahead of the transmission risk by isolating anyone who has been exposed.
"We cannot lose focus of this serious situation, which is to stop the transmission of COVID-19 and to save lives," Powell said.
If an individual would like to be tested, they can call the hotline at (828) 527- 6687. The operator will ask a list of questions and will provide the caller with the appropriate instructions based upon the answers given. The hours of operation for this hotline are 8 a.m. – 8 p.m., seven days per week. If you are having a medical emergency, call 9-1-1 and inform the dispatcher that you have symptoms of COVID-19.
• Old Fort Town Hall; Tuesday from 9 -11 a.m.; located at 38 Catawba Ave in Old Fort
• McDowell High School; Wednesday from 9 a.m-2 p.m.
Get local news delivered to your inbox!
Subscribe to our Daily Headlines newsletter.