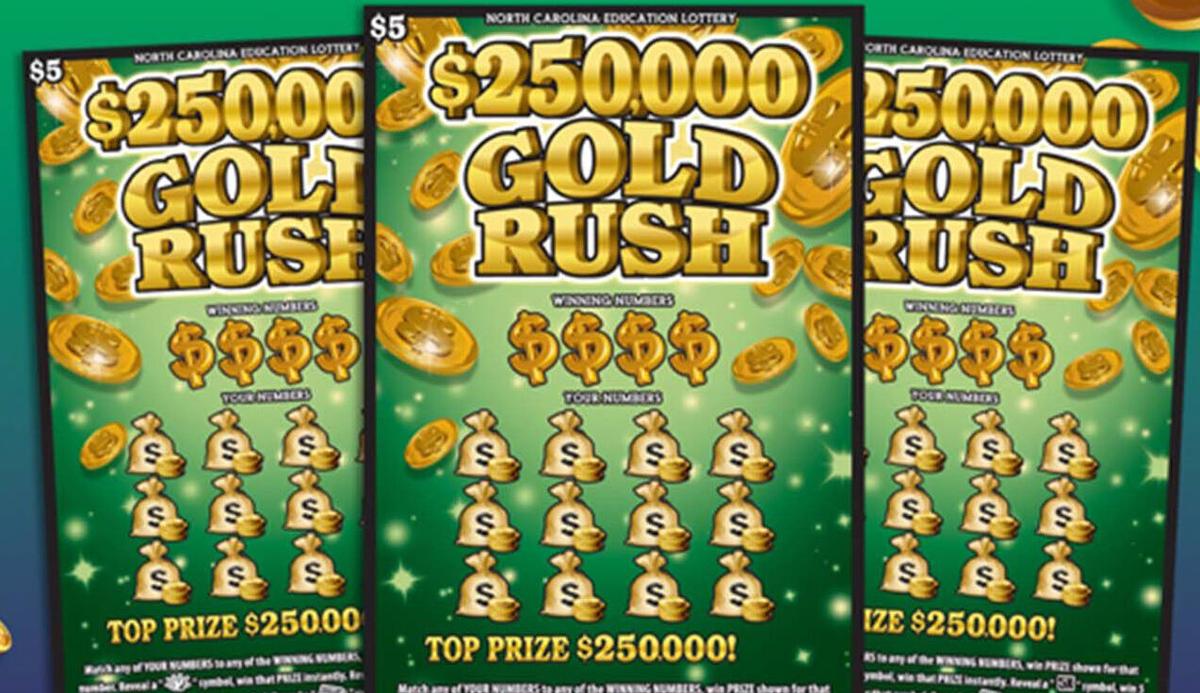 Angela McClellan of Marion did a double-take after her $5 ticket revealed a $250,000 top prize.
"That ticket caught my eye for some reason," she recalled.
McClellan purchased her winning $250,000 Gold Rush ticket from the Samir's convenience store on Sugar Hill Road in Marion. Sitting in her car in the parking lot, she scratched her ticket, according to a news release.
"I couldn't believe it," said McClellan of realizing her big win. "I was just amazed. I had to get a second look at it because I didn't have my glasses on! I couldn't even drive afterwards."
McClellan claimed her prize Tuesday at lottery headquarters in Raleigh and took home $176,876 after required federal and state tax withholdings, according to the news release.
"It hasn't sunk in yet, but it will," she said.
With her prize money, McClellan says she plans to "pay off some bills" and help out her family. McClellan won the last $250,000 top prize so the lottery will begin steps to end the game, according to the news release.
Ticket sales from scratch-off games like $250,000 Gold Rush make it possible for the lottery to raise more than $725 million a year for education. For details on how $2.1 million raised by the lottery made a difference in McDowell County last year, visit www.nclottery.com and click on the "Impact" section.
For those who don't have access to the Internet, the N.C. Lottery's Website states in fiscal year 2020, education programs in McDowell County received $2,193,115 in lottery funds. Elected officials in the state legislature decide how to best use the money provided to the state by the lottery each year.
Of that, $495,075 went to prekindergarten programs. The N.C. Pre-K program serves 4-year-old children who are at risk of falling behind their peers as they prepare for kindergarten. Thanks to lottery funds, 101 children in McDowell County were provided a free, academic pre-school experience last year, according to the lottery's Website.
The lottery provided $133,611 in college scholarships. Lottery funds help college students get learning that lasts a lifetime. Lottery funds provide scholarships based on financial need to help students cover the costs of attending a state university or community college in North Carolina. Last year, 120 students in McDowell County received scholarships, according to the lottery's Website.
The lottery provided $27,815 in financial aid in fiscal year 2020. A second way that the lottery helps make college affordable is through the UNC Need-Based Grant Program. The money supports grants to help students cover the costs of attending a state university within the UNC system. Last year, 149 McDowell County students received grants.
The lottery also provided $1,475,045 for non-instructional support. It takes a team to make schools work. Lottery funds helped support the operations of public and charter schools, including the costs of support staff such as office assistants, custodians and substitute teachers.
Just like students need a place to learn, they also need a safe way to get to school. Money raised by the lottery helps cover costs for school-provided transportation, like bus drivers' salaries, fuel, and other related costs. Last year, McDowell County received over $61,569 to help cover the cost of school transportation. Local officials decide the best use of the funds the county receives, according to the lottery's Website.
The N.C. Education Lottery also assists with school construction. School systems can use lottery funds to help build and repair schools. This helps meet needs that otherwise would have to be paid for by other means such as property taxes. Local officials decide the best use of the construction funds the county receives. McDowell County continues to benefit from a Needs-Based Public School Capital Fund Construction Grant in fiscal year 2019, according to the Website.
In 2017, state legislators increased funding for school construction by creating a new needs-based grant program. This new program, funded exclusively with money raised by the lottery, helps small, rural counties with critical building needs to build new schools. McDowell County received $15 million in the fall of 2018 to help meet their school construction and repair needs.