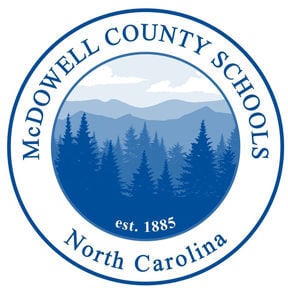 The McDowell County Board of Education met Monday to discuss mask mandates, federal COVID money and to vote on school nutrition salaries, among other business items.
During old business, the school board is required to vote on the mask mandate each month as required by law. Currently, all school personnel, students and visitors are required to wear masks in all school facilities.
Parent Katie Cook spoke to the board during public comments to share her opinion on the situation. "I stand in front of you today for you to revisit the optional mask policy for our children. I am saddened that this has become such a divisive topic in our community. Many voices are not being heard. There are many parents and teachers who are afraid to voice their opinions because of implications that will follow. I'm sure many of you on the board feel the same way," she said.
Cook then read off COVID-19 data showing that the positivity rate for McDowell County is going down. "If I am reading the information right, we are getting back to the level of cases that were trending when we voted for optional masks. I think we as parents should be allowed to make that decision."
After public comments, Superintendent Mark Garrett did go through the COVID-19 numbers for the county and the schools. He said there are three districts in North Carolina who have been optional the entire school year. He added that the numbers seem to be trending down.
"My recommendation is for us to watch these numbers for the next couple of weeks as they start to go down to see if that's a trend," said Garrett. "We are a little early to go optional. Our goal is to keep kids in school."
Many board members agreed. Brian Piercy said he supports optional masking and that will be his vote if numbers continue to decrease.
The board upheld the current mask mandate by a unanimous vote.
On Monday, the board voted to increase the starting salary for school nutrition workers to $12.25 for part-time workers. Substitutes will also get an increase to $12 an hour. This is a 24% increase for entry level workers, Garrett said. Funding for school nutrition staff comes from USDA federal monies. Garrett said longevity is considered for equitable pay increases for all full-time and part-time staff. The increase was approved unanimously.
Teacher representative Bernadita Alarcon showed a video of students talking about Hispanic Heritage Month. Students and teachers shared their thoughts about certain stereotypes, traditions and values about their culture.
Crystal Hamby gave an update on the federal money from the Elementary Secondary School Emergency Relief Fund. These funds are used to improve facilities, air quality and learning loss due to COVID-19. Once granted, McDowell County Schools is looking at receiving $12.9 million over three years. It will expire in 2024. Plans for this third phase are to remove any carpet from classrooms to minimize the virus for proper cleaning, more PPE, add additional instructional assistants and purchase a washer and dryer for the Athletic Field House. The federal funds do have guidelines on how the money is spent. The plan was approved by the board.
Garrett said the schools are currently applying for an additional grant to have a School Resource Office for Foothills Community School. Currently, McDowell County has the most SRO's in the state of North Carolina, Garrett said.
The next school board meeting is Monday, Nov. 8, at 6 p.m. Information on how to join the meeting virtually can be found at www.mcdowell.k12.nc.us.