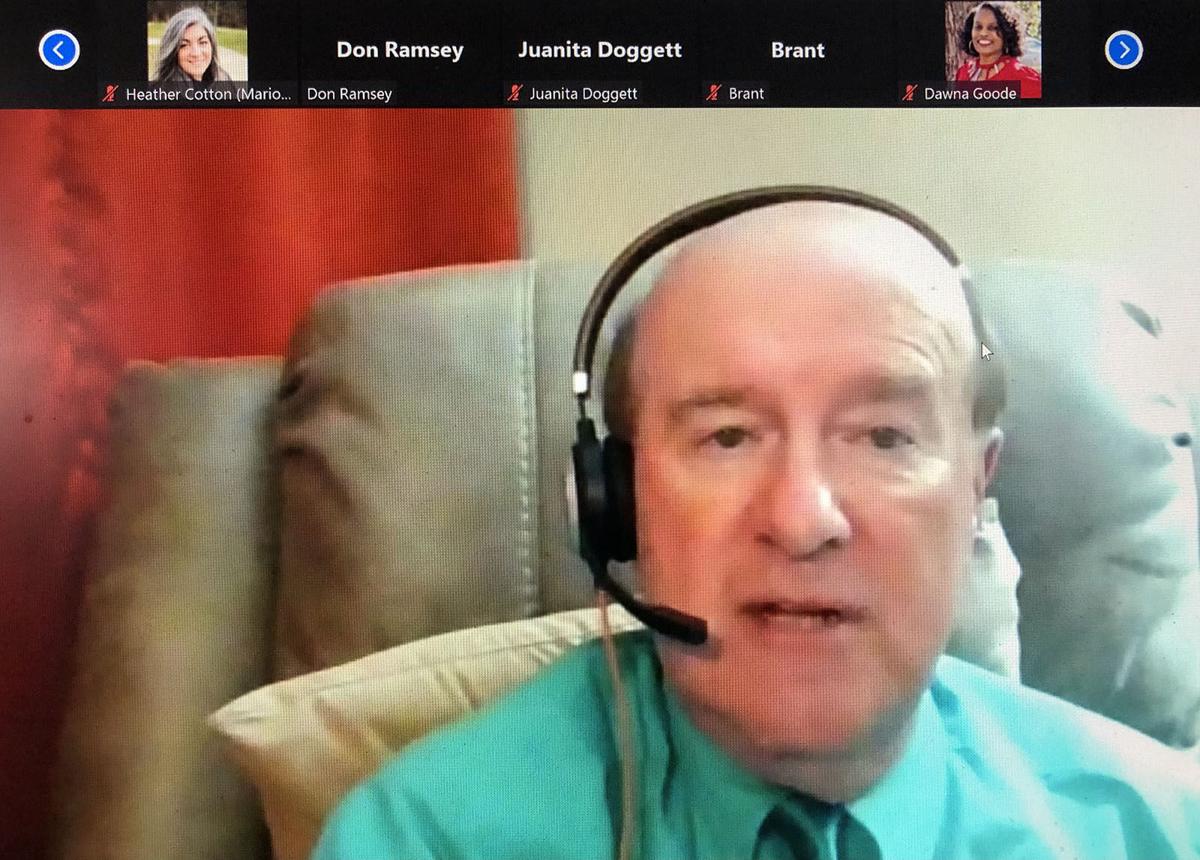 Due to a decreasing COVID positivity rate for McDowell, the Marion City Council will resume holding in-person meetings at the City Hall starting Tuesday, Nov. 16.
And the annual Christmas parade will take place in Marion on Sunday, Nov. 21.
The unanimous decision to again hold in-person meetings was made during Tuesday's regular meeting of the Marion City Council, which was held remotely on Zoom. In the past few months, council members have been holding their regular meetings on Zoom due to the increase of COVID positive cases in McDowell.
But with that positivity rate now on the decline, city officials said it was time to go back to having their meetings at the City Hall with the next regular meeting on Tuesday, Nov. 16. Visitors will be required to social distance and wear face coverings during the council meeting.
The Tuesday, Nov. 2 meeting has been canceled since it is the night of the city election.
Also on Tuesday, Nov. 16, city officials and colleagues will hold a reception to honor outgoing Council Member Juanita Doggett. This reception will take place at the Marion Community Building from 4 to 5:30 p.m.
During Tuesday's regular meeting, city officials announced that the annual Christmas parade will again be held on Sunday, Nov. 21 in downtown Marion. The parade for last year was canceled because of the COVID-19 pandemic.
City officials said the Marion Business Association's board gave their thumbs up to holding the parade again.
In other business, the Marion City Council unanimously agreed to hire a company for the stabilization work at the Joseph McDowell Historical Catawba Greenway.
The city received three qualifying bid packages from Baker Grading and Landscaping, Piedmont, LLC, and Wright Contracting for the streambank stabilization work.
Wright Contracting was chosen for the job with the lowest bid of $312,266, because of their qualifications and ability to complete the project. The total cost of the project is estimated to be $370,000. The state will take on 75% of the total cost of the project, leaving a total of $92,500 that the city and McDowell County will need to pay for the repairs, according to city officials.
Council Member Ann Harkey thanked Steve Pierce and Pat Cook with the McDowell Trails Association for working tirelessly on this project in cooperation with the city and county.
"It's been a team effort all the way through," said Steve Pierce, who is president of the MTA. "The MTA is fully invested in this and we will help in any way we can."
This work on the greenway's streambank doesn't include the damages from the Thursday, Oct. 7 flooding that is still being assessed, said Finance Director Julie Scherer.
City officials said they will contact McDowell County officials since the county is a partner on this project.
This contract just covers repairs for damages received from Tropical Storm Zeta. Additional damage caused by heavy rains and flooding on Thursday, Oct. 7 will require more funding. One end of Kathy Street is closed and the greenway is closed now because of the Oct. 7 flooding. The cleanup of the greenway should be done by early next week but the bridge that was washed away will take months to replace, said Public Works Director Brant Sikes.
"There are many items we are still assessing," said Scherer. "We will exceed $200,000 when everything is compiled."
"We feel confident we will get a state disaster declaration," said City Manager Bob Boyette.
Scherer added the city of Marion has experienced close to $2 million in flood damages since Tropical Storm Alberto in May 2018.
In another matter, the City Council adopted some changes to the Marion city code as a result of a new state law.
On Sept. 2, Gov. Roy Cooper signed a new law taking effect on Dec. 1 that will limit the ability of cities and counties to pursue criminal penalties on many local ordinances.
In response to that new law, Marion had to adopt new proposed language for Chapter 1, General Provisions, of the City Code related to potential criminal and civil penalties for violations of the code. Before this change was mandated by state law, criminal enforcement was an option for any violation of the City Code other than parking violations.
The new state legislation adds 10 categories of local ordinance violations that must be decriminalized by Dec. 1. They are as follows:
Planning and regulation of development
Regulation of business and trades
Cisterns and rain barrels
The ordinance would add all 10 categories to the list of city ordinances that are not subject to criminal penalties. City Manager Bob Boyette said the City did not have ordinances addressing all of these categories, but that he and City Attorney Jennifer Jackson thought it would be best to list all of the ordinance categories in case Marion ever had such ordinances in the future.
The new state legislation requires the new ordinance to be in place by Dec. 1 and states that the ordinance regarding criminal penalties cannot be adopted the day it is introduced.
Because of that, City Council members adopted the first reading of the ordinance on Tuesday and will conduct a final reading and vote on the ordinance at the Tuesday, Nov. 16 City Council meeting with an effective date of Nov. 30.
Mayor Steve Little said this is an example of the state government limiting power of the local governments and it troubles him a lot even though it won't probably harm Marion.
"I think we have no choice to adopt this," said Little with reluctance.
In other business, the Marion City Council:
Adopted an ordinance about the unauthorized use of the city's dumpsters. Boyette said it is based on an existing ordinance from Morganton. The most common penalty for unauthorized use of a dumpster would be a civil citation of $50 for the first offense and it could go up to $500. "We hope this will solve the problem," said Little. "We shall see how things unfold."
Approved unanimously the temporary closing of Main Street for the McDowell High School homecoming parade, which was held Monday.
Approved the purchase of a John Deere 410L backhoe loader from James River Equipment in Asheville in the amount of $119,882 to replace an existing 2000 model backhoe in poor condition. Council also approved buying a John Deere 331G compact truck loader with a John Deere RC78B rotary cutter from James River Equipment in Asheville in the amount of $73,400 to replace an existing skid steer loader dating back to the 1990s in poor condition. This equipment was purchased, because prices on these pieces of equipment are expected to increase at the end of October. All purchased items came in below budget.
Approved placing deer crossing signs on Yancey Road.