For more than 27 years, Richelle Bailey made a huge impact on McDowell County as a dedicated reporter, a tireless advocate for victims of crime, a strong supporter of local law enforcement and someone who gave of herself to help others.
On Monday evening, Richelle Bailey, who worked in office administration and as the public information assistant for the McDowell County Sheriff's Office, passed away at Wake Forest Baptist Medical Center in Winston-Salem. She died at just 49 following complications from COVID-19. She worked as a reporter and assistant editor for The McDowell News before joining the Sheriff's Office.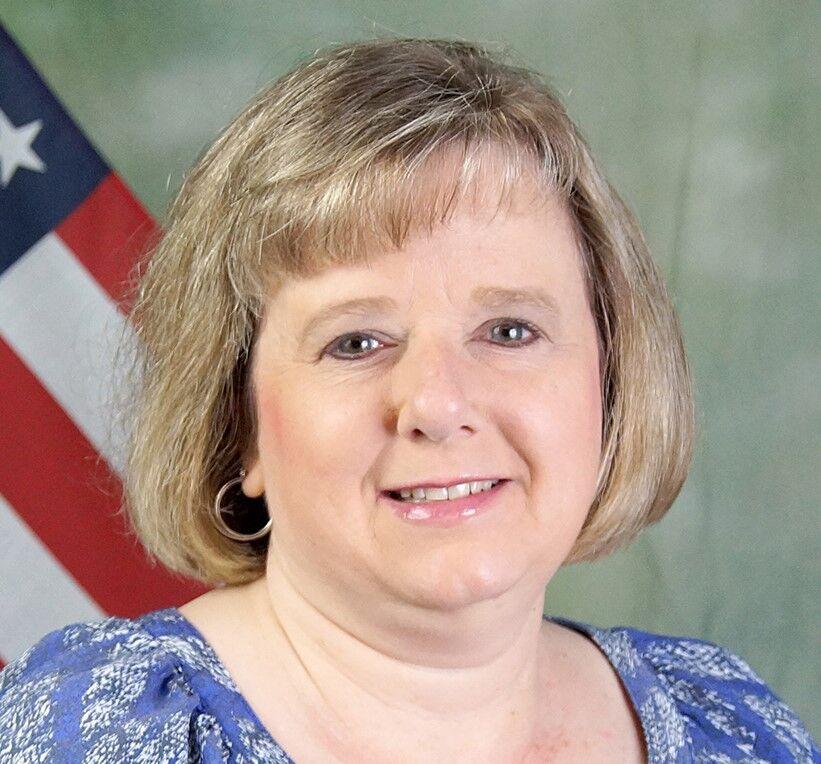 A native of Davie County, Richelle graduated from the University of North Carolina at Asheville and was hired in May 1994 to work as a crime reporter by Eric Millsaps, who was then the editor of The McDowell News.
"It was my good fortune in 1994 to hire Richelle at The McDowell News," said Millsaps, who is now the editor for The Hickory Daily Record. "She had completed her degree at UNC-Asheville and was ready to work. She dove into the crime beat and never looked back. She had a drive to get to the bottom of a story. An example is the murder of Zilphia Lowery, a story Richelle doggedly covered for The McDowell News."
The murder of Zilphia Lowery was an unsolved case that had haunted local law enforcement before Richelle came to work at The McDowell News. When the murder was finally solved nearly 14 years later, Richelle reflected on the impact it had on her life.
"The first day I started in May 1994, I found paperwork about Zilphia Lowery on my desk," said Richelle about the case. "The editor at the time, Eric Millsaps, told me to get familiar with the case because I would be covering whatever happened from that day forward. Little did I know that it would span nearly 14 years."
The details of that case and its eventual resolution were made into TV shows and reported across the nation. One of those TV shows featured Richelle and her work at The McDowell News.
When she was first hired, Richelle was new to McDowell County but she quickly became an essential part of the local community. As she covered the Zilphia Lowery case, she became friends with Zilphia's family and witnessed first-hand how the McDowell County Sheriff's Office worked to solve not only this case but many others.
"Richelle loved McDowell County," said Millsaps. "She grew up in Davie County and like many youthful reporters hired for their first jobs here, I expected her to leave Marion in a couple of years for work closer to home or at a bigger paper. She never did. Instead, she put down deep roots in the community."
"Those of us who worked day-to-day with her will miss Richelle's wit, her toughness, her loyalty – all the things that made her human and unique," he added.
Mike Conley was hired by Millsaps in August 1994 as a new reporter at The McDowell News after previously working at The News Herald in Morganton. He started at the local newspaper at around the same time as Richelle and they worked closely together for the next 19 years.
"Richelle was indeed a dedicated reporter who cared so much about McDowell County and its people," said Conley. "I will always remember her attention to detail and making sure all of our stories were the best they could be. I greatly envied how good she was at keeping her desk and files organized, something I have never been able to do. And I remember how much she loved her dog Simon."
"But her love for McDowell County's people and trying to help them is what stands out foremost in my memory," added Conley. "I well remember the day she announced to us that she and Carla Biggerstaff Patrick would take over the operation of Project Christmas, which needed new leadership. We all knew that this operation would be in good hands. I am a member of the Rotary Club and our motto is 'Service Above Self.' Richelle was not a Rotarian but she embodied that motto better than anyone else I can think of. She did so much to help others and we can all live by that example. She was a good friend to me and one of the best reporters I have ever known. I miss her so much already but I know I will see her again someday."
Sports Editor Marty Queen also worked closely with Richelle for those 19 years. He remembers how she was always dedicated to service.
"Richelle always put other people first," said Queen. "I don't think I've ever met anybody who did as much to help other people. I remember she always used to save up her vacation days at work so she could take them near the end of the year to work on Project Christmas. She loved her family so much and my heart is broken for them. The world would be a lot better place if we all tried to be a little more like her."
Richelle won numerous awards from the N.C. Press Association and was promoted to assistant editor of The McDowell News.
Carla Biggerstaff Patrick met Richelle shortly after she started working here and they quickly became friends.
"I could tell quickly she really cared about people," said Patrick to The McDowell News. "She talked me into helping her with CrimeStoppers and soon after that, I talked her into us co-directing Project Christmas. We have done so many different fundraisers over the years. Whatever it took to raise money to fight crime or for the children, she was ready. One of our goals with Project Christmas was that all the children would be shopped for and that we would not use gift cards. Even though Richelle did not like to shop, every year she would be right there shopping at the old Walmart way after they closed. Then when the Super Walmart opened we could shop all night."
Some years, the two were shopping at Walmart until 3 a.m. for Project Christmas.
"One year we bought elf shirts for us to wear," said Patrick. "Even though she was in severe pain some years, she would not go home until we were finished."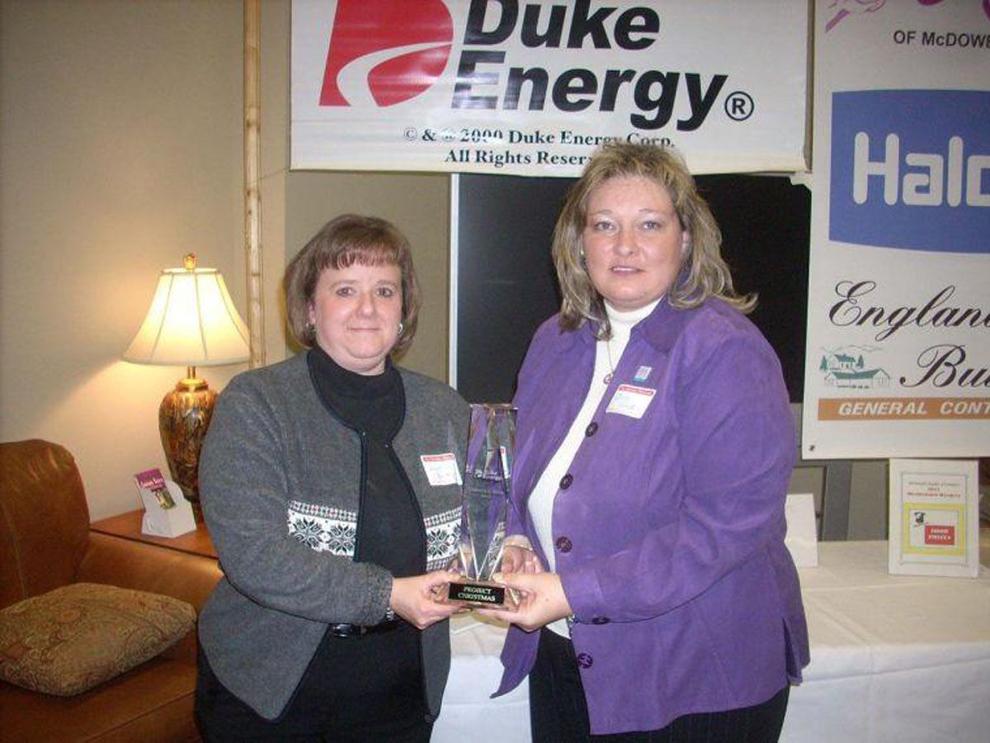 2021 would have been their 23rd year as co-directors of Project Christmas.
"Richelle was a selfless, dependable, generous, kindhearted, dog-loving, hard-working, and organized person," said Patrick. "Her way of doing things was always the correct way and she would remind you of that often. She would always fuss at me for not putting Project Christmas stuff in alphabetical order. According to her, that was the only way.
"You could never tell but she didn't like to be in pictures. Whenever we needed to take a picture for publicity, she would always say 'I have to take the picture, so you have to be in the picture.' She would always be the first to talk to anyone or any organization about the projects we were volunteering with or raising money for."
"We spent many hours together working on Project Christmas, CrimeStoppers, Relay for Life, and socializing," added Patrick. "We have laughed, cried, and prayed together through a lot of things over the years. We even won the Duke Energy Citizenship and Service Award for McDowell County one year.
"I knew I could always pick up the phone and call her and she would be there. She did that for anyone in this community. She loved helping children and always put them first. She loved her family and was her niece and nephew's biggest fan. This community has lost a great leader and advocate. She will be greatly missed by many."
In 2013, Richelle left The McDowell News and went to work at the Sheriff's Office in office administration and in public information. Even though she was no longer a reporter, she continued to help The McDowell News, WBRM and other area media outlets with getting the news out.
N.C. Rep. Dudley Greene was sheriff of McDowell County when he hired Richelle. But they had learned to trust each other years before she came to work with him.
"To say that Richelle Bailey was a special person seems woefully inadequate," said Greene to The McDowell News. "At first impression, she seemed quiet, reserved, and maybe somewhat aloof. But the more you got to know her, the more you realized those still waters ran deep and that she was intelligent and meticulous with a quick wit and a heart for her community bigger than it seemed her small frame could possibly accommodate."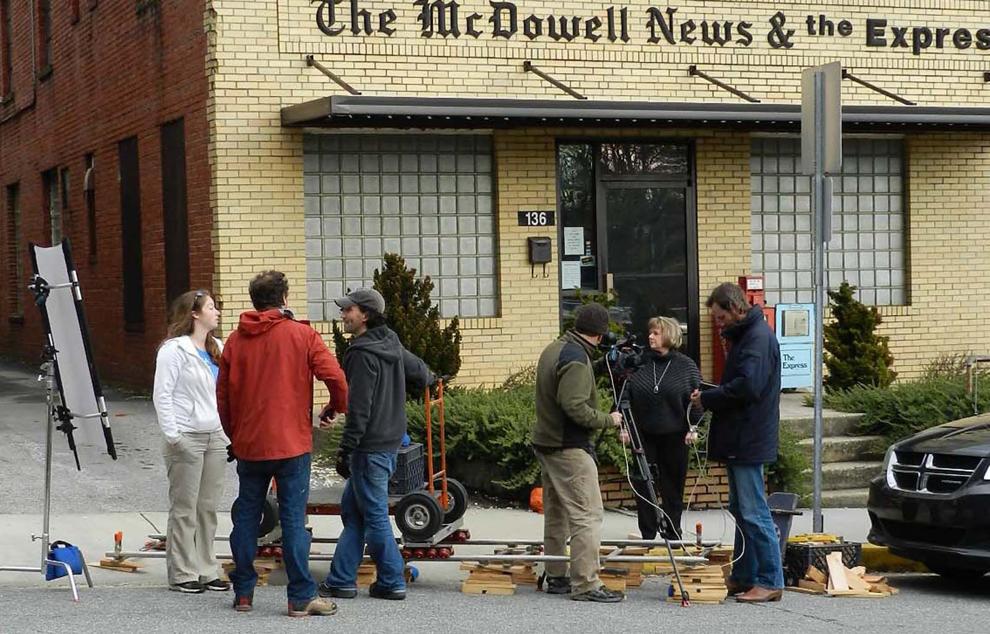 During his career with the Sheriff's Office, Greene said a good portion of his time was spent responding to media inquiries about incidents that occurred, cases under investigation, or arrests that had been made.
"As a result, I was in contact with Richelle almost daily for several years," said Greene. "Through that time we developed something often lacking between public officials and journalists these days … a sense of trust. She knew we were going to shoot straight with her and be as open as possible without jeopardizing an investigation or delving into a personnel matter while we knew she wasn't doing to publish some detail that would keep a case from being solved just to rush to print before anyone else or have a 'gotcha moment.' As a result, her stories were usually the most complete and accurate, because she took the time to be thorough and actually listen, and whether the news was good or bad we knew she would always give us a fair shake."
Later as sheriff, Greene said he was happy when Richelle agreed to come to work with them as opportunity came along and he asked her to assume responsibility for responding to routine media inquiries.
"I knew she would approach this job with that same sense of the need for openness and accuracy," said Greene. "She soon adjusted well to the new role, but we both had to laugh when one person complained that I 'didn't let people know what was going on but put that little woman on TV to do my talking for me instead.'"
Greene also came into contact with Richelle through their mutual involvement in CrimeStoppers and Fraternal Order of Police and he was certainly aware of her involvement with Relay for Life, Project Christmas, and countless other efforts to provide relief to people in need.
"It seemed her energy and desire to help those in need or less fortunate was endless despite physical challenges she dealt with on a daily basis," said Greene. "As a reporter, Richelle informed and united our community on countless occasions. As a public servant, she went the extra mile to get information out that the community needed, which in all likelihood helped solve as many crimes as anyone. As a friend, she will always be remembered. Our loss is heaven's gain, but Richelle Bailey and her impact on our community can't be overstated or replaced."
Sometime before she went to work at the Sheriff's Office, Richelle was diagnosed with having multiple sclerosis. She dealt with the physical challenges caused by MS with the same grit and determination which she brought to her professional life.
But in August 2021, Richelle faced the greatest struggle ever when she tested positive for COVID-19 and she was admitted to Wake Forest Baptist Medical Center.
In early September, she posted on Facebook her feelings about COVID.
"COVID WILL KILL YOU!!!" she wrote. "COVID doesn't care what political party you belong to. COVID doesn't care if you're male or female. COVID doesn't care what color your skin is. COVID doesn't care if you're 21 or 121. COVID will sneak up on you like a freight train & make you wish you didn't have to take another breath but also make you know that you've got people you don't want to leave without saying goodbye."
She thanked all of her co-workers, family and friends who called, texted and prayed fervently for her recovery.
"To those people who have suffered through this disease & those who have lost loved ones, I've laid here every day in this hospital bed & I've wept for you," Richelle posted on Facebook. "It is the most horrible thing I've ever been through in my life! You will always be in my thoughts & prayers."
Now, Richelle Bailey will forever be in the hearts of those who knew her and worked with her.