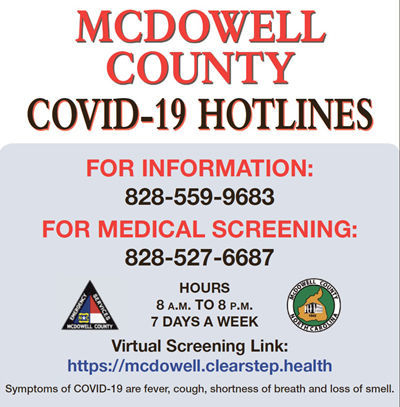 The McDowell County Health Department said Friday five additional McDowell County residents have tested positive for novel coronavirus (COVID-19), bringing the known total to 128.
The initial investigation reveals the source of transmission to be contact with other positives and community transmission and public health staffers are looking for those who might have come in contact with them. Those who test positive are quarantined for 14 days.
 There have been 2,701 people tested, 1,682 negative results and 891 tests are pending results. Currently, there are 85 individuals in quarantine, 41 out of quarantine and two deaths.
As of Friday morning, 12 people -- or 9.4 percent of the cases -- required hospitalization. The largest age group testing positive are those 25-49 years old with 51 positive cases. That is followed by young people 17 and under with 26 cases. TYou can view additional information by clicking here.
Public Health Director Karen Powell continues to urge social distancing, good hygiene and using protective measures. 
The Health Department is continuing to test individuals for COVID-19. If an individual would like to be tested, they can call the hotline at (828) 527- 6687. The operator will ask a list of questions and will provide the caller with the appropriate instructions based upon the answers given. The hours of operation for this hotline are 8AM – 8PM, 7 days per week. If you are having a medical emergency, call 9-1-1 and inform the dispatcher that you have symptoms of COVID-19.
Free COVID-19 testing will be conducted at the following locations:
• McDowell County Health Department; Monday, June 15 from 9 a.m.-11 a.m.; located at 408 Spaulding Rd. in Marion.
• McDowell County Health Department; Wednesday, June 17 by appointment only.
• Trinity United Methodist Church; Thursday, June 18 from 3-5 p.m.; located at 174 Trinity Church Loop Nebo, NC. (Dysartsville Community)
• McDowell County Health Department; Friday, June 19 by appointment only.
Get local news delivered to your inbox!
Subscribe to our Daily Headlines newsletter.