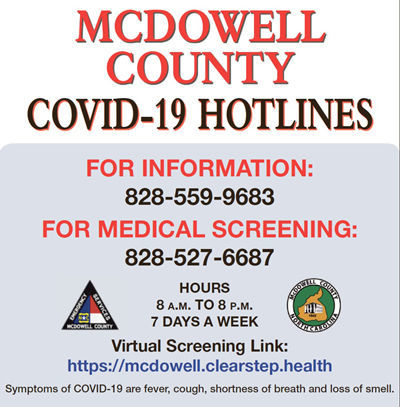 The McDowell County Health Department has been notified that six additional McDowell County residents have tested positive for novel coronavirus (COVID-19), bringing the known total to 279.
"We are seeing a continual increase of positive results in McDowell County," said Public Health Director Karen Powell. "Transmission is not slowing down and the risk of contracting COVID-19 is as high, if not higher than ever. Wearing a face covering is critical. It can reduce your risk of transmission and protect others as well. I can't stress the importance of face coverings enough. It can save your life as well as your loved ones. It can help us to lower the numbers and stop transmission. Always wash your hands, use hand sanitizer and avoid touching your face.".
Public Health officials and the McDowell County Emergency Operations Center are monitoring trends of transmission. By tracking these trends and data, conclusions can be made that transmission continues to be in gatherings of 10 or more people where social distancing is not practiced, households where multiple people reside and widespread community transmission. Public health staff are aggressively investigating and tracing all contacts to positives. To protect individual privacy, no further information about the cases will be released.
There have been 5,012 people tested, 4,448 negative results and 285 tests are pending results. Presently, there are 88 individuals in quarantine, 189 out of quarantine and two deaths.
 If an individual would like to be tested, they can call the hotline at (828) 527- 6687. The operator will ask a list of questions and will provide the caller with the appropriate instructions based upon the answers given. The hours of operation for this hotline are 8 a.m. – 8 p.m., seven days per week. If you are having a medical emergency, call 911 and inform the dispatcher that you have symptoms of COVID-19.
Free COVID-19 testing will be conducted at the following locations via a drive-thru setup:
• McDowell County Health Department; Monday, July 13, 9-11 a.m.
• Grace Community Church; Wednesday, July 15 from 9 a.m.-noon, located at 5182 US 70 West in Marion
• McDowell County Health Department; Friday, July 17, from 9-11 a.m.
Concerned about COVID-19?
Sign up now to get the most recent coronavirus headlines and other important local and national news sent to your email inbox daily.