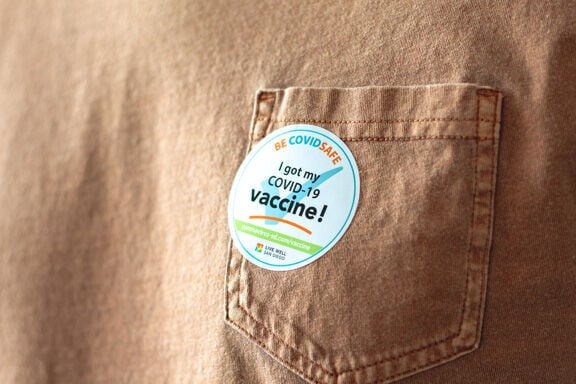 People with compromised immune systems who have already had two doses of the Pfizer or Moderna vaccines can now get a third shot to boost their protection from COVID-19.
This week McDowell County Emergency Services and McDowell County Health Department will partner to begin offering booster vaccine clinics.
"This is welcome news to many patients and their doctors who have been calling for this for months," local health officials said in a news release.
Data shows that many immunocompromised patients, such as organ transplant recipients and others on immune-suppressing medications, have had weak responses to the initial doses of the vaccine. Patients wishing to receive a third dose of Pfizer or Moderna are asked to call the Vaccine Center at 828-803-4552.
Friday's recommendations from the Centers for Disease Control and Prevention leaves some questions about exactly who is eligible for an additional dose and how to get it.
Here's what we know so far:
Why should immunocompromised people get a third shot?
Having a compromised immune system puts you at higher risk of severe illness and death from COVID-19. Studies show that the initial vaccine doses are less effective for people with weakened immune systems, ranging from 59% to 72%, compared to 90% to 94% among people without serious immune deficiencies.
People with conditions that weaken the immune system are also far more likely to have a breakthrough infection than people in more normal health. Physicians across McDowell are caring for an increasing number of COVID-19 patients. "For this group of patients, a third shot is going to improve their response to the vaccine and therefore lessen their chances of either contracting the disease or having a more serious disease," says Dr. Edward St Bernard. Dr. St Bernard says that even though the current delta surge has mostly hit unvaccinated people, vaccinated but immunosuppressed patients are also landing in hospitals with COVID-19.
Who should get third shots?
Only a very small group of people with weakened immune systems qualify for the third dose. The CDC is recommending it for moderately to severely immunocompromised people, including those who have:
- Been receiving active cancer treatment for tumors or cancers of the blood
- Received an organ transplant and are taking medicine to suppress the immune system
- Received a stem cell transplant within the last two years or are taking medicine to suppress the immune system
- Moderate or severe primary immunodeficiency (such as DiGeorge syndrome, Wiskott-Aldrich syndrome)
- Advanced or untreated HIV infection
- Active treatment with high-dose corticosteroids or other drugs that may suppress your immune response
The recommendation is limited to adults 18 and older for the Moderna vaccine because that vaccine has not been authorized for adolescents as of yet. The Pfizer vaccine is authorized for adolescents 12 and older, and adults.
Can I just sign up to get the shot or should I talk to my doctor first? And do I have to prove I'm immunosuppressed?
A doctor's note is NOT required to schedule your appointment in McDowell County — a person just needs to inform the staff that they are moderately to severely immunocompromised. However, it's best to get your doctor's input before getting the shot, says Dr. Edward St Bernard, an internal medicine physician in McDowell County. He says that your doctor can help you determine if the benefits of getting a third shot outweigh any risks in your particular case. "My hope is that this will be an individual patient and provider shared decision," he says.
For people with compromised immune systems, "every time we activate the immune system, there is a risk," St Bernard cautions. For patients with certain conditions, it may be necessary to pause their immune-suppressing medications temporarily to let the third dose of the vaccine take effect, explains St Bernard. So, talk to your doctor about your situation and how to increase your chances of having the vaccine be effective.
Do I need to get the same vaccine I got for my first two doses? And what do I do if I got the J&J vaccine?
The CDC recommends you get the same vaccine you got for your first two doses, so if you got the Pfizer or Moderna for your first two doses, get the same one for your third shot. But if that is not feasible, the CDC committee said an additional dose with the other mRNA vaccine is permitted.
Currently only the Pfizer and the Moderna vaccines are authorized for an additional dose. If you got the J&J, you still aren't eligible.
The FDA says that there wasn't enough data available to extend the authorization for an additional dose for the J&J shots. Representatives of both the FDA and the CDC said that they are "actively engaged" to determine the best course of action for recipients of the Johnson & Johnson vaccine and expect to know more "very shortly."
How do I schedule my appointment?
Patients who would like to schedule an appointment for a third dose of Pfizer or Moderna are asked to call the Vaccine Center at 828-803-4552. The Vaccine Center is open 7 days a week 8:30 a.m. until 5 p.m. The Vaccine Center staff will be able to confirm that you received Moderna or Pfizer and will confirm that it has been at least 28 days since your second dose was administered. Once a patient's appointment is scheduled, they will receive the location and be given directions if needed.
Once the Vaccine Center has verified that you are eligible to receive a third dose of an mRNA vaccine, your appointment will be scheduled. The Booster Clinics will be held off-site at a large location and will be drive-thru. Once a patient's appointment is scheduled, they will receive the location and be given directions if needed. Patients are asked to bring their vaccine card so that a third dose can be documented. If you do not have your card, a third dose card will be provided to you.