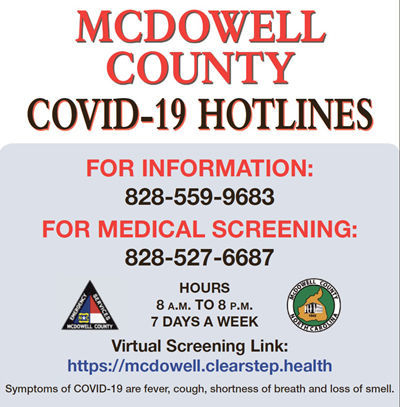 Note: This story has been updated to reflect local coronavirus numbers released on Monday.
To help prevent the spread of the coronavirus and practice social distancing according to the latest CDC Guidance, Mission Hospital McDowell will host a community forum via telephone on Wednesday from 5:30-6:30 p.m.
"We invite you to join Carol Wolfenbarger, Mission Hospital McDowell CEO, via telephone using the toll-free number and access code below," Nancy Lindell, Mission Health's public and media relations marketing and communications director, said in a release. "Carol will provide an update on Mission Hospital McDowell, the hospital's COVID-19 preparedness efforts, as well as other topics. Time will be available for your questions."
To join the Mission Hospital McDowell Community Forum, dial 877-228-2184. When prompted, enter PIN number 19449.
On Monday, local health officials said the total number of positives was 188 in McDowell County. There have been 3,537 people tested, 3,196 negative results and 153 tests are pending results. There are 87  individuals in quarantine, 89 out of quarantine and two deaths.
State and local numbers have at times differed slightly because state numbers have included people tested here who do not live here.
The Health Department is continuing to test individuals for COVID-19. If an individual would like to be tested, they can call the hotline at (828) 527- 6687. The operator will ask a list of questions and will provide the caller with the appropriate instructions based upon the answers given. The hours of operation for this hotline are 8 a.m. to 8 p.m., seven days per week. If you are having a medical emergency, call 9-1-1 and inform the dispatcher that you have symptoms of COVID-19.
Free COVID-19 testing will be conducted at the following locations:
» New Horizon Baptist Church; today from 9 a.m.-11 a.m.; located at 5878 US 221 North in Marion
» Addie's Chapel Church; Wednesday from 9 a.m.-11 a.m.; located at 201 Ridley St. in Marion
» McDowell County Health Department; June 25 & 26.
Be the first to know
Get local news delivered to your inbox!