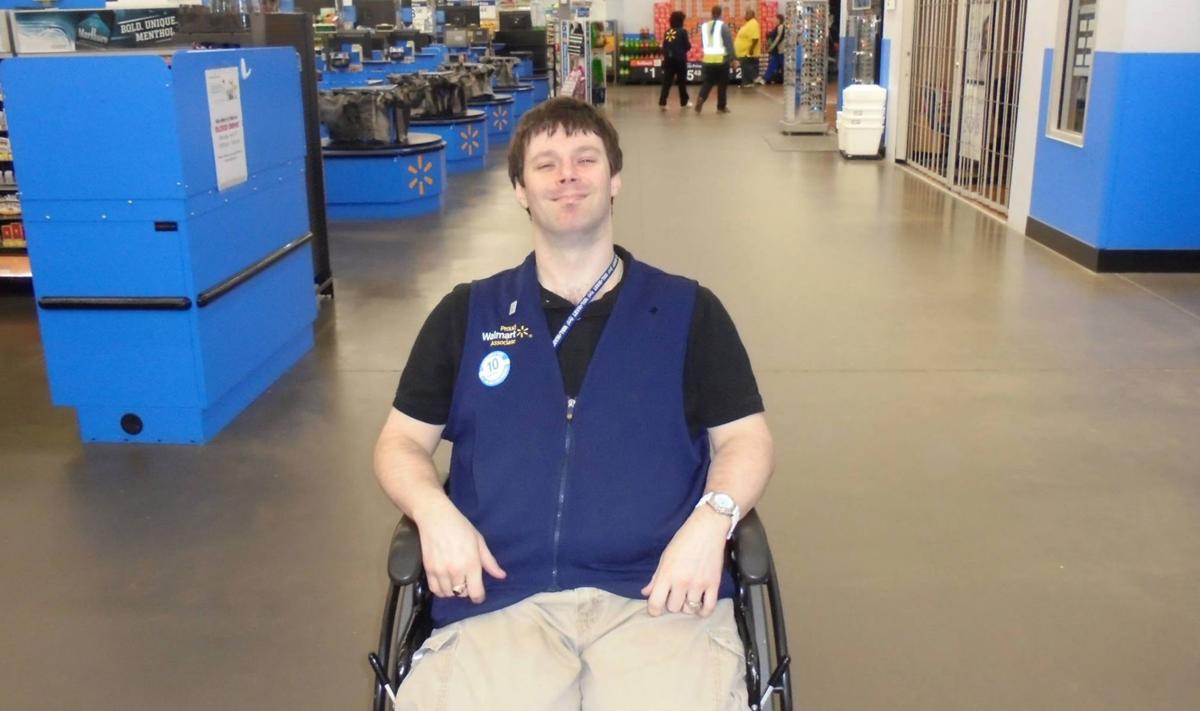 For more than 15 years, Jay Melton has worked as a greeter at the Walmart in Marion where he always welcomed customers with a smile and a friendly hello. But now Melton, who has cerebral palsy and uses a wheelchair, may lose his job because the retail giant is changing the requirements.
On Friday, Melton's niece Keely Melton posted on Facebook about what is happening to her uncle. He's been a highly regarded greeter at the old Walmart on U.S. 70 West and then the current Walmart Supercenter on Sugar Hill Road.
"He has been a staple of the Marion Walmart through two locations and over fifteen years," she wrote on Facebook. "I received a call this morning which stated that in sixty days, my uncle would no longer be an employed greeter at Walmart of Marion. Keep in mind, this is not just Jay. Thousands of other greeters will be out of a job soon as well. The job that Jay has cherished so much for so long will be cruelly taken away from him. He may not be able to do some things, but one thing he can do for sure is a big "Hey y'all!" and a hug - his JOB. Jay is such a big personality and does not deserve any of this.
"He has EARNED this job. Do not let it be taken away from him. Please take a minute and pray for my family, especially Jay. Also, take a minute and pray for Walmart because Lord knows they're going to need it after this."
Her post has been shared numerous times and resulted in lots of supportive comments from local residents.
"Jay is such an inspiration to me and I am sure to many others. I look forward to his smiles and the way he welcomes people to Wal-Mart. This change in the company's policy will be a big loss and may hurt the business more than they know. I pray for Jay that things will work out for him in a positive way." – Betty Ward.
"Jay is the best!! Why ruin something good? People love to see Jay and the kids love him. My grandson looks for him every time we go to Walmart. Shame on you Walmart!!!!" -- Patricia McFalls
"I've spoken to Jay at the old Walmart location in Marion. It's easy to see he loves his job. Prayers for Jay and prayers that Walmart can see the error of their ways." -- wrote Scott Peeler.
"There are stories out there of disabled people losing their jobs because of this. I have just realized that there is a wonderful greeter at the Walmart in Marion by the name of Jay that is confined to a wheelchair and has been working there for years. There are many people in Marion that are afraid that he is in danger of losing his job." – Amber Roland.
On Friday, The McDowell News spoke with his sister-in-law Jamie Melton. She also said Jay was told that within 60 days he would have to take on new responsibilities like being able to lift 25 pounds and stand for long periods of time. These are duties that he cannot perform due to his disability, she said.
Jamie Melton said she is worried about what this will affect him. She said her brother-in-law lives to work at Walmart and go to church.
"This is just frustrating to him," she said. "This is what he gets up out of bed to do. He lives to see those people."
She said she understands Walmart has offered him a severance but Jay doesn't want that.
"He just wants to work," she said to The McDowell News. "He's not asking to be given anything. There's people who go there just to see him. His personality is so contagious. You can't be around Jay and not feel bad."
This is reportedly happening to other disabled people who work as greeters at Walmart stores all across the nation.
At many Walmart locations, the job of being a greeter has changed to being a "customer host." Those workers are now responsible for helping with returns, checking receipts to help prevent shoplifting and keeping the front of the store clean. They have been told by store management that starting in April they would have to lift at least 25 pounds, stand for long periods of time, write reports and read receipts in order to be able to stay on as a customer host, according to a story by the Associated Press.
Due to his disability, Melton cannot meet all of these requirements. The AP story describes another Walmart greeter with cerebral palsy in Pennsylvania, who like Melton, will probably find himself out of a job because he cannot perform the new tasks of a customer host.
Jamie Melton said her brother-in-law has been instructed not to talk about this. She added she worries what will happen to him emotionally if he loses his position.
"I have seen people go downhill quickly," she added. "It's like their purpose has been taken away. He just wants to work. It's given him purpose and accomplishment."
On Friday, The McDowell News heard from Kory Lundberg, a spokesman for Walmart.
"More than two years ago we started a program in more than 1,000 stores using customer hosts to staff entrances," said Lundberg in a prepared statement. "Customer Hosts give customers a welcome as they enter our stores and keep the front clean, safe and secure. Over the last two years we've continue to expand this program and introduce more customer host roles in our stores, adding more responsibility and pay to the traditional People Greeter role.
"We recognize this is a unique situation and it will take time to explore possible solutions. As we phase the greeter role out of this store over a 60-day period, our store management and local human resource teams will be available to Jay as we explore every available option to him. We will be thoughtful during the process.
"We're committed to always providing our customers with a positive and safe shopping experience, and we know there isn't a one-size-fits-all solution to staffing our entrances and serving customers. We look at the data from each store individually to structure the appropriate door coverage."
The McDowell News asked Lundberg if this change could be a violation of the Americans with Disabilities Act, since it might force people like Jay Melton out of their jobs. He said he would have to speak with Walmart's legal team.
The federal law has a section that prohibits discrimination against disabled people over employment. Some of the prohibited discriminations include firing or refusing to hire someone based on a real or perceived disability, segregation and harassment based on a disability. Employers with 15 or more workers are required to provide "reasonable accommodations" to job applicants and employees with disabilities. That can include changing the way things are typically done so that the disabled worker can do the work or certain equipment that allows the person to perform the job, according to Wikipedia.
Be the first to know
Get local news delivered to your inbox!