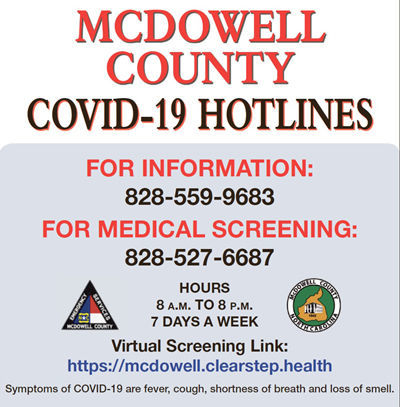 Local health officials announced on Sunday seven more McDowell residents had tested positive for coronavirus (COVID-19), a one-day increase of nearly 18.5 percent. The total known positive cases jumped from 38 to 45.
Twenty-eight people have been released from quarantine after recovering. 
The initial investigation reveals the source of transmission to be contact with other positives and community transmission. Public health staff have already initiated an investigation and will be identifying close contacts to contain the spread of disease. To protect individual privacy, no further information about the case will be released.
There have been 879 people tested, 751 negative results and 83 tests are pending results. Currently, there are 16 individuals in quarantine, 28 out of quarantine and one death.
The McDowell County Health Department and McDowell County Emergency Management will keep the public informed by announcing any additional cases that may arise through our local media partners.
It is important for the community to understand that the identification of additional cases does not change our local strategies for preventing and reducing the spread of disease.
"As we begin to move into increased testing in the community, we know that the positive cases will increase," stated Public Health Director Karen Powell. "Unfortunately, these new cases are not related to mass testing. These results are clearly from contacts with other positives and community transmission. The McDowell County Health Department is working diligently to get in touch with all contacts of positives to offer testing. In addition, all positives are being quarantined for 14 days. We must stay vigilant in social distancing, good hygiene and using protective measures to keep ourselves safe. We cannot lose focus of this serious situation, which is to stop the transmission of COVID-19 and to save lives. Your Public Health team is dedicated and committed to keeping you safe and protecting the community. McDowell County is strong, and we will get through these unprecedented times."
The Health Department is continuing to test individuals for COVID-19. If an individual would like to be tested, they can call the hotline at (828) 527- 6687. The operator will ask a list of questions and will provide the caller with the appropriate instructions based upon the answers given. The hours of operation for this hotline are 8AM – 8PM, 7 days per week. If you are having a medical emergency, call 9-1-1 and inform the dispatcher that you have symptoms of COVID-19.
Citizens can utilize an online COVID-19 screening tool by going to mcdowell.clearstep.health and completing the assessment.
Be the first to know
Get local news delivered to your inbox!