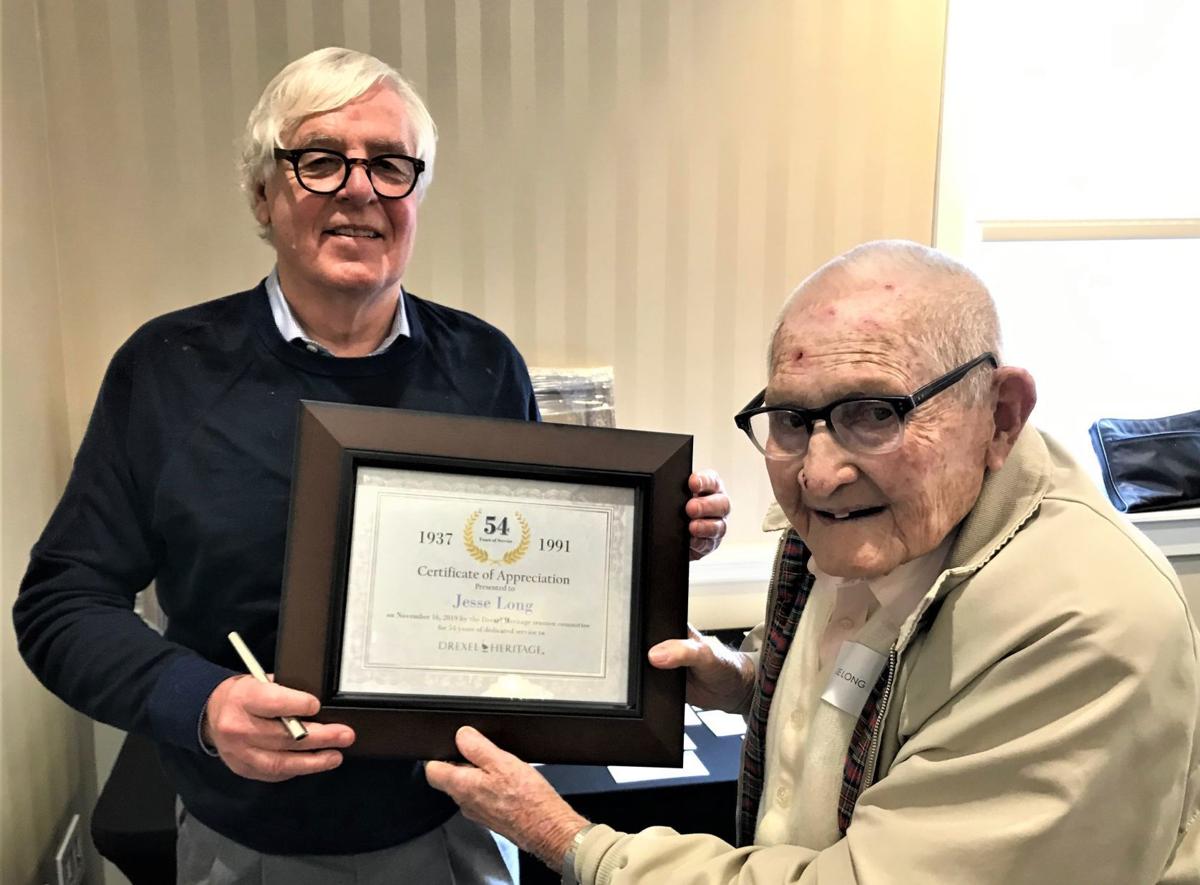 Drexel Heritage Furnishings honored a 100-year-old former employee during its reunion luncheon on Saturday, Nov. 16, at the Morganton Community House.
The reunion was for employees who had worked at the main office, MIS, design and engineering facilities. Drexel Heritage was once regarded as the largest employer in Burke County.
Jesse Long was the special guest of honor to commemorate his 54 years of dedicated service to the company. Long, who turned 100 on Sept. 1, began his career with Drexel on July 11, 1937, when he was 17-years-old. He served in the Army, but being an only child, he was honorably discharged after a year to return home to care for his mother. When Long returned to Drexel, he finished wooden parts for the cockpits of Fairchild AT-21 Gunner training aircraft in the basement of Plants 3 and 5. In 1942, Drexel was contracted by Trans-Air Corporation to manufacture wooden parts for 175 of these airplanes. Long retired from the Sample Finishing Department in 1991 and is believed to be the oldest living Drexel Heritage employee.
Darrell Ferguson, former senior vice president of product design and development, flew in from Charleston, South Carolina, to present Long with a beautifully framed certificate of appreciation for his many years of distinguished service.
After enjoying a meal catered by the Community House staff, David Coffin introduced Ferguson, who presented the well-deserved award to Long and paid worthy tributes to deceased presidents, Howard Haworth and Paul Monroe.
Following Ferguson's remarks, the group drew for door prizes. Nineteen sponsors had donated 35 prizes with a combined value of nearly $1,000. The grand prize was a signed, limited edition print titled "Table Rock" by Kelly Royall of North Wilkesboro. Once the drawing was completed, employees shared their favorite memories and stories about "the good ol' days" when they were part of the Drexel Heritage Family.
Robert Poteat, a member of the reunion committee, ended the event with an inspiring quote from former president R.O. Huffman, made at a 1949 Service Award banquet: "You who were here when Drexel Furniture Company was in its infancy have lived to see it grow into the world's largest manufacturer of quality bedroom and dining room furniture. You have experienced many changes during this time, and perhaps many disappointments, but you stuck to your duties, gave of your best and now you have earned the heartfelt gratitude of all who make up the Drexel Family. You are an honor to the company. You are a living example of the great virtues which produce real character. May God be with you and bless you in the years to come!"
Poteat said Huffman's quote is still relevant today as employees celebrated and remembered being part of the Drexel Heritage Family.
Be the first to know
Get local news delivered to your inbox!