The newest anchor tenant at Hanes Mall already is stirring economic waves even though no retail branch customer will ever enter through its doors. 
Since January, the Operations hub of Truliant Federal Credit Union has occupied the three-story, 154,000-square-foot former Macy's store. Truliant spent $8 million on the property in June 2019 that included 10 acres and 712 parking spaces.
"We chose to invest in this space as a way to more quickly and economically address our expansion needs," said Todd Hall, Truliant's president and chief executive.
Truliant provided the Winston-Salem Journal with a tour of the facility last week that stands out for its spaciousness, purposefully innovative meeting and work spaces and abundance of natural light.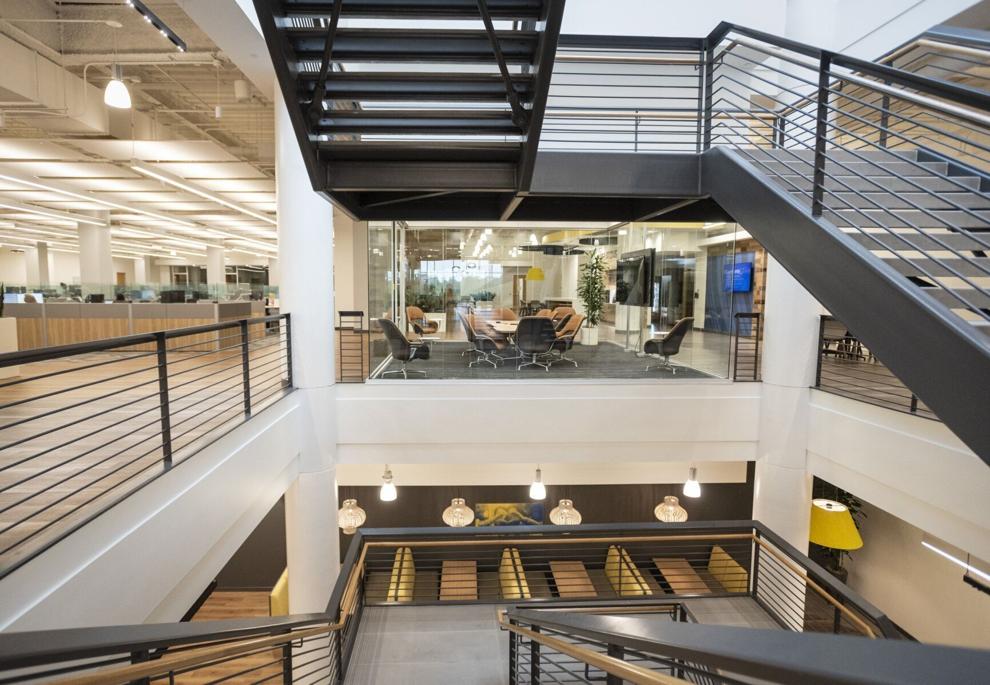 The hub has about 235 full-time and 40 hybrid employees staffing a call center and other departments. It is utilizing about 110,000 square feet, including most of the second and third floors, while keeping the ground floor dedicated mostly to future expansion.
Each floor is divided into four quadrants with room for about 50 employees each. The plans are to have roughly 600 employees on site at full capacity.
Truliant believes it has "shown what a mall renovation can look like" from a non-traditional anchor, said Chad Frye, the company's senior vice president of facilities and administrative services.
Frye said the facility purposefully limits the number of walls between quadrants, preferring to use what he called "plant borders" that consist of live, potted plants.
"We wanted an open environment to remove barriers to focus on collaboration," Frye said. "Employees are telling us the new space feels comfortable and inviting and an encouragement to return to the workplace. We've even had employees working full time from home ask to come back to work, and that's what you want out of an architectural design."
Frye said Truliant is "fully aware" of the challenges facing Hanes Mall.
"When we first took on this space, obviously there were some concerns about security and safety — and rightfully so," Frye explained.
According to Winston-Salem police, there have been at least seven incidents since August 2019 involving a shooting either within the mall or the parking lot.
"We made safety and security the No. 1 priority about the building when employees arrive, work and depart," Frye said. "All entrance and exit points have alarms operating 24/7, and employees are expected to use those spaces only. We hired an armed-guard service that arrives before employees do and don't leave until the last employee does each workday."
A security twist implemented by Truliant is adding bullet-resistant panels at entrance points.
"If there is some gunfire inside the mall, our walls will sustain (the bullets)," Frye said.
As has been the case with many employers, Truliant was faced during the early months of the COVID-19 pandemic with a pivotal decision about how fast to move on renovations and what areas would be the main focus.
"No one knew how long the pandemic would last," Frye recalled. "We just knew we had outgrown our corporate office space at 120,000 square feet. We had packed a lot of people into that space."
The Hanes Mall property purchase came a little more than six months after Truliant won a controversial rezoning case that was part of its bid to expand on its Truliant Way headquarters property off Hanes Mall Boulevard. The goal was to build an additional office building and expand its existing building. 
"The Macy's purchase gives us a centrally-located new office close to our headquarters with easy access, ample parking and a ready and flexible infrastructure," Hall said.
As spread of COVID-19 gradually declined, Truliant had another key strategic decision on how to accommodate full-time employees.
"Employees have missed their teammates, and Truliant very much has a family-work atmosphere that is now rejuvenating, more energizing," Frye explained.
As Truliant chose to go with a spacious, open environment, it also opted to take a low-key approach to color schemes and home furnishings.
"We have enclaves, focus rooms and collaboration areas that allow for appropriate space for our internal meetings, and have found out the options have been well received," Frye said.
The enclaves provide "a living-room type meeting place so managers can use them as informal conversations with employees," Frye said.
One of the more visible renovation improvements was removing the escalator system and replacing it with what Frye called a "floating three-story staircase."
"The escalators were not a good use of energy resources," Frye said.
In recent years, the departure of a mall anchor could be seen as a death knell because of the difficulty finding a replacement.
That's why CBL Properties, which owns Hanes Mall, views Truliant taking over that space as a "great use."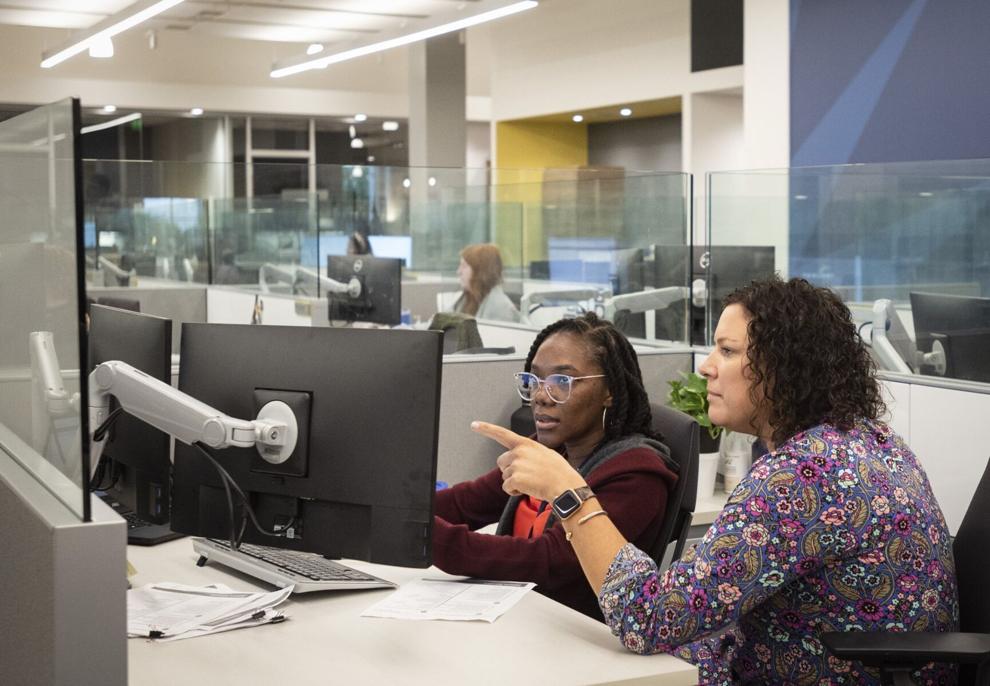 "It's something we'll continue to pursue moving forward," said Stacey Keating, a CBL vice president.
Roger Beahm, a marketing professor at Wake Forest University's School of Business, said the "presence of hundreds of new people working in what was once Macy's can be a boost for mall business in the short run — as Truliant employees step into the mall for some of their specialty shopping needs as well as immediately accessible food service.
"It will also mean a further long-term loss in overall shopper traffic that could have been generated by a major retailer."
Victoria Lim, a market analyst at CoStar Group, a commercial real-estate research company headquartered in Washington, D.C., sees the securing of a health-care and a financial institution as a blessing for Hanes Mall.
"With brick-and-mortar retail facing a lot of challenges, we're seeing more innovative projects like these pop up to backfill large blocks of retail space," Lim said. "The conversion of Sears and Macy's to offices in Hanes Mall is just another example of adaptive reuse we're already seeing in other markets across the country."