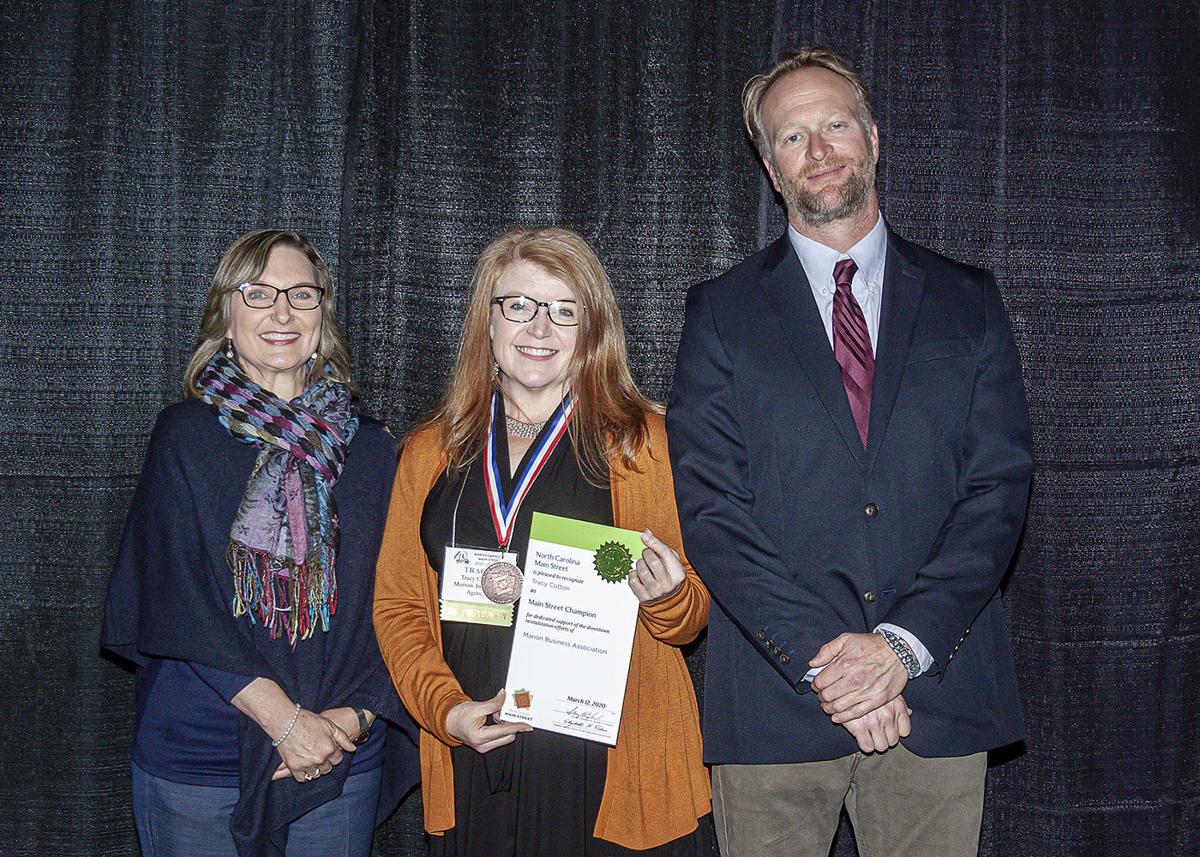 NEW BERN — Morrow Insurance Agent Tracy Cotton was named Marion's 2019 North Carolina Main Street Champion during the 40th Annual North Carolina Main Street Conference in New Bern, North Carolina in March.
Cotton was recognized because of her dedication to small business.
Every November, Cotton leads Marion's Shop Small campaign and she has helped create and organize McDowell Masterminds Marketing, which assists local businesses by offering marketing advice.
Cotton was also instrumental in organizing McDowell Toastmasters, which helps business owners become more comfortable with public speaking and better with social and networking event.
Cotton is a current Marion Business Association board member and past board president. She also serves on the events and promotions committee, and volunteers her time to the Growing Entrepreneurs Marion program to advise aspiring new businesses on their commercial business requirements.
Mayor Steve Little can't say enough about Cotton's dedication to Marion.
"I am extremely proud of Tracy Cotton for being named Marion's 2019 Main Street Champion," said Little. "Her dedication to Marion and our many small businesses and working people is as unlimited as her energy in promoting them. Behind her pleasant smile and calm voice are firm commitment and hard work. Tracy is truly a champion for Main Street and all of Marion and McDowell County."
As for Cotton, she's honored by the award, which she says wouldn't be possible without being part of the Marion Business Association's team.
"Serving on the Marion Business Association Board, supporting the Shop Small initiative and other opportunities have all been me working with so many others to help Marion succeed," said Cotton. "I never had to do anything alone. I just was often the one who stepped up to get the ball rolling or was willing to pitch in as often as possible."
The 2019 North Carolina Main Street Champions, individuals that work and advocate for revitalized downtowns, were recognized at a special ceremony for their commitment at a recognition ceremony in New Bern last month.
"Despite the short-term uncertainty in the global economy right now, vibrant downtowns will remain catalysts for North Carolina's economic prosperity in the years ahead," said North Carolina Commerce Secretary Anthony M. Copeland. "These honorees have shown considerable creativity and dedication in improving their communities. We're proud to honor their vision and hard work as Main Street Champions."
N.C. Commerce and the N.C. Main Street program began recognizing Main Street Champions in 2000. "It's long been well-known that successful downtown economic development doesn't happen by luck," said Liz Parham, director of the N.C. Main Street & Rural Planning Center. "There are always hardworking people behind these efforts, and we wanted to take time each year to put the focus on leaders who are making a real difference in their communities. Main Street Champions serve as a valuable thinktank for future projects and innovation," Parham said.
Forty-five Champions will receive honors for contributions to their Main Street programs and downtown districts in 2019. With this year's group, 766 Champions have been recognized by the North Carolina Department of Commerce over the past 20 years.
The business news you need
With a weekly newsletter looking back at local history.